Holme Circle residents float idea for beautification of Circle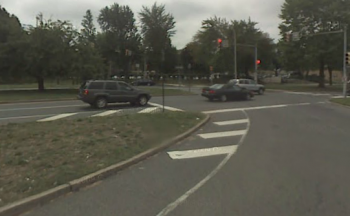 With repairs to the Holme Avenue Bridge complete, the Holme Circle Civic Association has turned its attention to the rest of the avenue, specifically, the Circle.
Serving three major roads and connecting the pockets of Winchester Park and Ashton, the Circle has seen better days. By PennDOT's estimate, 40,000 vehicles pass through it everyday, prompting the HCCA to want a better impression form the neighborhood.
Talks of a beautification project began late last year when the bridge reopened, but HCCA members Joe Razler, Elsie Stevens and Mike Gould are now weighing their options for first steps.
"We haven't set a fixed dollar amount yet to raise," Gould told members.
The plan, if you can call it that yet, is in the early stages. Gould said the three have been asking around about designs and materials to determine costs, but nothing can be done until City Council approves an ordinance. Ideally, the HCCA wants two signs in the middle of the Circle – on either side of Holme Avenue – to welcome people to the neighborhood. A flag pole and landscaping are also in order.
To cut costs, residents were quick to suggest reaching out to local carpenters, designers and students to conceptualize and build the signs. They also pointed out the potential for for damage.
The Winchester Park sign was on everyone's minds as they voiced concerns of vandalism and car accidents. The sign on Holmehurst Avenue was the target of vandalism and wayward cars for years before Winchester Park residents agreed to get a studier sign and place it nearer to Winchester Avenue than Rhawn Street.
"We're not trying to encourage mischief here, but anticipate it," Gould said. Graffiti on the new bridge likely means vandalism will be an issue on the nearby Circle signs.
HCCA members hope the visibility around the Circle will deter mischief, and Gould is optimistic about the Circle's potential: "I think [the obstacles] are surmountable."
WHYY is your source for fact-based, in-depth journalism and information. As a nonprofit organization, we rely on financial support from readers like you. Please give today.