Elections and bridge opening the focus of Holme Circle Civic Association meeting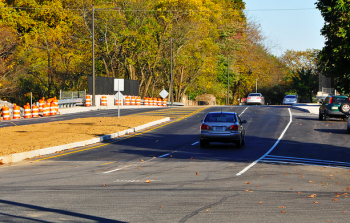 The Holme Circle Civic Association held its annual "Meet the Candidates Night" during its monthly meeting on Wednesday at St. Jerome's School Hall.
The local candidates in attendance were City Councilman Brian O'Neill and Democratic challenger Bill Rubin; Democratic at-large Councilman Jim Kenney represented by his aide, John DelRica; Republican candidates Denny O'Brien and Michael Untermeyer; and Republican candidate for City Commissioner Al Schmidt represented by his aide, Steven Boc. Each candidate was given five minutes to expound on their platforms culminating with questions from the 40 member audience.
O'Neill's platform stressed continuous, proven accessibility to his constituents especially in the areas of senior, city services, and zoning issues while Rubin reflected on the importance of encouraging new businesses to relocate to our area to increase employment opportunities for our vast well of local, talented youth.
O'Brien expanded on his success with his prison reform bills that has improved criminal justice in Pennsylvania, particularly sending violent offenders to state, rather than city, prisons. Rather than focusing on a new School Reform Commission or appointed school board, O'Brien was adamant on advocating a new approach within the classroom to educate city students who possess ailments such as ADD and dyslexia.
Untermeyer proposes to be our city's fiscal watchdog to eliminate mismanaged, costly city contracts such as with school district and Sheriff's Office; revamp city's bail system; prevent any increase in real estate taxes; and provide substantial tax credits to employers as an incentive for businesses to remain in city. DelRica apologized for Jim Kenney's absence, but shared Kenney's desire to reform city government by improving customer service between city employees and citizens, focusing on strategic staffing, and improving quality of life issues.
Finally, Boc spoke of Schmidt's notable auditing background, his stance on the lack of any present accountability with the city's budget, the need for voting reform, his willingness to receive a salary reduction, and his refusal to accept a city vehicle for transportation, if elected.
Neighborhood news
In other HCCA business, Harold Windisch, PennDOT's senior construction engineer, personally appeared to thank the Holme Circle community for their patience during the $5 million reconstruction of the Holme Avenue Bridge which re-opened Tuesday ahead of schedule without fanfare.
Neighbors looking out
Because of a neighbor's home surveillance camera on the 2900-block of Walnut Hill Street, police were able to view the tape to quickly apprehend a thief who had recently stolen items from a neighbor's house. Both the thief's picture and his car license number were clearly visible on the tape.
In turn, HCCA thanked PennDOT and the Buckley Construction Company for their efforts in expediting the work and for their interaction with the community. Linda Trush of O'Neill's office informed HCCA members new graffiti was reported on the bridge ahead of its opening earlier this week. Efforts were coordinated to remove the vandalism before the official re-opening.
Additional road work should be completed at the site in one week and the final phase of street lighting installation should be finished by December. No updates were available on the T-Mobile cell antenna appeal, which is currently in the State Supreme Court, and no further developments on the future of the Stokes House on Welsh Road.
The Holme Circle Beautification Committee met recently and estimates are underway for the "Welcome to Holme Circle" signage, after which funding will be sought. HCCA is still actively seeking new members to proceed with its association projects.
Th next meeting is Wednesday, Nov. 23 with no meeting scheduled for December because of the holidays.
Elsie Stevens lives in Holme Circle and is a member of the 8th Police District Advisory Council, Holme Circle Civic Association, Friends of Lower Dublin Academy and Friends of Holmesburg Library. You can see all her NEast Philly contributions here.
WHYY is your source for fact-based, in-depth journalism and information. As a nonprofit organization, we rely on financial support from readers like you. Please give today.