Historical Commission: Paving the way for street preservation progress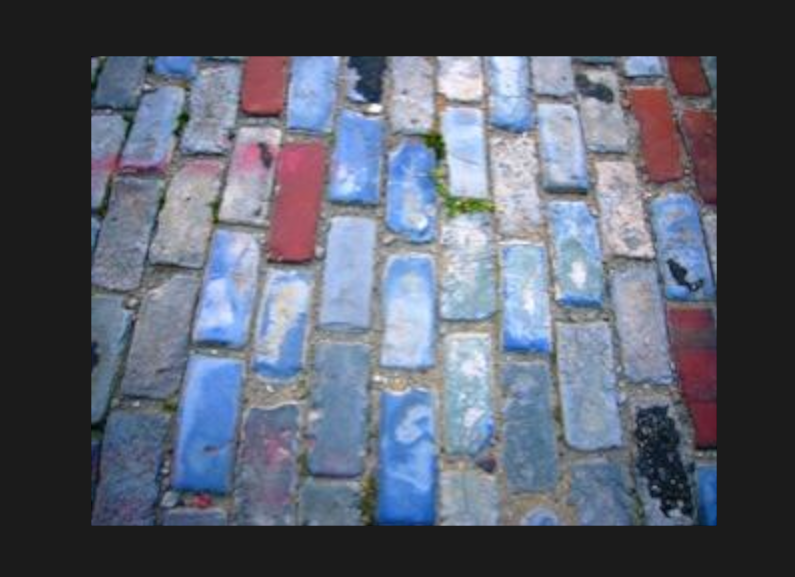 If you ramble down Alter Street in Pennsport and look down, you'll notice wonderfully lustrous rectangles of blue glazed granite. You will also see patches of asphalt marking the street in front of some houses, a clear sign that sewer service is being updated. Alter Street is just one of nine that feature the glazed blue granite block. They also appear on Waverly Street.
The most intact version is found in Old City, under the covered walkway of Filbert street between 2d and 3rd. "That one is my favorite historic streetscape in the entire city," Jonathan Farnham, executive director of the Philadelphia Historical Commission, told PlanPhilly's JoAnn Greco in 2012.
This year the Streets Department has been working with Historical Commission staff to evaluate the condition of the city's streets with historic surfaces, Belgian block, granite, wood, and brick, and the research has resulted in recommendations for additional streets to designate historic and a few to remove from the list due to poor condition and insensitive resurfacing. See the work here.
Friday, the Commission, which created a special thematic district for the city's historic streets in 1998, approved amending the streets on that list by adding the suggested blocks as well as delisting others.
This effort in intended to help Streets determine how to spend scarce funds for restoration strategically and build a stronger case for increased funding, something city council would have to approve. Right now the Streets Department only has $250,000 per year to spend on restoration, but estimates the cost of restoring an entire block costs double that.
The commission applauded the Streets Department's cooperation and interest.
Check out some surfaces below.
Greco/Glazed blue granite, Filbert St., Old City

Greco/Cobblestone, Little Boy's Way, Old City

Greco/Belgian block with bluestone gutters, 700 block S. Reese, Queen Village

Greco/Orange brick, 1000 block S. American, Queen Village

Greco/Yellow brick, 400 block S. Perth, Society Hill
In other Historical Commission business:
The fate of North Broad Street's legendary Blue Horizon, the subject of two nominations submitted by the Preservation Alliance for Greater Philadelphia, has been delayed because of the owners request for more time to prepare their case against designation. The Commission's Committee on Historic Designation will hear arguments in late January or early February. One nomination would designate the auditorium interior as historic and another that would designate only the building's exterior.

A request to withdraw historic designation for the Benjamin Kenworthy House at 365 Green Lane was approved. The property, which had been nominated for designation, is currently listed for sale and the owner has agreed not to act on an active demolition permit while he and the community continue to discuss possible alternatives.

A painting on canvas called The Angelic Exaltation of St. Joseph into Heaven that is on the ceiling of Old St. Joseph's Catholic Church was designated as an historic "object." (Designated objects are different than designated interiors in that while they must be related to their specific setting or environment, they are also movable.)
Watch full video of the meeting below.
WHYY is your source for fact-based, in-depth journalism and information. As a nonprofit organization, we rely on financial support from readers like you. Please give today.