Haverford exhibits the color of America, circa 1940
Listen
3:06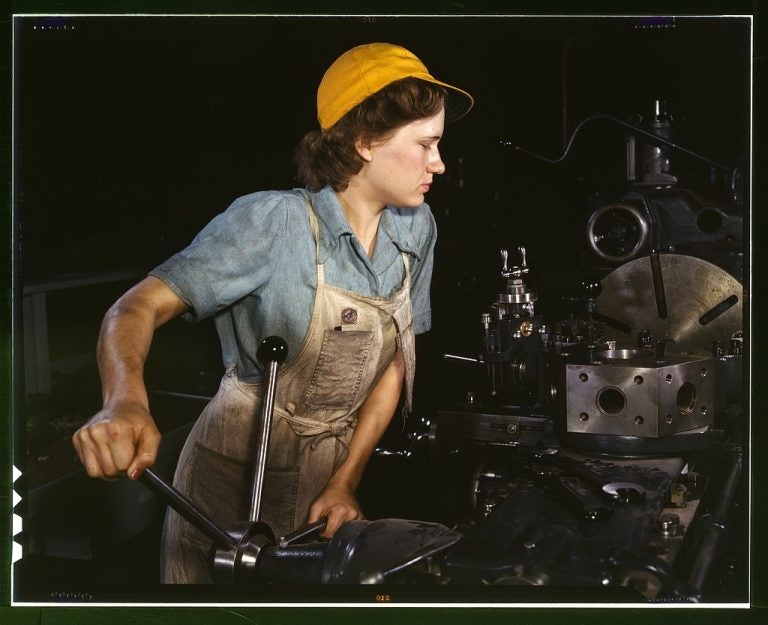 There is a photo of federal housing in rural Puerto Rico, circa 1940, showing the little box houses painted brilliant red and yellow and scattered on a scrub hill.
In Fort Worth, Texas, many women working as machinists in factories preparing for World War II – like Rosie the Riveter – wore their hair in red kerchiefs. A woman with soiled arms working a metal lathe, however, preferred a yellow cap.  
Two women in Pie Town, New Mexico, cut up sweets for the State Far barbecue, the cakes and pies arranged on a raw wood slab dripped with creams and glazes.
These are part of a trove of photographs taken by the U.S. government more than 75 years ago, now on display at Haverford College through April 28. Altogether, they offer a vivid look at pre-war America.
Around 1940, photographers were sent out across America to document the country at that moment. They were working for the Farm Security Administration and the Office of War Information – the FSA and the OWI – and given equipment to do their survey in color.
At the time, color film – Kodachrome – was in its infancy. Complicated to use and expensive, it would not be available for the average consumer for a few more decades.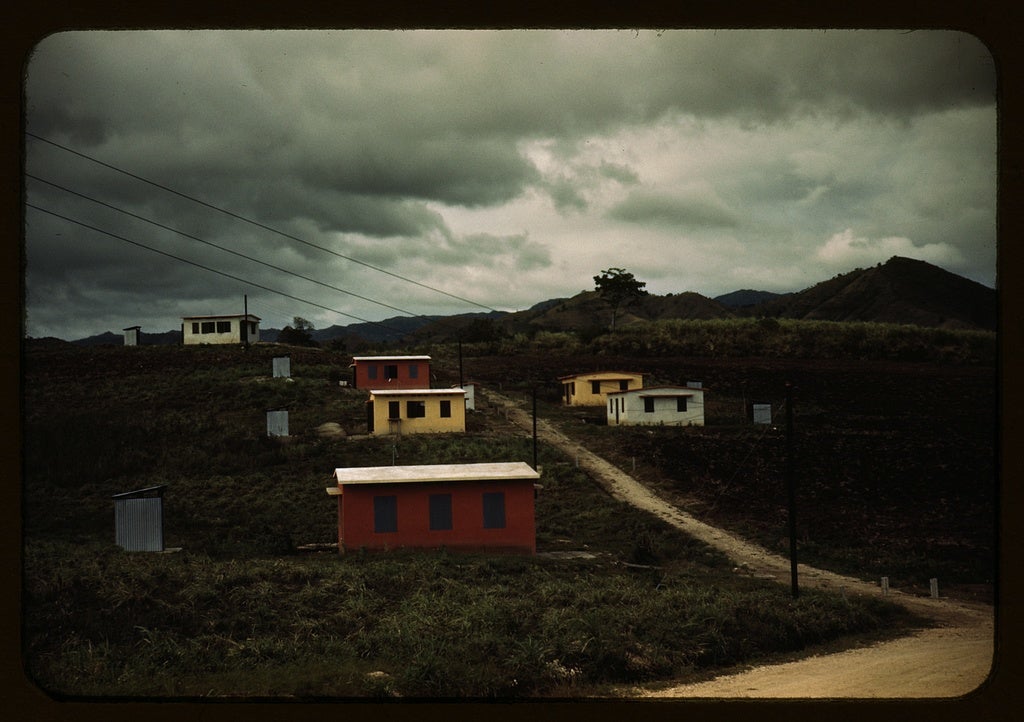 A new perspective, nearly lost
"These are the very first Kodachromes," said William Williams, a professor of art at Haverford College. "This is the first time Americans could see themselves in color."
Williams put together an exhibition of 55 prints from this government photography project. This was the moment in history when America was emerging from the Great Depression and entering the war when the agricultural lifestyle was giving way to an industrial one.
The FSA's most iconic images came from black and white photographers such as Dorothea Lange, whose pictures of impoverished farmers during the Depression are still part of our visual vocabulary.
These color pictures were never printed or published by the government. If processing color film was expensive, printing it was even more so. About 1,600 color slides were put into a box, and more or less lost until the 1970s.
"It's sort of like 'Raiders of the Lost Ark,' when they get the Ark of the Covenant and they stick it into this big government warehouse," said Williams. "That's what happened to these files."
The pictures, rediscovered accidentally by a historian, were published as a book, "Bound for Glory: America in Color," in 2004, and more recently posted as high-resolution, downloadable files on the Library of Congress website. They are in the public domain.
Due to sometimes poor chemical processing in the 1940s and subsequent decades of deterioration, some of the images could use a spit-shine. Williams and his students spent hundreds of hours digitally cleaning and color-correcting the files.
However, he points out the danger of too much color-correction. A black farmer in St. Croix, Virgin Islands, 1941, took a break from tilling the soil to look up at photographer Jack Delano, his eyes receding into the shadow of his hat brim and his shirt drenched with sweat. Williams' digital team took pains to make sure to not lose the sweat discoloration.
The beauty and the blemishes
"FSA/OWI Collection from the Library of Congress: America photographed in Color 1939-1943" is a curated show about factory work, railroads, and agricultural life.
"I'm looking at this wonderful picture here of a haystack," said Williams, pointing to golden wheat stacked high against a brilliant blue sky. "That's Pennsylvania, Lancaster County. The photographers covered the entire country, to make a portrait of America."
"I can show you the dark side of America," he added.
Williams walks across the gallery to a photo showing a group of Japanese women outside a barbershop. This is an internment camp in Tule Lake, California, in 1942 when American citizens of Japanese descent were rounded up and imprisoned as possible threats to national security.
These women are beauticians: Their dresses are clean white, their hair is neatly set. They are smiling.  
"In the picture, you don't see any of the barbed wire, you don't see any of the guards. You see none of that," said Williams. "You see these fresh, crisp, freshly coiffed ladies."
Williams' project is in part a vehicle to teach students the subtleties of digital image correction and photographic restoration. He also wanted to show a rare slice of America's visual history. Although published in a book 15 years ago, as far as Williams knows, many of these images have never before been cleaned, printed, framed, and hung as an exhibition.