Hardship at 40th and Pine
This week three very different hardship cases have the attention of Philadelphia's preservation community. The Church of the Assumption case was heard Thursday by the Court of Common Pleas, and on Friday two West Philadelphia cases come before the Historical Commission. One involves the Episcopal Cathedral's campus at 38th and Chestnut, but I am captivated by the strange and important case of a humble white elephant at the corner of 40th and Pine.
At 40th and Pine there stands a once-beautiful Italianate mansion built in the 1850s. It is a designated historic building, but two hugely insensitive additions have left its form horribly disfigured. The property's recent history as a troubled nursing home, and now as a Penn-owned vacant eyesore have won it few friends, even in the preservation community.
Since purchasing the building in 2003 Penn has tried to find a way to redevelop the property, and restore the existing building to some semblance of its historic past, but nothing has been straightforward.
Penn and its Spruce Hill neighbors share the hope that this problem property can become something, anything, positive. But a mix of delicate community relations, complicated by interrelated zoning and historic preservation concerns have made redevelopment difficult.
The latest twist: Penn is seeking permission from the Historical Commission to demolish the building at 40th and Pine to make way for a residential apartment building at a scale that the neighborhood can abide. This request has issues of its own.
For nearly 10 years Penn has tried to come up with a viable development proposal for 40th and Pine. They looked into restoring the mansion for residential use (the numbers didn't work), and then searched for a Penn-related use (no takers). Next the University turned to the development community for proposals. In 2007 developers announced plans to build an 11-story extended-stay hotel on the property, which ultimately included restoration of the mansion as part of the scheme. Some neighbors, politicians and ultimately the Zoning Board of Adjustment had objections to the proposed development's scale. In 2009 the developer backed out, and ultimately built the extended-stay hotel at 41st and Walnut.
The latest RFP process yielded a residential development proposal by Equinox Management and Construction. Equinox proposed restoring the mansion and building a new seven-story residential building on the site. Again, neighbors think the scale of this proposal is too big and that the site is overused. This is where things get interesting.
As PlanPhilly previously reported, Penn presented its plans for the seven-story development and restoration project to the Historical Commission in October 2011, which approved the proposal by the margin of a single vote. Neighbors and preservation advocates testified [pdf] against the proposed development, objecting to the scale of the seven story portion, calling it "jarring," "looming," and a "monster." No neighbor spoke in support of the project, instead advocating the demolition of the sad building at 40th and Pine in favor of a "preservation of scale."
"People are saying, we think a smaller building is a higher preservation accomplishment than the denser project that keeps a building that's as troubled as this one," explained David Hollenberg, Penn's University Architect.
The Woodland Terrace Homeowners Association and Spruce Hill Community Association (SHCA) do not support the current proposal. They object to the project's overall size, scale, site plan, conceptual design, and density.
"We don't think this is going to work," said Barry Grossbach, chair of the Spruce Hill Community Association's zoning committee. "If the seven story project that we saw was found to be attractive…I think there would have been some support. We were objecting to what we saw."
In February, the Spruce Hill Community Association passed a resolution of non-opposition to the demolition.
So despite the Commission's approval for the seven-story project in 2011, and in light of neighborhood objections to the proposed development, Penn changed direction.
Penn submitted an application for financial hardship to the Historical Commission, which was heard and supported by the hardship committee in late April, as PlanPhilly reported. Penn's argument is essentially this: In order to build a development that is economically feasible, at a height below 7-stories, the designated building needs to be demolished.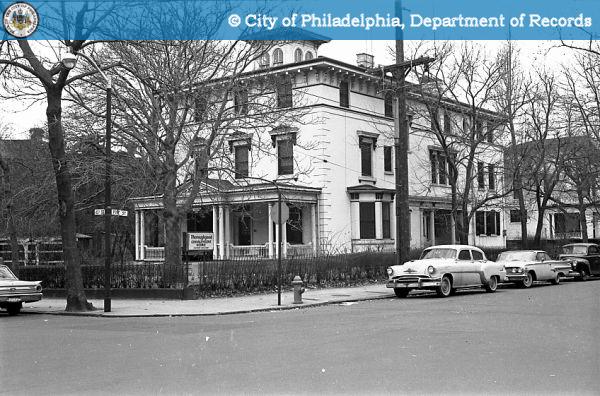 "I think we've come to this conclusion reluctantly, that there really is no way, given the strength of the opposition, to the kind of project that would preserve the building," Hollenberg said. "There does not seem to be a way to do so."
Hollenberg's reluctance is earnest, and Penn has arrived at this position after exhausting other preservation-minded options. Hollenberg is not only an architect, but a committed preservationist who teaches in Penn's preservation program. As a student there I learned the concept of hardship in his course. He's not taking this process lightly.
Given the range of rents which Penn and Equinox would like the residential development to support (a mid-market approach that is geared at graduate students), they have determined that a restoration solution would require a seven-story building. Any five-story solution, which the neighborhood would prefer, would necessitate demolition. The Historical Commission's financial hardship consultant has agreed [pdf] with the numbers supporting this position.
But Penn's case brings up a mixed message. Penn has put forward a seven-story project (including restoration) and a five-story project (including demolition) that are both financially feasible. So how can Penn claim a financial hardship?
"I think the financial hardship of this property is its zoning," Hollenberg explained. Given the property's R5A zoning, anything over three stories will require a zoning variance. And in order to get that variance, Penn wants the support of the neighborhood when it goes before the Zoning Board of Adjustment. Based on the objections of the Spruce Hill Community Association and Woodland Terrace Homeowners Association, it's Penn's calculation that the path of least neighborhood conflict is the one of demolition.
So, as Hollenberg explained, the decision to go for a hardship "comes down to our assessment of community relations."
So the question is: Will the neighborhood support the zoning variances required? Even if Penn could make a compelling case before the Zoning Board of Adjustment for its seven-story plus restoration solution, going against the neighborhood's wishes is bad politics along Penn's professed western boarder.
Spruce Hill's Barry Grossbach affirmed that SHCA took a zoning position here. They remain committed to neighborhood preservation, and have taken the position that no new building over five stories tall will win his committee's approval. But Grossbach is quick to point out, "We have not signed off on any project."
That's because Penn hasn't formally gone through the zoning process.

"We know it should go through zoning to get approval," Hollenberg acknowledged. But it's Penn's sense that the neighborhood won't support the proposal. So to go through the zoning process "feels like throwing gas on a burning fire."
Embers of that fire smolder simply from West Philadelphia's long memory of Penn's expansion decades ago.
Penn's position also assumes that a five-story limit is broadly supported. Even if both Spruce Hill and Woodland Terrace initially agreed on a five-story conceptual height limit, some neighbors are now objecting to that option if demolition of the existing building is on the table.
"If I were to say that there was a set consensus in the neighborhood, I would be lying," Grossbach told me.
So does that mean Penn's entire hardship case rests on the idea that there is common ground that may not exist? Penn contends they've participated in dozens of meetings, and scores of individual conversations with community members to inform their position.
And more to the point of Friday's Historical Committee meeting, should conceptual zoning opposition to a project by neighborhood groups constitute a preservation hardship?
In other words can community opposition to a rezoning lead to a demolition that also opens a hole in Philadelphia's preservation ordinance?
Zoning complaints, much less conceptual community-level zoning opposition, are atypical grounds for financial hardship under the preservation ordinance.
Financial Hardship is an escape valve from historic designation that is meant to account for cases where a designated property "cannot be used for any purpose for which it is or may reasonably be adapted." It is meant to account for buildings where a broad variety of restoration, redevelopment and reuse alternatives are not feasible. It is meant to be a strict test, and is not an asset test for owners.
"The potential for neighborhood opposition as grounds for hardship could be precedent setting," John Gallery, executive director of the Preservation Alliance for Greater Philadelphia, told me. "It does create an issue that would be difficult for the Commission to defend."
That point is not lost on Penn, which recognizes that its hardship position is a bit unconventional. "I think [Penn's case] is made less awkward by the preservation voices speaking out for demolition and by knowing that we've tried so hard for ten years," Hollenberg said.
Losing this badly altered historic building is one thing, setting bad precedent is another.
"What I'm worried about is the precedent for preservation policy, not for the building," Hollenberg acknowledged. "No one is going to throw themselves in front of a bulldozer for this building."
The issue is, in part, that this case doesn't fit neatly into the preservation ordinance's hardship provisions. Penn's application for hardship [pdf] acknowledges that this is an unusual case, but the university has spent years exploring development alternatives for this property that would see the original building restored.
There is one major point of agreement: something's got to change at the corner of 40th and Pine.
"What bothers me more than anything else is the building isn't contributing a thing to the corner of 40th and Pine, and hasn't for a long period of time and we want to go ahead and see it do so," said Ed Datz, Penn's Executive Director of Real Estate.
Barry Grossbach agrees. "The current site is a disgrace. It is a collapsing, deteriorating building."
This case is on this Friday's Historical Commission agenda. The Commission will meet at 1515 Arch Street, room 18-029, at 9am.
WHYY is your source for fact-based, in-depth journalism and information. As a nonprofit organization, we rely on financial support from readers like you. Please give today.