Going beyond hip with a vision for inclusive prosperity on North Broad
By Shalimar Thomas
"This is a moment to forge an inclusive path to prosperity."
No, Drexel University President John Fry was not talking about North Broad when he voiced this idea at the Greater Philadelphia Chamber of Commerce's recent mayoral luncheon, but we shared his sentiments just the same. Fry brought up inclusive prosperity while introducing Mayor Jim Kenney, who used his moment on the stage to announce a commitment to investing in building a stronger pipeline of skilled talent through a new workforce development initiative.
As I listened to the two men speak, I couldn't help but feel excited because this was exactly the missing piece to ensuring development that benefits all on one of Philadelphia's most prominent corridors: North Broad Street.
The buzz is out about North Broad. Still in the early stages of redevelopment and revitalization, there are 24 proposed and current developments rising along the historic arterial spine. They range from new nightlife destinations like Eric Blumenfield's chic Philadelphia Metropolitan Opera House remake to Shift Capital's retail-and-apartment redux of the Buery Building at Broad and Erie Avenue.
But something more amazing is happening, a community development game-changer more impactful than any brick and mortar tower.
Community organizations, community members, researchers, elected officials, and developers are sitting together at the table and sharing knowledge about how to create sustainable employment for a community in need of it. We are coming together to talk about how to attract the right type of businesses, to the right area, for inclusive economic development and sustainable employment for a marginalized community. In short, a community network is no longer asking "what's in it for me;" they are asking, "what's in it for us."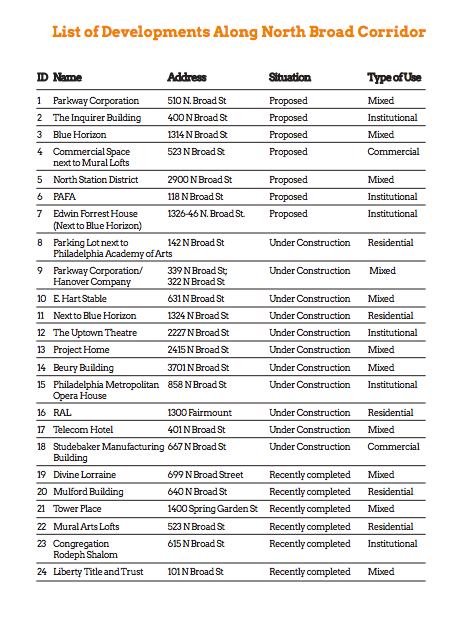 What was missing until now was a commitment from employers to not just locate to the next hottest neighborhood (let's be clear, North Broad is hot), but also a commitment to hire locally. Thanks to Kenney's new Fueling Philadelphia's Talent Engine workforce development initiative, we have a promise.
In December, the North Broad Renaissance (NBR), in partnership with Econsult Solutions, released the 2017 State of North Broad report. Among other things, the report highlighted strategic placemaking efforts to incorporate employment hubs along the corridor that build on current community assets and provide real economic opportunities for the entire North Broad community. They include:
· Establishing a tech and innovation hub between Callowhill and Poplar where tech businesses can grow and train students at nearby high schools (including Ben Franklin, Tech Freire, and Franklin Learning Center) for careers at these establishments.
· Creating an arts and culture hub between Poplar and Susquehanna, in a way that preserves that history and culture of North Broad Street and supports current arts establishments while tapping into that $4.1 billion economic impact that arts and culture has on the region, according to the Greater Philadelphia Cultural Alliance).
· Establishing a professional service hub between Susquehanna and Allegheny that adds employment diversity and can hire from the communities east and west (as well as Temple University students), while supporting the anchor institutions to the north and south, such as Temple University and Temple Health System/School of Medicine)
· Establishing a health hub that fights the growing health crisis in the 19140 ZIP code and works to create a healthy environment thereby supporting residents' efforts to become healthy employees and find sustainable employment.
This is so much bigger than the next best place for happy hour, although North Broad will have that as well. It's bigger than innovative thinking (or as we like to say #ThinkBroad). As Rockefeller Foundation's former associate director Emily Garr Pacetti wrote in a description of the characteristics of an inclusive economy, "when we invest in making economies more equitable from the bottom up, or the middle class out, economic growth is likely to be better for everyone's pocketbooks, for longer periods."
North Broad has hit a stage of economic development where disadvantaged communities aren't just watching success happen with nervous excitement but are part of it. Together, we are becoming the kind of city that considers its entire demographic when making key decisions, and by doing so, doesn't miss out on the chance to become better everywhere and for everyone. Together, on North Broad, we are ready.