Getting a lift with 'Hope and Gravity,' from 1812 Productions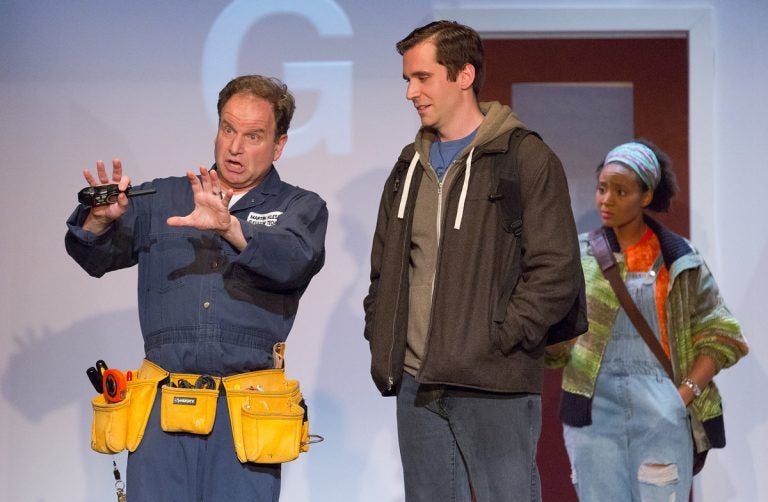 Michael Hollinger's nifty play called "Hope and Gravity," currently in an outstanding staging from 1812 Production, is totally out of order. And that's the point.
It moves along in nine out-of-sequence scenes that begin inside an elevator where we hear the fuzzy details of an elevator accident the night before – an incident that will eventually link the scenes. An elevator motif runs through this production — each time one scene leads to another, Jorge Cousineau's intricate projection design takes over the stage and also the audience's perspective. The digital ride feels as though we're taking an elevator from floor to floor. Call Cousineau's terrific design transportive in both senses of that word: It carries us through "Hope and Gravity" and enhances the play and the way we feel about it.
Each of Hollinger's scenes functions as a little self-contained vignette. Each is also a single piece of a big puzzle with characters interacting on one level, with no idea that their lives intersect on another. By the Hollinger's done with his inventive, funny play, he's provided a narrative arc. You can piece it together yourself.
There's a thrill in chasing this plot — it's always tantalizingly ahead of you — and finally nailing it. The thrill extends to witnessing five agile actors, some in dual roles, as they lay out this story that happens in the past, or sometimes in the future, yet also in the  present.
Yikes! It sounds like a lot of work to watch but trust me, it's a real pleasure. Jennifer Childs, 1812 Productions' artistic director, knows precisely how she wants you to take Hollinger's ride; there's plenty of fun in it, and as the pieces reveal themselves, the tension builds. (Smoothly, too, even before Wednesday's opening night when it was still a developing production in previews. I saw one of them.)
I'm purposely not telling you much about the plot because you need to assemble it yourself, but you can get a feel for its oddity from a description of the characters. There's an elevator repairman and a celebrated poet (David Ingram plays both), a nebbish of a school administrator and a slithery dentist (both Gregory Isaac), a school nurse and a wife who's trying to become pregnant (both Suli Holum), plus two creative-writing grad students (Sean Close and Jessica Johnson, who also plays someone's girlfriend). They are all game for the ride.
Cousineau also designed the setting for all nine scenes, each in a different room – we see them as though we're looking from inside the elevator and out to the action. The show is, along with its other achievements, a technical accomplishment. Michael Kiley wrote the sprightly original music we hear on our elevator trips and also designed the sound, and Shon Causer lights up the scenes.
It's an exciting week for Hollinger, a prolific locally based playwright who teaches at Villanova.  His world premiere play "Sing the Body Electric" is running at the same time, having recently opened in a Theatre Exile production. Earlier this season, Arden Theatre Company produced the world premiere of "Touch Tones," a musical for which Hollinger wrote the lyrics and the book, and Act II Playhouse in Ambler mounted his noir comedy "Red Herring." The plots of those last three come off, more or less, in order.
—
"Hope and Gravity," from 1812 Productions, runs through May 20 at Plays & Players Theatre, on Delancey Place between 17th and 18th Streets. 215-592-9560 or 1812productions.org.
WHYY is your source for fact-based, in-depth journalism and information. As a nonprofit organization, we rely on financial support from readers like you. Please give today.