Geotechnical work, progress at Carpenter Green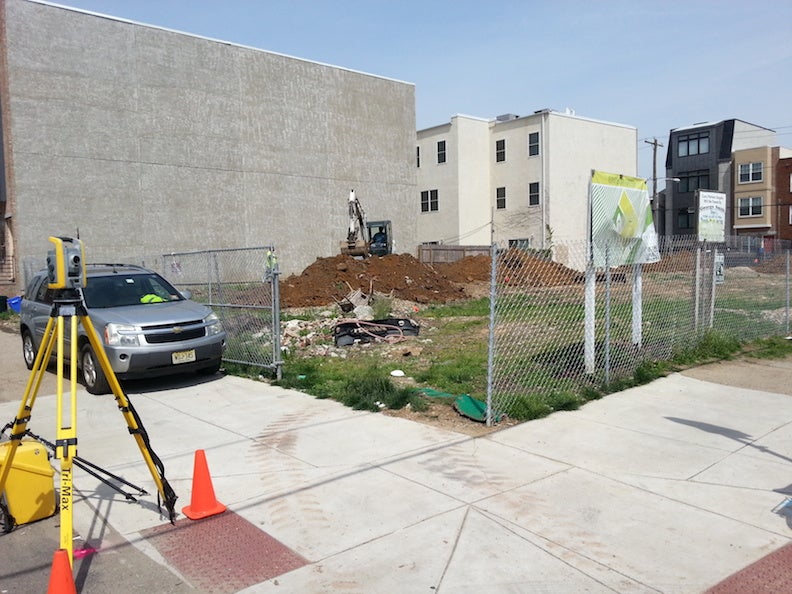 If you've passed 17th and Carpenter streets recently, you may have noticed activity on the eight vacant lots waiting to be transformed into Carpenter Green, a new neighborhood park. While that transformation is still in the cards, the bulldozers are not starting construction just yet. Instead, they have been conducting a site survey and preliminary geotechnical work.
Before the South of South Neighborhood Association (SOSNA) can move forward and "plop rain gardens on the plan," they need to know how water infiltrates through the site. This site survey and geotechnical work will determine if the basements from the eight homes that once stood on the site remain and if those basements might prevent stormwater from draining properly.
When it comes to green space, "unfortunately, our neighborhood is woefully underserved," said Lauren Vidas, SOSNA board member and a Carpenter Green leader.
According to Vidas, around 2008, neighborhood residents approached then-Council-president Anna Verna and asked if they could acquire the vacant lots for use as a park. Verna denied the request, but neighbors tried again after Councilman Kenyatta Johnson took office. Johnson worked with neighbors to approve a deal.
"The deal we cut with him is, give us the land for free, and we'll build the park and then just kind of give it back to the city," Vidas said.
So far Maser Consulting, PA has contributed free design work, and Blocktoberfest donated $25,000 to the park.
The current vision for Carpenter Green includes a diagonal path that will allow people to cut through on their commutes, a "dog friendly area" that is not a dog park per se, a central plaza with a spray ground, plenty of lawn space and rain gardens with native plant species. Part of the idea is to avoid formality in the design. Whereas Rittenhouse Park has a more formal design that matches its more formal setting, the neighborhood around Carpenter Green is more casual. Vidas said the park design will reflect that.
In addition to the site survey, SOSNA put a fence around the perimeter of the lots and took down some of the trees that were climbing up the neighboring houses.
Next, SOSNA is working to apply for grants and raise project funds. The team does not know how much the project will cost, but once the site survey and final design are complete, they will be able to pinpoint a price tag.
"Our hope is to raise all of the money and do this in one fell swoop," Vidas said.
Maser Consulting, PA donated free design work. Rendering provided by SOSNA

SOSNA has put a fence up around the site and removed trees that were growing onto neighboring homes

Eight homes once stood on the now vacant corner
WHYY is your source for fact-based, in-depth journalism and information. As a nonprofit organization, we rely on financial support from readers like you. Please give today.