Frustrations boil over for Wilmington residents still homeless after Hurricane Ida
Wilmington residents forced from their homes by Hurricane Ida met with state agencies and local nonprofits to say they still haven't received much help.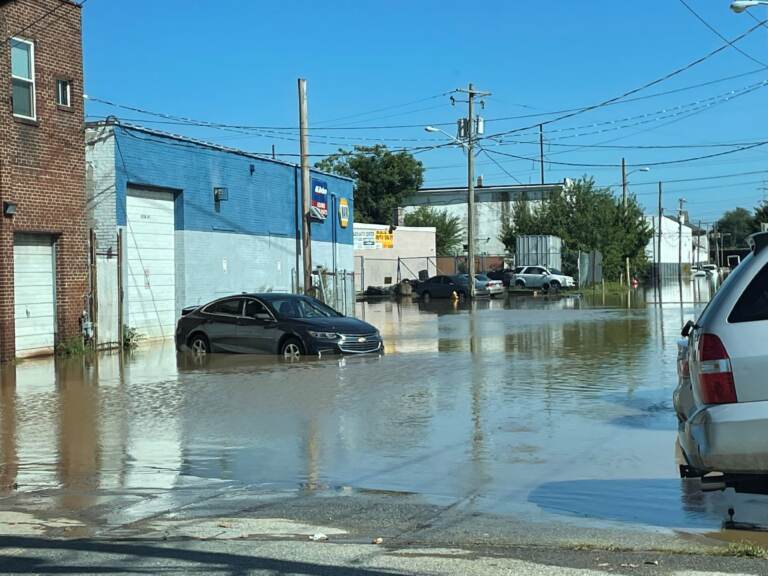 The rains brought by Hurricane Ida last fall caused severe flooding along the Brandywine River in Wilmington. More than 200 people had to be rescued from their homes in early September, as the river reached a record high level of 23.1 feet.
Now, four months later, some residents of the city's 11th Street Bridge neighborhood say they're still struggling to find housing and other support.
"I don't know if you all know what it's like to climb out a window with your kid," said one woman who was rescued from her flooded apartment. "It's just been… It's just been overwhelming."
"Every person that is still homeless from this flood is broken," said Stacey Henry, a community organizer who tried to coordinate help and supplies for residents in the immediate days after the flood. She also tried to help victims navigate the sometimes overly complex process to get support from the state. "We've had a chance to fix it. We've had several months to fix it."
Now, months after initial frustrations with the state response, Henry says some can't deal with delays any longer.
"We have residents that have literally given up," she said.
Another woman, who lived in an apartment building that was condemned by flood damage, questioned whether residents would have had to fight for help if the flood damage affected a more affluent part of the city.
"I just feel like if this flood happened and affected just up the road, a little bit up [Route] 202 some, the insignificance that I feel it wouldn't be," she said. "We would have gotten some type of help or something like that by now."
Flooding victims expressed their anger to leaders of several state agencies and nonprofit groups in an online forum Thursday night coordinated by the Delaware Poor People's Campaign. Most of the victims did not share their names publicly in the forum.
The goal of the meeting was to connect those in need directly with people who could take action to help them.
But some victims were frustrated that it's taken this long for such a coordinated outreach event to occur.
"Most of us are still homeless," said Royal Conquest, who was forced out of his home in the Claymont Street Apartments. He's had trouble finding a shelter that would accept both him and his teenage daughters.
He said he's lost faith in state agencies and other providers who offered help.
"I'm going to be honest, no one believes any of you guys," he said to agency leaders. "I'm not saying that to be facetious nor rude. We're only calling it how we're seeing it from the four to five months, almost six months that we've been in this situation. No one believes you."
For one man, the forum comes just as he's running out of money and vouchers to pay for a hotel room as his shelter. "I just spent the last of my money on a hotel for a week. So next Wednesday at 11 o'clock, I'm done."
Delaware Health and Social Services Secretary Molly Magarik promised to examine the hotel vouchers that are available from the state for those in need of housing and connect them with resources that could provide that funding.
"To the extent people need hotel vouchers, we will connect you and try to find something, whether it's staying where you are or a new location," she said.
Part of the problem in providing housing for some of the victims has been reduced capacity at shelters due to COVID-19.
"The largest single female shelter currently in the city of Wilmington is dealing with a COVID situation, so they've had to decrease their capacity significantly and aren't accepting new entries," said Rachel Stucker, executive director of Housing Alliance Delaware. "That's a huge problem [for] single women facing homelessness."
Delaware State Housing Authority Director Eugene Young told the victims they'd be able to move to the top of the agency's list for state housing, although that waiting list is already quite lengthy.
"For our public housing sites between Middletown and Selbyville, there are around like 9,000 or 10,000 [people] on waiting lists," he said.
Wilmington Housing Authority Executive Director Ray Fitzgerald says the city is working to increase the number of housing units available. While that won't immediately help the Ida victims looking for homes now, those extra units will help WHA better respond to a similar emergency situation in the future.
"Wilmington Housing Authority has a number of long-term vacant [homes] in the city and our goal over the next year is to create transitional housing and work with our state partners and city partners to make these units available for people when they're in crisis and things like that," he said. "Those houses are in disrepair and they need work done."
Henry said the state needs to do a better job helping those in need.
"We have to put ourselves in their shoes, and we cannot do business as usual. And we cannot continue to say, 'Oh, they'll make it.' What if they don't make it?" Henry said.
"They're not asking for money. They're not asking for sympathy. They're asking for someone to understand what it's like to call and call and call and e-mail. And no one seems to think that it's an urgent issue."
WHYY is your source for fact-based, in-depth journalism and information. As a nonprofit organization, we rely on financial support from readers like you. Please give today.