From Above: Benjamin Franklin Bridge under construction June 13,1924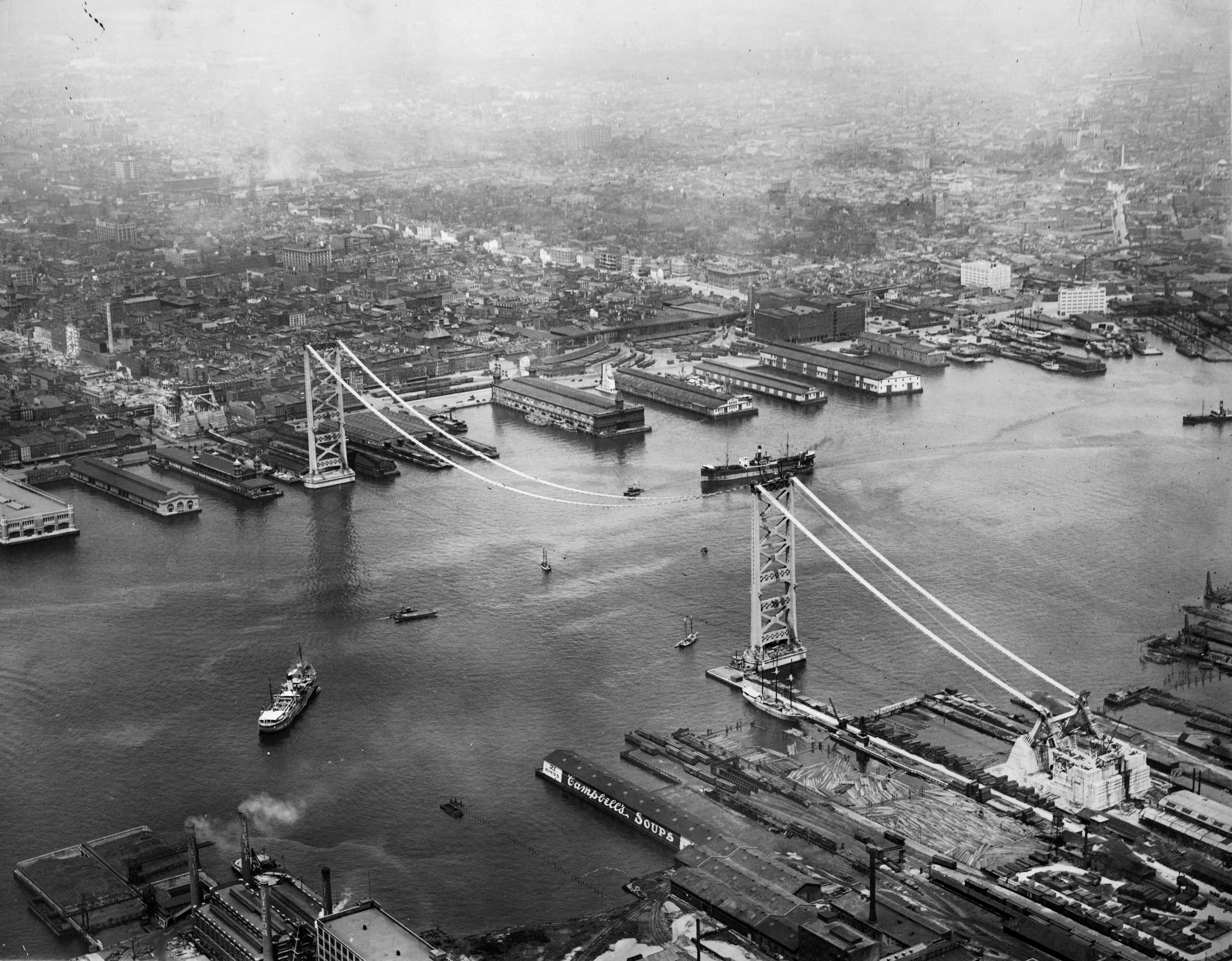 The last batch of historic aerial photographs featured on Eyes on the Street showcased construction of the Art Museum and Parkway in 1920-21 and 1925. Today we look to another construction project that took off during the 1920s: the Benjamin Franklin Bridge.
Lately I've been back and forth over the Benjamin Franklin Bridge quite a lot, and underneath it at the Race Street Pier. The bridge's massive stone abutments, graceful lines in cable and metal, never cease to impress. It happens that the photographers for Aero Service Corp managed to capture the bridge as it was being built. Here is what that construction looked like on June 13, 1924.
Construction on the Delaware River Bridge began in 1922. In the 1924 image above we see the bridge as it's getting dressed. The metal towers and footwalks are in, while the suspension cables have yet to be strung and the granite anchorages are are starting to take shape. Look closely at the Philadelphia side to see demolition underway to clear a path for the bridge's approach into Franklin Square. Along the river in Camden you can make out the Victor and Campbell's piers and factories. On the Philly side, there's much to see: the Wilbur's Chocolates smokestack, Napoleon LeBrun's St. Augustine Catholic Church at 4th and New streets, rail cars lined up along Delaware Ave, the old High Pressure Fire Service building, and oh those mighty piers. I mean check out how fantastic the old Race Street Pier looked. Go ahead and click on the photo above to get lost for a while.
———
This image is part of the Free Library's Print and Picture Collection, and is used by PlanPhilly/Eyes on the Street with the express permission of Aerial Viewpoint, which owns these aerial images. For reproductions contact Aerial Viewpoint.
To learn more background about these aerial photographs, head over here.