For DNC Philadelphia archive showcases evolving American democracy, from founding fathers to fights for equality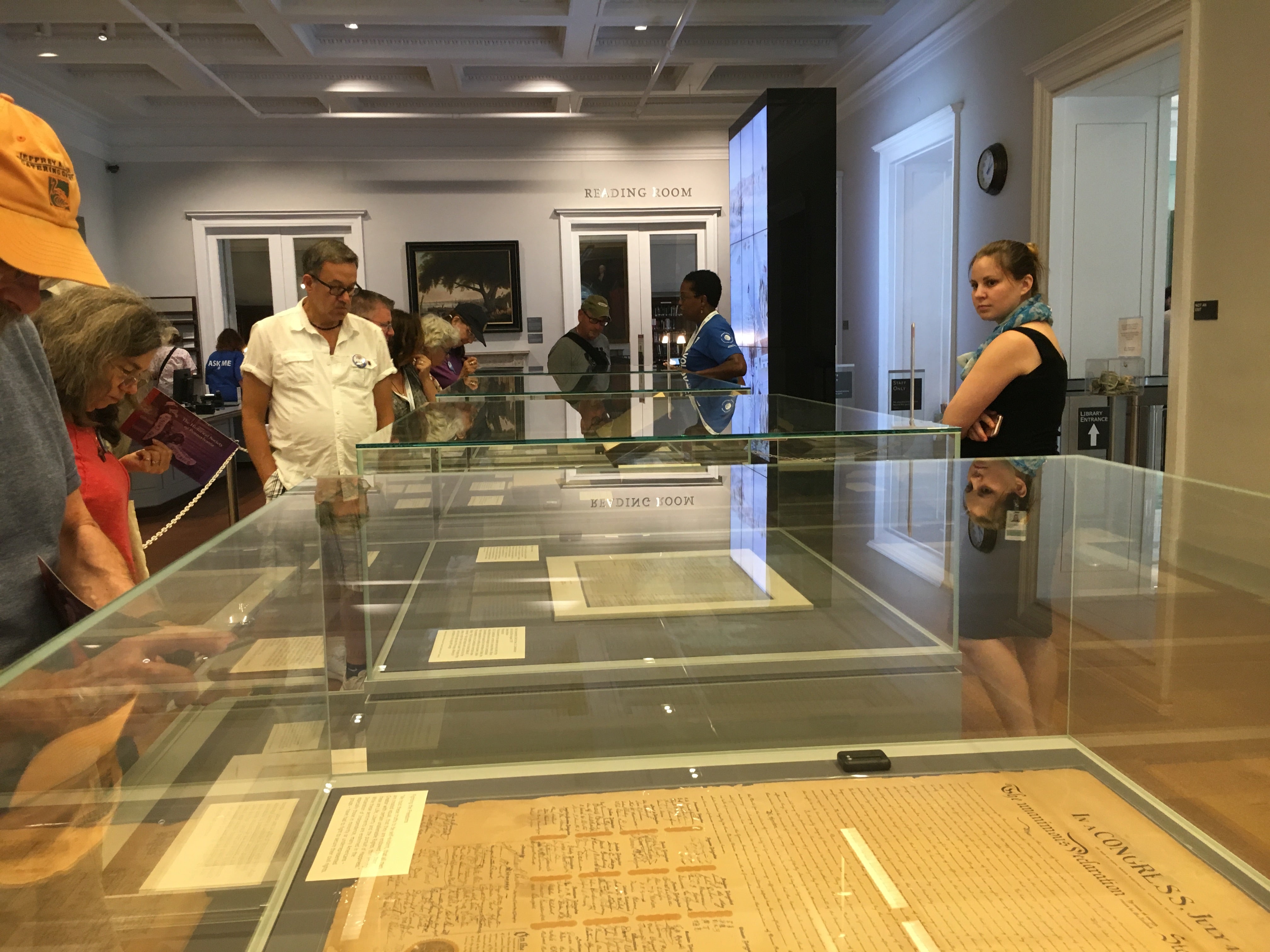 If you stop by the Historical Society of Pennsylvania (HSP) this week, you'll see a collection of prized treasures—with a strong civil rights theme.
The display is a part of PoliticalFest, the citywide festival put on this week by Philadelphia 2016, the Democratic National Convention host committee. Designed to highlight political history and government, the festival tapped seven Philadelphia institutions to create and host collections for the weeklong exhibition.
The HSP, one of the seven institutions chosen to collaborate, has put on display several of its most treasured items, including copies of the Declaration of Independence, Articles of Confederation, and the United States Constitution. But in a fourth case at the end of the display row lie several very different—and more recent—documents.
There's the Constitution of the National Woman Suffrage Association, an Emancipation Proclamation lithograph, a 19th century petition to allow black Americans to ride on train cars, and a photograph of early LGBT rights advocate Barbara Gittings. Where the first three cases hold the documents of our founding fathers, bricks in the foundation of American democracy, those in the fourth show a living democracy. These documents all gathered in one place, portray a timeline of American rights and privileges that is much more complex than the initial U.S. Constitution displayed in the case preceding it.
According to HSP librarian Dr. Lee Arnold, these specific documents were chosen because they show off HSP's archives, but they also help illuminate the story of how America's most important framing documents continue to evolve.
"These documents, even in their initial forms, were imperfect, right? And so showing how Americans adapted to try to make these documents include them is crucial," said Arnold. Otherwise, he added, "You only have an unfinished story."
"For a lot of Americans, it's not enough to just declare rights or to have them declared for you," said HSP Communications Director Vincent Fraley. "You have to defend them and assert them yourself."
By showcasing the work of Americans, particularly marginalized ones, fighting to include themselves in the mainstream American narrative, Arnold added that visitors can "connect with something that's real"—something he feels is essential to make history relatable and gives context to current civil rights issues.
Head upstairs to HSP's second floor and another exhibit extends the theme of civil rights set downstairs, though it was planned independently of the PoliticalFest displays. Titled "Behind The Ballot," the visiting exhibit, on loan from the City of Birmingham, highlights the history of voting in the United States, including the Civil Rights Act, Voting Rights Act.
Television screens flanking the exhibit play clips of legislators who worked to pass the Voting Rights Act, and glass cases display the file records, address books, and even shoes of legendary leader W.C. Patton, who worked to increase registered black voters from the 1940s to the 1970s. The exhibit also includes shrapnel from the second Birmingham bombings and a display showing two water fountains, one marked 'white' and one 'colored', encouraging attendees to consider the slow march of equal rights for all Americans.
But why is it important for both tourists and locals alike to see these items now?
During private tours of these documents, Fraley says Dr. Arnold likes to say that while all of these documents are stored together, ones like the Declaration of Independence represent the "pride" side, while the "prejudice" side is marked by documents that demonstrate the oppression of marginalized populations and a long, slow, story of change toward a more perfect Union.
In Fraley's mind, the exhibit represents "the promises that were made, and then the political realities that ensued." A lot of American history, then, is "characterized by the struggle and tension between what we set out for ourselves, and then what actually happens," he added.
That's a relatable reality for anyone following current protest movements or conversations at the conventions. American democracy is continually being made, and where better to have that conversation than in Philadelphia—where it was born.
The approach to the display seems to be working well for the HSP. Since last Friday, almost 900 visitors have passed through; an even mix of tourists and locals, stopping by to witness the documents that have continuously shaped America.
(Historical Society of Pennsylvania)

(Historical Society of Pennsylvania)

(Historical Society of Pennsylvania)

(Claire Schmidt / PlanPhilly)