Food For Thought: Ashburner Inn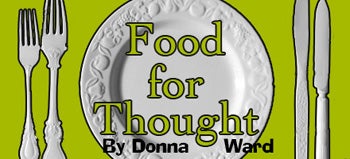 With its charming wooden floors and old church pew-style seats Ashburner Inn, located at 8400 Torresdale Ave. in Holmesburg, offers a quiet elegance to casual dining. A full bar area and two dining sections make this a spacious little inn for relaxing and enjoying professional cooking from former Atlantic City chef Rick Narasaki. Ashburner Inn focuses on serving a contemporary American menu with a variety of choices. While many people may feel this tavern would be more accustomed to a bar seen, Ashburner Inn provides a unique and settling experience for a neighborhood Inn. There is even a separate area to accommodate large private parties. The tables will be covered with white cloths, and the room dressed up a bit to add to the quaint, soft-lit atmosphere.
Whether you are choosing to dine for lunch, dinner or even a late night snack, Ashburner Inn is a great place to settle in. From the moment you enter, you feel warm and welcomed. The bar area is usually very loud and alive with laughter or shouting at the sports teams on TV, but the dining area is a bit more casual and laid back. The servers are friendly and deliverer your food in a prompt, efficient manner despite the fact that at dinner it is usually crowded. The floors appear to be kept clean, however, the tables were a bit sticky, which the server cleaned upon request.
To begin my meal I had an order of the Philly Egg Rolls, which were served very hot and I had to let cool for a few moments. Contrary to what you may think, this is not your typical egg roll. The Philly Egg Rolls served at Ashburner Inn were stuffed with cheesesteak meat, American cheese and fried onions. Perhaps the cheesesteak is a classic favorite of proud Philadelphia patrons, but this was a different take on the typical cheesesteak. The roll was very good, although it was a tad greasy, which is to be expected sometimes with cheesesteaks. Overall, the dish was a nice beginning to an evening of casual dining. For a main entrée I was undecided between the Lemon Pepper Tilapia and the Black & Blue Chicken. I was advised by my server to have the Tilapia, which I later thanked her for. The Tilapia was pan-seared and had a light lemon juice added with a touch of pepper. The lemon flavor was very tasty, but overpowered the pepper. I found the flavors very complementing of the well-cooked fish. The fish was light and flaky and tasted fresh, and the roasted potatoes that accompanied my delicious fish were done to perfection. They were not overcooked and were still crunchy, but warm and soft inside after each bite. The fresh vegetables served on the side add a nice finishing touch to the meal. There is plenty to eat, so when you come to Ashburner Inn bring your appetite.
The prices are reasonable, and you are served large portions of food that leave your taste buds wanting more even though your stomach is full. For a nice evening out of fun, good humor and tasty well-portioned food at reasonable prices, I recommend you stop in this neighborhood friendly tavern for a meal or light bite.