Focusing on marriage licenses, mass media miss further LGBT challenges
As an impediment to full equality for LGBT communities, marriage rights have of course been important, but there are perhaps more critical issues that have been underfunded, marginalized, unnoticed by the dominant culture and underreported in the mainstream media — before, during and now after the push for marriage equality.
With this in mind, Speak Easy hosted a public forum on Sept. 15 at WHYY studios, with the support of NLGJA, the association of LGBT journalists, to illuminate those long-running and ongoing priorities and to discuss the media's role in fairly and accurately reporting on them.
Five guest panelists shared personal stories to illustrate some of those critical issues. And about 85 people from Philadelphia and nearby gathered to share their own stories and to listen to each other.
Intersectionality a key to progress
During the group discussion portion of the forum, audience members noted that the common threads among all of the panelists' stories — instability, poverty, incarceration, unequipped medical and social services — pointed toward a root cause: the isolation resulting from rejection and discrimination. And attendees seemed to agree that gaps in age, gender identity and socioeconomic status further isolate some people from the larger LGBT community.
Some suggested that the onslaught of stories about the impacts of marriage inequality has helped to change public opinion. Everyone relates to marriage; not so youth homelessness. So, many participants called for a similar focus on stories that humanized the impact of discrimination on LGBTQ kids, issues of acceptance both within families and in society at large, the lack of laws protecting LGBT people, the loss of life from poor medical treatment and poverty. The news media do a great job at identifying problems but aren't so good at identifying solutions, said some participants. Getting at these root causes, they suggested, might help point toward resolution.
Even the label "LGBT" can be problematic. Often it's a shorthand reference to gay men, or to gays and lesbians, and the B and T are not considered. Terri Clark, of ActionAIDS, said that bringing more visibility to the bisexual community is important for combatting "bi-phobia," i.e., discrimination from both straight and lesbian/gay people.
And many in the audience were happy to hear from transgender people in the room, either because, as one person said, they did not realize "how deep the inequality for transgender people is," or because they were simply tired of trans voices being excluded.
Some participants said they would like to see a focus on adding LGBT non-discrimination provisions to the federal Equality Act. Others thought attention was better focused on state and city governments, away from Washington's partisan gridlock.
Participants criticized news media generally for not explaining how fractious the patchwork of protections is and how widely those laws differ from one locality to another.
For example, laws in New Jersey and Delaware prevent discrimination in employment, housing, and public accommodations on the basis of sexual orientation or gender expression. Pennsylvania prohibits discrimination based on sexual orientation and gender expression for state employees only. (This is by executive order, which means can be undone by a future governor at any time.) Protections for housing and public accommodations do not exist in Pennsylvania. In all but 34 municipalities, a gay or lesbian Pennsylvanian can get married on Sunday and be fired on Monday.
Equality Pennsylvania Executive Director Ted Martin, who was in attendance, said it's important for Pennsylvania to join the rest of the Northeast with comprehensive non-discrimination protections for LGBT folks. (However, he acknowledged, it took our progressive neighbor New York 33 years to enact such a law.)
One group lamented the way social justice seems to be driven by the influence of money. Marriage equality may be seen as a capitalist goal — but for many LGBT people, there are hurdles to jump before marriage is even a possibility in their lives. If there was money in keeping kids in school, someone suggested, there would be more of a focus. Donors gave heavily to the cause of marriage equality, but efforts like the PA Fairness Act are not attracting similar support.
A continuum of isolation, from youth to old age
Members of the audience drew a connection between isolation in youth and isolation in old age. So-called "gay culture" — as with most popular culture — may be very youth driven, but one participant said that "the social isolation of the elderly begins with homeless youth."
There was some discussion about rejection by foster parents, the impossibilty of many dependent LGBT kids to find a safe home, and the tendency of many to avoid the child welfare system altogether. Panelist Phantazia Washington said she has seen that failure lead to "greater forms of institutional oppression" for LGBT youth and greater vulnerability. One woman spoke about how her and her husband's decision to intentionally foster a transgender kid shocked the social workers they were working with, and she wondered how more intentional LGBT adoption could be encouraged.
A Villanova student challenged the perception that coming out of the closet is so much easier for young people than it used to be. The world is not yet so accepting for everyone, he said, echoing others' stories of persistent fears. As one participant said, "'Be your true self' is not always the advice you can give to people." The pain of rejection, dismissal and marginalization leads to poor coping habits, addiction, and unwise employment choices that leave young people disempowered, bitter and vulnerable for a lifetime.
Others added that, as LGBT people age, they lose friends and connections to the community, and they become more invisible to the younger generation. A few people in the audience acknowledged the failure of the LGBT community to pass its own history on, leaving young people ignorant of the activists who preceded them, many of whom are still alive.
There is a lack of attention to "phase of life" issues. One participant cited Pennsylvania's Aging Services programs, noting a lack of cultural competency among service workers — especially for older citizens who are just coming out — leading to perceptions of unfriendliness that keep aging LGBT folks away. Organizations such as the William Way Center and the LGBT Elder Initiative can be valuable connectors for older LGBT people.
Transgender awareness getting better?
There was an acknowledged need for education inside and outside of the LGBT community about trans issues. Participants noted an increased awareness of the importance of pronouns, yet misnaming and misgendering trans people in news stories is still a significant problem. One participant said that straight people often ask him questions about gay people — "as if I'm a poster boy for gay men" — but he is also asked question about transgender experience, which he can't answer. Now he says he is the one who feels ignorant, and sometimes he's not sure himself how to ask trans people about their experiences.
One participant talked about her role in a fight for gender-neutral restrooms at Temple University. "It doesn't compare to the pain and hardship" in the panelists' stories, she said, but another participant pointed out that it's one hurdle that is relatively easy to jump and makes many trans people's daily lives easier.
Issues of identification documents came up. Requirements are inconsistent from state to state., and many trans people live in fear of not appearing to be in sync with their IDs, which has ramifications for employability, access to education, and other areas. In Pennsylvania, reassignment surgery is required to change one's gender on a birth certificate, and at a cost that many cannot afford. Not to mention the psychological cost of being identified on someone else's terms, not one's own.
There was also a fair amount of discussion about whether instances of violence against the trans community were more common, or just better recorded. Generally, people agreed that increased use of video surveillance and widespread sharing on social media made stories more likely to be seen and heard. Community based "patrolling" on social media was seen as a great way to expose breaches in policy and to hold journalists to task in their coverage of these incidents.
Some in the audience also noted that the increased watchdog activity was exposing a lack of mobilization around trans issues among the wider LGBT community. For instance, the general population is probably far more aware of the role Twitter played in identifying the people who assaulted two gay men in Center City in September 2014 than they are aware of the fact that 20 trans women have been murdered (that we know of) in the United States in 2015.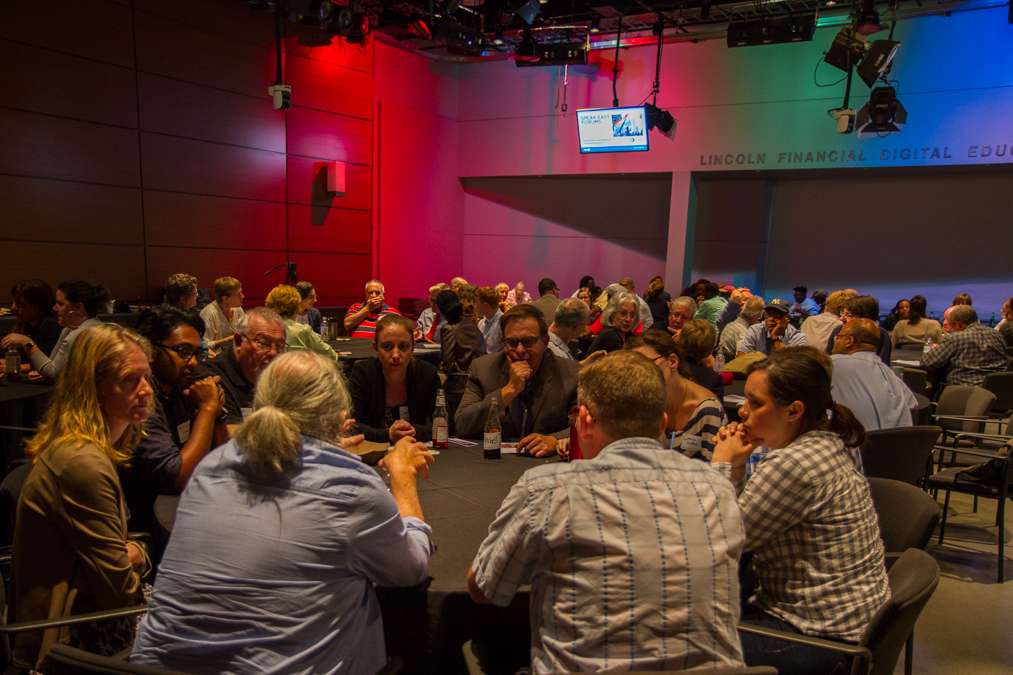 Panelist Dawn Munro had some criticism on this count. "I took part in God knows how many demonstrations, letter-writing campaigns, telephone campaigns in support of [same-sex marriage]," she said. "And I sometimes think, you know, I'm not hearing too much from this greater community that I espouse as being my own about how they all feel about us and our struggles."
Munro, a longtime activist and a biologist by training with degrees in microbiology, geology, and public health, also called for better representation in the media. "Too often the achievements of trans people get ignored," she said. "I am not unusual. I know of at least 30 trans people who are in highly respected positions in their various professions. These are not just people who were born losers. People are not born as losers. They're made losers."
One participant noted the progress that stories of trans woman being murdered are much more likely to make the news today. But it's a horrible kind of progress: Trans women are still being murdered. And the tendency to exoticize trans stories pushes the less-sensational news off the radar.
LGBT community vs. religious community, a false dichotomy
Nearly all audience participants who mentioned Kim Davis (the Kentucky county clerk who refuses to issue marriage licenses on religious grounds) said they were tired of hearing about her, but there was widespread interest in hearing more progressive religious voices in the news. Participants said they would like to hear more from the churches, synagogues, temples and mosques that are accepting of LGBT people. One person objected to a perceived insistence in the media to show that the African-American community "doesn't support the LGBTQ community," drawing nods of support around the room.
It was suggested that journalists can help here by better separating religion and politics and by exploring people's motivations on both sides of an issue rather than lumping religious folks of all stripes together, giving the impression that they all must be enemies to LGBT folks.
Panelist John Bright said, "We need to be honest that much of the opposition to our civil rights does come from religious sources." But he said if we can address the core moral arguments — which he says the LGBT community is winning, as witnessed in the marriage debate — then we can begin to release the idea that religion is damning, and we can remove the need to retreat from it and seek support from the rejection of faith communities.
The role of race
There was also concern that the experiences of people of color, when not completely ignored by the media, were valued less for gaining perspective and building bridges than for presenting trauma and shock and intrigue. Inequality in the representation of minority experience in the mainstream media reinforces the inequality in real life. Some perceived a tendency to "use people of color" for a good story with no thought toward the good of the community. And the underlying tone of condescension — "What else can we fix about 'these people'?" — further represents racial minorities as dependent and lacking the capacity to achieve success. In fact, said a few people, queer people of color are now, and always have been, at the forefront of LGBT social justice work.
At one table there was a tacit acknowledgement of the "secondary gains of white success stories." Underlying the conversation was the need to understand how white privilege frames the narrative of LGBT progress. Though marriage and greater exposure of transgender experience may have been driven in the media by white men or white trans women with means, there are gains that reach into other populations as well, and some audience members expressed an appreciation for that "ripple effect."
There is some hope
Despite the criticism, some participants acknowledged that journalists are not always responsible for the focus of mass media, that it responds to the expressed interest of those with voices loud (or wealthy) enough to be heard. There was a longing for news outlets less restricted by financial backing. And some audience members bemoaned the dominance of media conglomerates over independent news organizations, and a general lack of financial and audience support for investigative journalism.
There is some hope in the way that the shape of mass media is changing. "We live in a time when anybody can create the content," said one young participant. "The Media" now includes anyone with a cell phone and some basic publishing tools, making the process more creative and constructive, especially for presenting issues important to minority communities. Grassroots presentations of "media" can do as much as, if not more than, traditional print and video media to make an impact.
Yet there is a continuing and important role for journalists to play in telling the stories of marginalized communities, seeking out new voices, and allowing them the space to tell their own stories. New media has the capacity to amplify stories, like those of the panelists, that bring to light the priorities of underrepresented LGBT communities. (For example, see a storytelling initiative driven by trans voices, called "We the T!" from Medium's Gender 2.0 project.)
There was a general feeling in the room that "it will get better with each generation." Participants acknowledged that Philadelphia is starting to address issues in ways other cities haven't, citing Nellie Fitzpatrick in the mayor's office (who was in attendance), Deja Alvarez's story of working with the police department, the existence of LGBT senior housing. Philadelphia was the first American city to actively promote tourism to LGBT people. The University of Pennsylvania is the most LGBT-friendly school of the Ivy League.
One participant was impressed by the stories of Philadelphia's role and said that, while he had not had experiences as traumatic as those he had heard that night, it was important to hear the stories.
—
We take very seriously the idea of giving space to people to tell their own stories, and for giving others an opportunity to hear them. Submit a 700-word personal essay, commentary or op-ed to Speak Easy for consideration. Email speakeasy@whyy.org.
Special thanks go to discussion moderators from the Penn Project for Civic Engagement, including Marjorie Anderson, Brian Armstead, Laura Hinds, Carol Lydon, Ellen Petersen, Roz Spigel, Terril Thompson, and Josh Warner, and NLGJA members Tiona McClodden and Sandy Smith, for their contributions to this report.
WHYY is your source for fact-based, in-depth journalism and information. As a nonprofit organization, we rely on financial support from readers like you. Please give today.