Flavorhoods: Tacony Hoagie Trail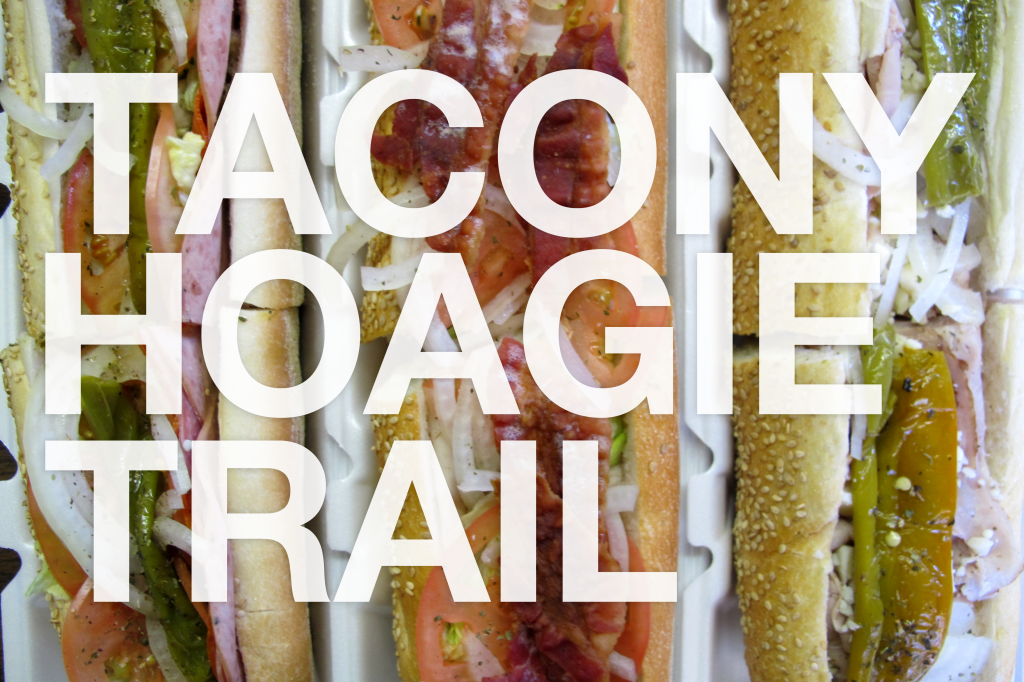 Philadelphia is a city of flavorhoods, packed with distinctive tastes, treats, and personality all their own. We're setting out to explore some of the city's unique food assets – from specialty food shops to ethnic enclaves that are regional destinations – and their role in neighborhood life as part of a feature we call Flavorhoods. Today we'll begin with one of Philadelphia's most important food groups, the hoagie, with a trip along the Tacony Hoagie Trail.

Sometimes improving a neighborhood commercial corridor means playing to its strengths. And in Tacony's case that is delicious business.
As the Daily News reported Monday, the Tacony Hoagie Trail, is new joint marketing campaign for three of Tacony's specialty sandwich shops, as part of a layered business-improvement initiative. As Eyes on the Street has previously reported, the Historic Tacony Revitalization Project, started by Tacony CDC, is working with neighbors and business owners, developing plans to strengthening the commercial climate along Torresdale Avenue, including a significant facade improvement grant program.
Tacony CDC's approach to revitalizing Torresdale Avenue is a delicate balancing act between encouraging new businesses to choose the Avenue and supporting the neighborhood's existing commercial assets. Earlier this year when we sat down to talk about the fledgling revitalization efforts for Torresdale Avenue, Corridor Manager Alex Balloon explained that the idea for Tacony Hoagie Trail was actually born out of a marketing study that identified specialty foods as one of the neighborhood's strong commercial clusters, poised for growth. (Balanced out nicely with a strong concentration of businesses focusing on active living.)
The trick is getting folks to choose Tacony, who might not otherwise think of the neighborhood as a food destination.
Challenge accepted.
Last Friday, Andrew Goodman, a PennPraxis colleague, and I hit the Tacony Hoagie Trail with empty stomachs and high expectations. Our mission was simple: Come hungry, and eat our way through several hoagies. We recruited Alex Balloon as our guide, and set out on a half-mile tour of the Hoagie Trail to get a taste of Tacony's finest.
After three stops and pieces of seven hoagies, I can confirm that this is one flavorhood packed with serious hoagie power. Here's what our tour and our eats looked like:

Our first stop was DeNofa's Deli and Caterers (6946 Torresdale Avenue) to check out their Italian specialties and pick up two hoagies. DeNofa's has been in business on Torresdale Avenue for 36 years, and the double-width storefront is among those slated for a facelift as part of the Facade Improvement Grant Program.
In the prep area behind deli cases filled with house-prepared foods and lots of Italian meats, owner Angie DeNofa was busy making long coils of hot Italian sausage, one of her homemade specialty sausages (a process that she made look tidy and perfect).

Alex suggested we try The Ernie, featuring house-made sage breakfast sausage (we had to try one kind), broccoli rabe, sharp provolone, hot peppers, fried onions, and mayo. The sausage was as good as promised, savory with a hint of sweeness. We also picked up an eggplant sandwich – our only vegetarian selection. While we waited, we were invited to try some still-warm, eggy potato salad fresh out of the kitchen.
Though we wanted to try more of DeNofa's delicacies – the stromboli, stuffed peppers, bread pudding – and cart home pounds of sausage, those treats would have to wait for another day. We had to maintain a laser-like focus on hoagie acquisition.

Next up was Fink's, an eight-year old sunny storefront on Princeton Avenue just west of Torresdale Avenue. At Fink's seeded rolls from Liscio's are piled high, hunks of sharp provolone are the norm, and the specialty sandwiches are named for Northeast neighborhoods. I'd eaten the Wissinoming (tuna/roasted red peppers/provolone) before, so owner Dennis Fink guided us to two other options: the Pennypack (turkey/bacon/provolone/Caesar), and the Torresdale (roast pork/spinach/provolone/garlic/long hots/onion/garlic sauce). We also wanted to taste the "signature" Original Italian, a spicy mix of capocolla, pepperoni, coteghino, salami, provolone, and topped with long hots for extra kick. If I had to choose, the Torresdale was my Fink's favorite, for its garlicky power.

Owner Dennis Fink is a proud Vietnam Vet and Temple alum, with a warm smile and generous way. He wouldn't let us pay for our sandwiches, taking my money and handing it back to me as smaller change. "I live in Tacony," he said "If I made a lot of money I'd have to move to the suburbs." His staff confirmed that this kind of kindess happens a lot. (Thank you, Mr. Fink. I'll buy a platter next time and pick it up in disguise.)

Last but certainly not least we stopped at Jack's Place, a small shop on the corner of Hegerman and Wellington streets. Jack's corner storefront may be small, but inside there's an antipasto bar for folks who want to round off their lunch with some artichoke hearts or olives. Here, Alex suggested the Downtowner, one of Jack's three Italian specialty sandwiches – a mix of thinly sliced dry cured meats with an olive spread that was savory perfection. We also went for the Italiano grilled chicken sandwich, dressed up with bacon, romaine and Italian dressing.
As Jack's menu says, "Quality is never an accident, it's always the result of high intention, sincere effort, intelligent direction, and skillful execution. It is the wise choice of many alternatives."
With all of our tempting samples in tow, we headed back to Alex's office to divvy up our seven sandwiches and taste as much as we could. There were leftovers, but I'll admit that we demolished an embarrassing amount of hoagie.
Andrew and I are, Alex thinks, among the very few who have shown up in Tacony on an express mission to sample every stop on the Hoagie Trail in a single day. But the point of the cross-promotion is less about a day of epic eating, and more about getting people to think of Tacony as a destination for deliciousness. Tacony, you are officially on the flavorhoods map as a hub of hoagie happiness.
———
DeNofa's Deli and Catering: 6946 Torresdale Avenue (closed Sunday and Monday)

Fink's: 4633 Princeton Avenue at Torresdale (closed Monday and Tuesday; Sundays not in football season)

Jack's Place: 7176 Hegerman Street (closed Sunday and Monday)
Got a Flavorhoods suggestion? Send it along.