Be a tourist at home: Seven Jane's Walks, May 2-4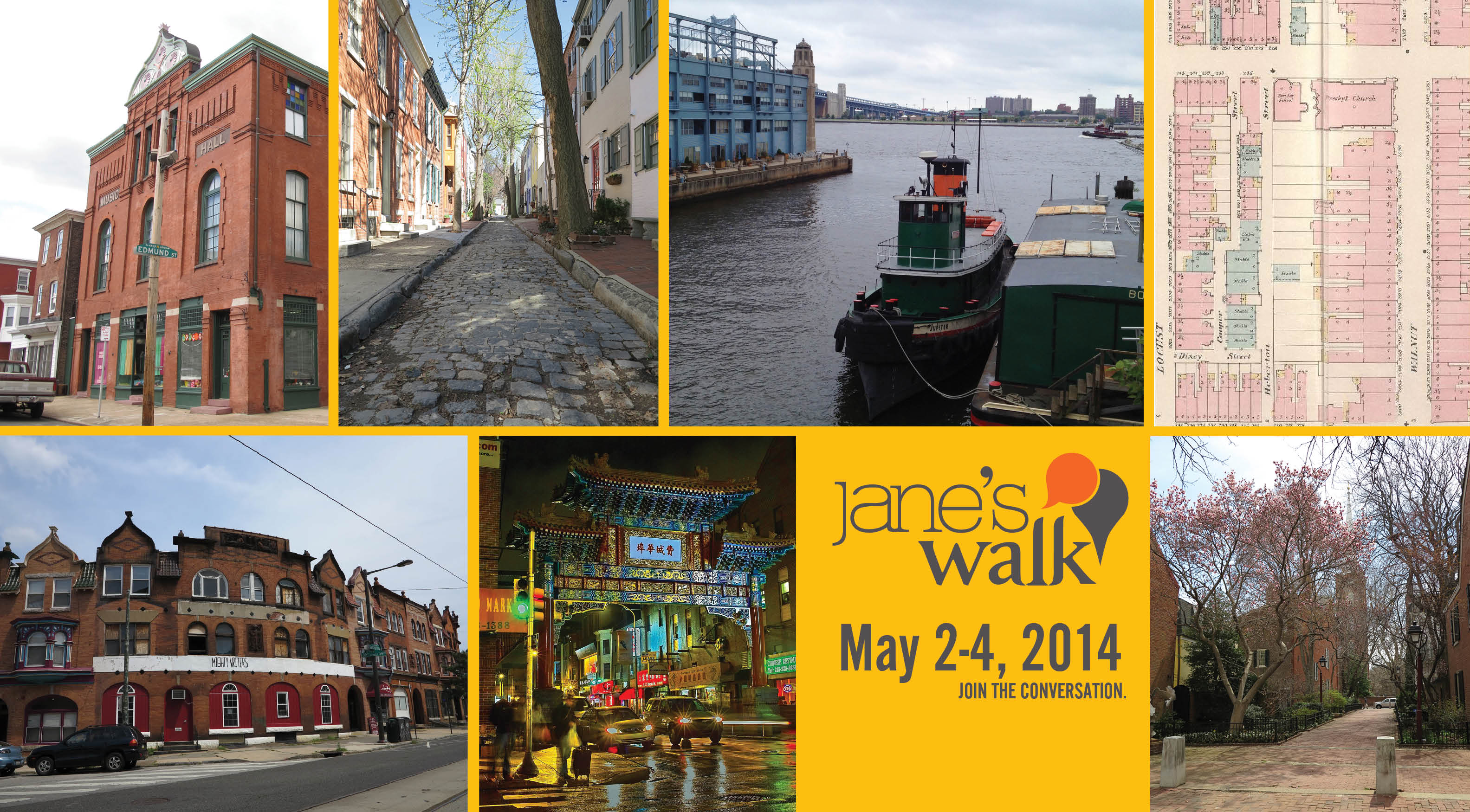 It's time to take your eyes to the street, Philly. Join PlanPhilly May 2-4 as we present Jane's Walk, a series of free volunteer-led walks to help us explore our city anew. Each walk is a roving conversation that encourages participants to swap ideas, share experiences, and see the city from different angles. You're invited to use your pedestrian powers, help peel back the layers of neighborhood change, illuminate hidden city charms, and engage with public spaces and one another.
This year's Philadelphia Jane's Walks will visit commercial corridors in varying stages of revival, discuss the past and the potential of the Central Delaware Waterfront, wander the modernist-meets-preservationist greenways of Society Hill, and explore the overlapping cultural communities of Chinatown/Callowhill. A walk tag-team will stroll the streets around Rittenhouse and Fitler squares – considering the neighborhood's history and form, visiting notable buildings and charming streets, and stopping at well-loved parks. Each walk is free, no registration is necessary, and all are welcome.
Jane's Walk Philadelphia 2014 Lineup: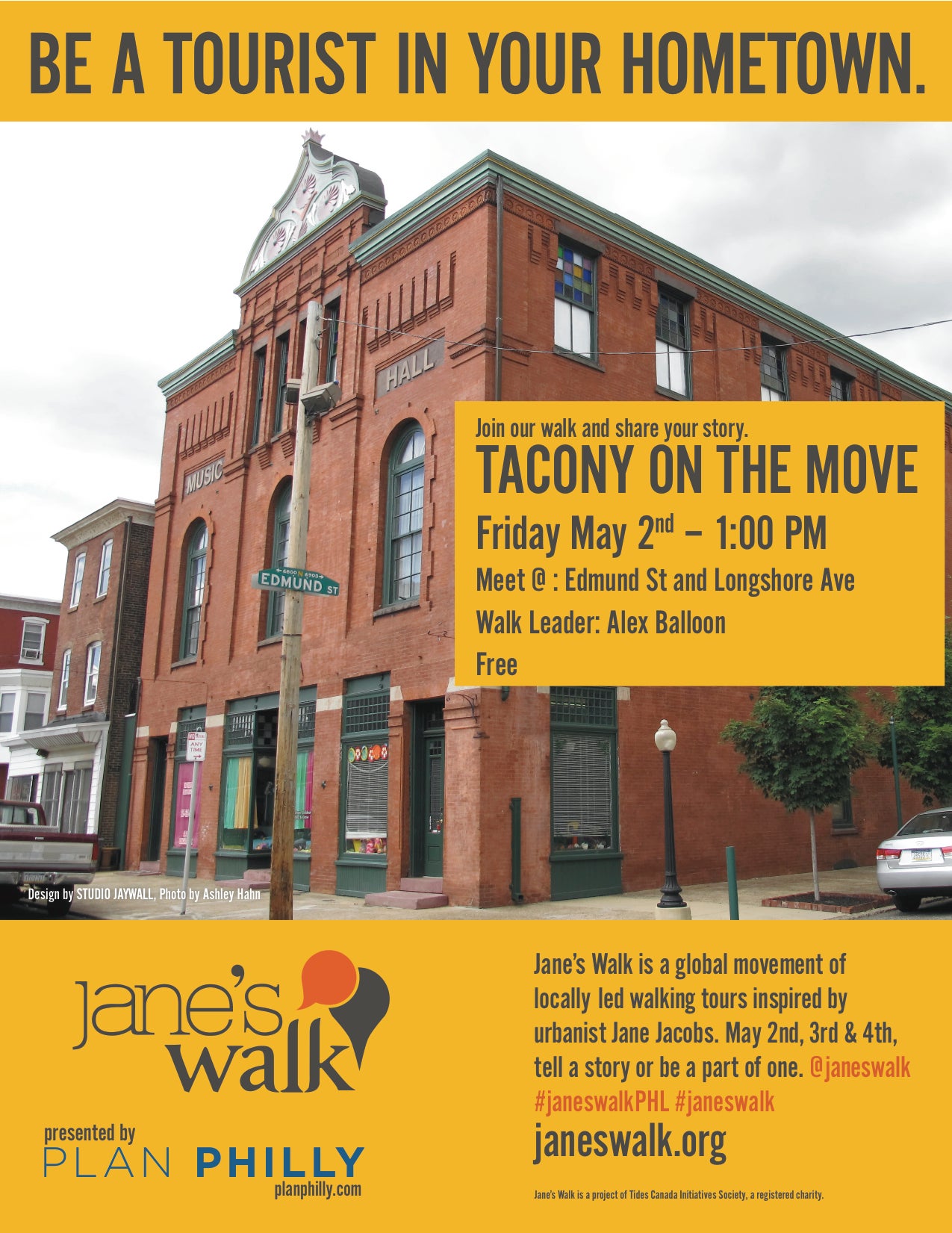 Friday, May 2 at 1pm
Walk Leader: Alex Balloon, Tacony CDC

Take a look at the changing face of Tacony. Check out several recently restored storefronts and visit community anchors such as the Tacony Library and Disston Park to discover how preservation and commercial revival go hand-in-hand here. Consider what makes a great streetscape; and talk about how this former company town is becoming a better 21st century neighborhood.
Meet at Tacony CDC office, Tacony Music Hall building at Longshore Avenue and Edmund Street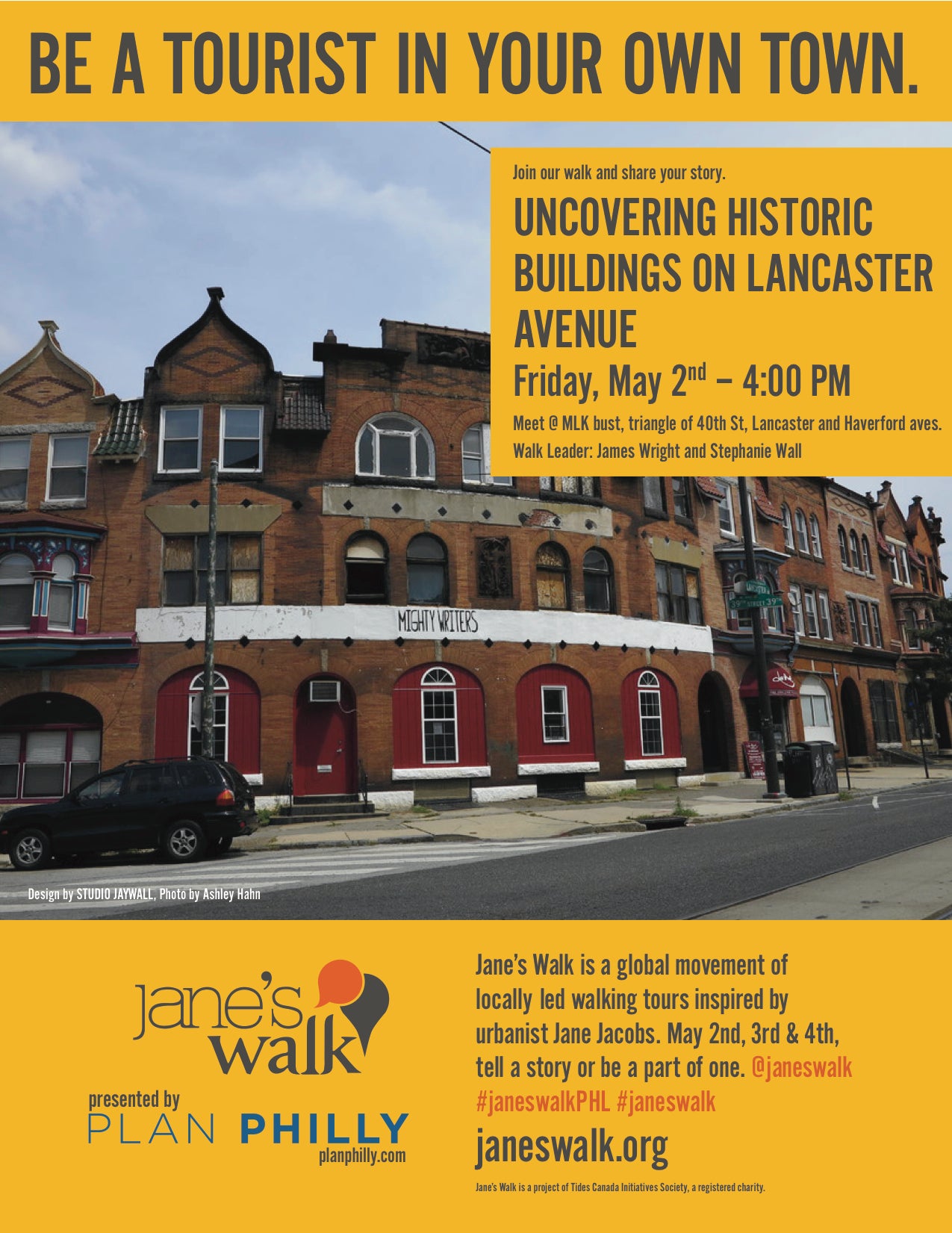 Friday, May 2 at 4pm
Walk Leaders: James Wright and Stephanie Wall, People's Emergency Center
Explore the past and the potential of two impressive historic buildings at prominent intersections on Lancaster Avenue: the West Philadelphia Title and Trust Company and Hawthorne Hall. Discuss what these buildings mean to the commercial corridor and surrounding neighborhoods. Learn how programming and physical improvements are helping revive this part of Lancaster Ave. This tour will also invite participants to peek inside Hawthorne Hall and imagine its future.
Meet at Martin Luther King bust at triangle of Lancaster Avenue, Haverford Avenue, and 40th Street.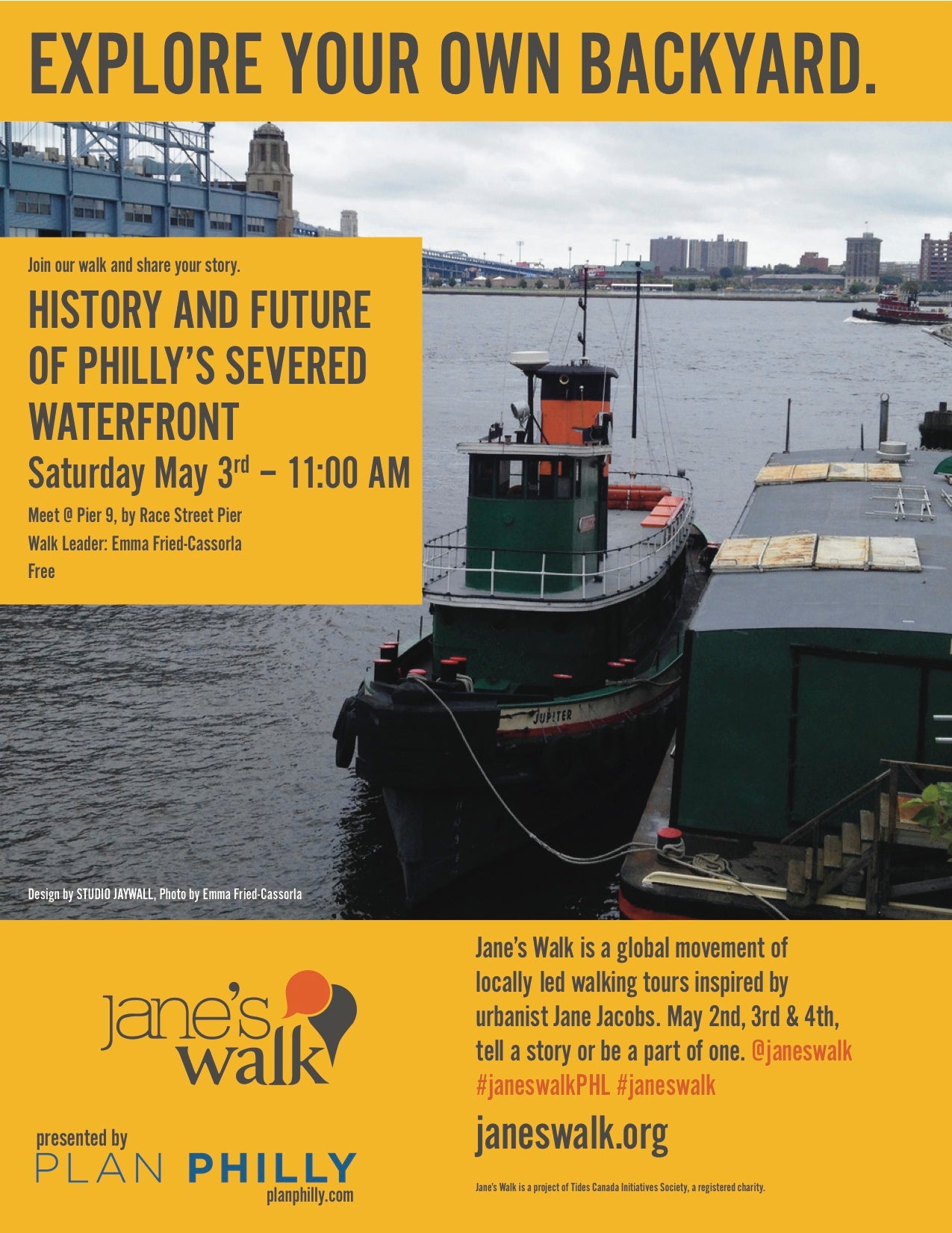 Saturday, May 3 at 11am
Walk Leader: Emma Fried-Cassorla, Delaware River Waterfront Corporation
The Central Delaware Waterfront is poised to become a more active place. Hear more about work on the waterfront, from this summer's pop-up Spruce Street Harbor Park to the vision for a new Penn's Landing. Discuss how the city became cut off from its waterfront, and current aspirations for a brighter, more-connected future. This walk features special access to parts of the waterfront not open to the public, such as Pier 9, and pay a visit to the Race Street Pier and Tugboat Jupiter.
Meet at Pier 9, next to the Race Street Pier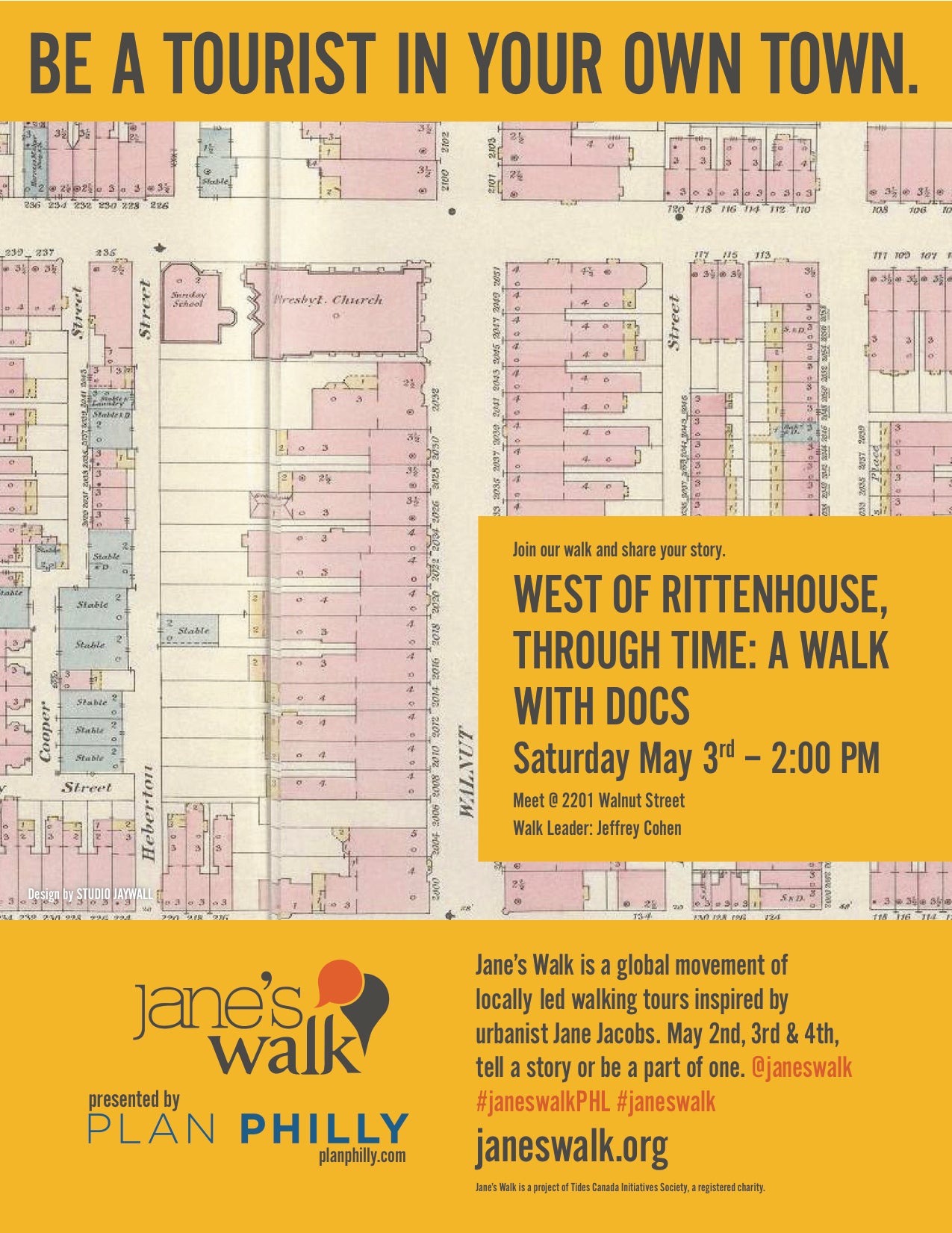 Saturday, May 3 at 2pm
Walk Leader: Jeffrey Cohen, Historian
Take a deep look at how a sliver of the Rittenhouse neighborhood developed – from 20th to 23rd streets, Lombard to Market streets. Learn about 19th-century speculators, architect-designed townhouses and mansions, and 20th century apartment buildings through old maps, deeds, and early photographs. Watch neighborhood history reveal itself during this neighborhood stroll.
Meet at 2201 Walnut Street
Saturday, May 3 at 4pm
Walk Leader: Kiki Bolender, Architect
Discover the charm of the Rittenhouse/Fitler neighborhood's tiny streets, and discuss how the intimate urbanity and scale affects the way neighbors live together. This walk starts at Rittenhouse Square and will pay a visit to two other wonderful but very different parks Fitler Square and Schuylkill River Park.
Meet in Rittenhouse Square at central kiosk
Sunday, May 4 at 11am
Walk Leader: Ashley Hahn, Eyes on the Street / PlanPhilly
Society Hill's greenways are where 1960s urban renewal and preservation efforts collide in a series of compromises struck between Ed Bacon and Charles Peterson. Look at the living legacy of that era with a walk through Bingham Court, the greenways, and delightful Three Bears Park. What makes these pedestrianized spaces work as public spaces? How can design enhance quietude? Does the blend of the Federal city and Mid-century Modern city hold up?
Meet at Washington Square, Locust Street east exit (Locust and 6th streets)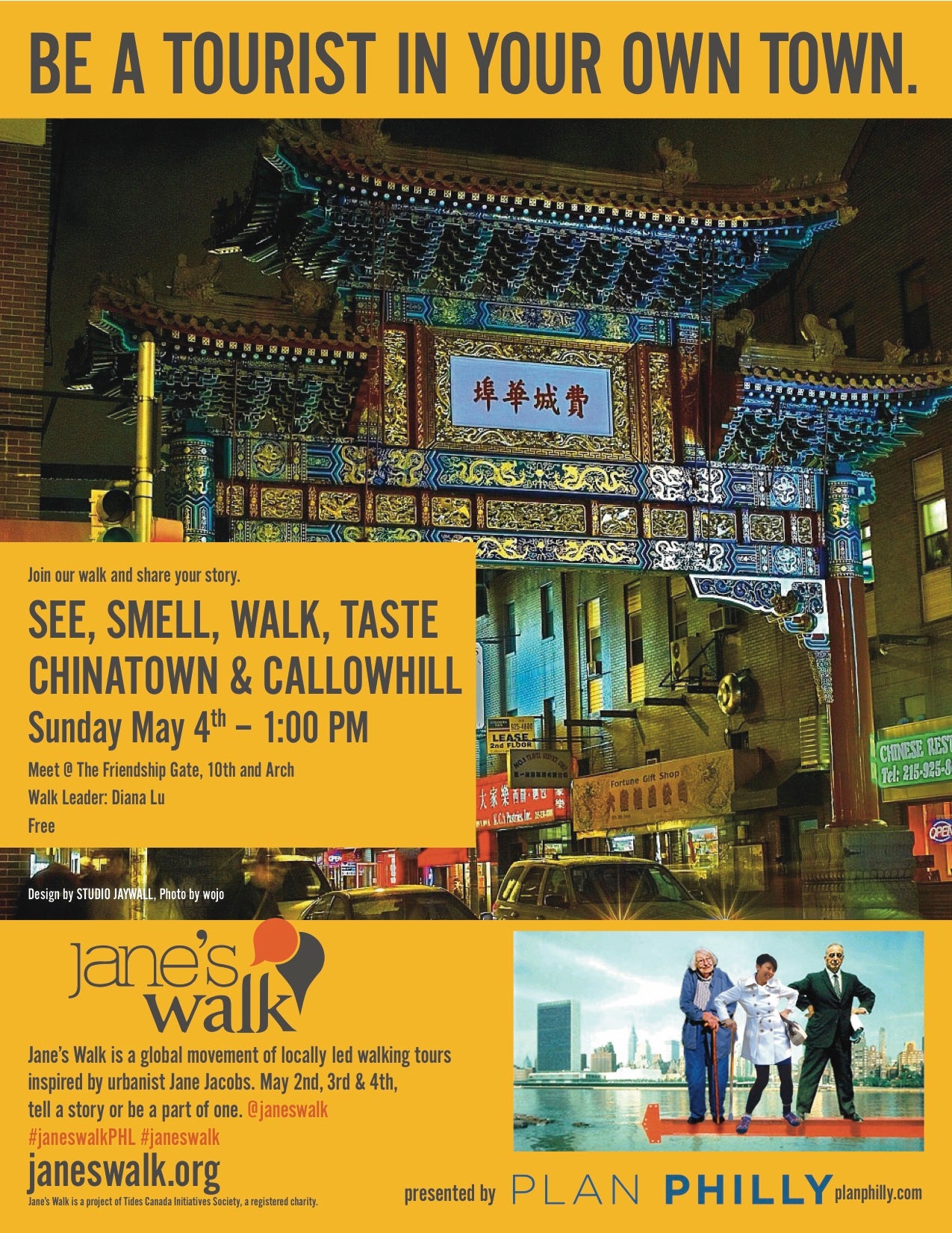 Sunday, May 4, 1pm
Walk Leader: Diana Lu, former Chinatown Main Street Manager
This is Chinatown beyond dim sum. Get a window into the creative convergence of commerce, neighbors, artists, activists, and manufacturers that cohabitate in Chinatown/Callowhill. Visit intimate community spaces, discuss the impact of projects like the Vine Street Expressway and Convention Center on Chinatown, see the Rail Park site, and talk with local business owners and community leaders.
Meet at Chinatown Friendship Gate, 10th and Arch streets
For complete and up-to-date tour information, check Jane's Walk Philadelphia online.
Follow along @EOTSPhilly, @JanesWalk , #janeswalkPHL, and #janeswalk
ABOUT JANE'S WALK:
Jane's Walk is a movement of free, locally led walking tours inspired by urbanist and writer Jane Jacobs. The walks get people to explore their cities and connect with neighbors. Our annual global festival is May 2nd, 3rd & 4th. Learn more at janeswalk.org
WHYY is your source for fact-based, in-depth journalism and information. As a nonprofit organization, we rely on financial support from readers like you. Please give today.