Five kids and a crisis in Azuka Theatre's 'Ready Steady Yeti Go'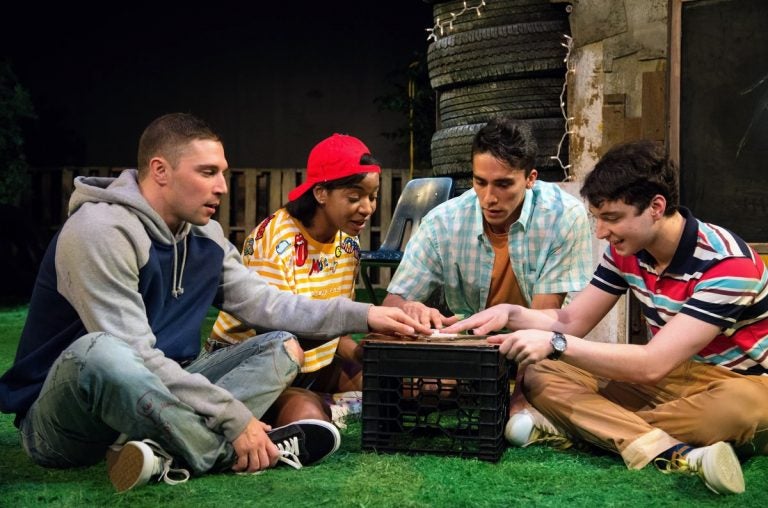 The new play "Ready Steady Yeti Go" from Azuka Theatre starts off with five actors unsure of what they're about to do, and after a couple of scenes it becomes clear they've been certain all along. Switching them out of character for seconds at a time — maybe for just a sentence — is one of the play's devices. When it's used, it makes us feel like we're inside a rehearsal.
This gives "Ready Steady Yeti Go" by David Jacobi, a playwright who lives in Philadelphia, an unfinished sense — the right touch for this offbeat 90-minute look at young teenagers whose concept of almost everything is only beginning to evolve. They are junior high students — or as we say in Philadelphia, middle schoolers — smart and in solid families. They confront a crisis when someone spray paints a large-lettered racial slur on the house of Carly, a black girl among her mostly white peers.
What to do? If it's up to the school teacher Ms. Apples, overreact in a way that imposes poster-girl victimhood on Carly and rains down white guilt on everyone else. If it's up to a police chief's middle-school son called Wikipedia Jones, who fancies himself a master fact-finder, pin it on the kid who pushed you into a pool at a party. If it's up to the person who actually did it, lay low and empathize with everyone.
And that last one — the person who did it and why — is the problem that arises in this otherwise fresh and absorbing new play, in a production directed by Allison Heishman that gets under your skin so that you roll along with these kids. Without revealing anything about who did it, I'll say that Jacobi's script attributes the hurtful vandalism to little more than a bad-hair day.
That's hardly enough to explain a hate crime. It's a disappointing gloss-over after Jacobi develops these kids so specifically: the boy who eschews manners and any whiff of responsibility (played by Frank Nardi Jr.); his brother, a student leader (Adam Howard); Carly (Kishia Nixon), the target of both racism and a rash of unwanted sympathy; and two other friends played by Jenson Titus Lavallee and Alison Ormsby. The five sharp young-adult actors who play these and other roles never exaggerate their looks or movements to portray young teens. They convince you through straightforward acting, an achievement that extends to Heishman's direction.
"Ready steady yeti go" is the shouted phrase these actors use to end one scene and begin another — it's a nonsense rhyme kids might say to each other in a clique or on the playground and has nothing especially to do with the legendary yeti monster. Here, they shout it in what they call their little hideout in the woods, made all the more real by Kevin Meehan's grassy set that also serves as a backdrop for several other places. Jacobi's script moves quickly and his dialogue sounds just right for kids always learning something new about themselves and, when they're paying attention, the rest of the world.
The play, funny and increasingly poignant as it moves forward, also has a star-crossed lover plot between Carly and one of the brothers, and nifty touches — among them, a dinner-table scene in which Nixon smoothly plays Carly plus her mom and dad all at once; a school assembly at which Mrs. Apple's political correctness overwhelms anything real about her; and another in which the two very different brothers each interact predictably with their mom at home.
"Ready Steady Yeti Go" is what's called a "rolling world premiere" by the National New Play Network, a project instrumental in getting original work on stages around the country. Several theater companies agree to produce a new play, one company after the other, and the playwright can use the time between each production to fine-tune the script. Azuka Theatre is the first to produce "Ready Steady Yeti Go." Productions in Los Angeles and Tampa follow, and my guess is, if they're as well thought-out as Azuka's and if Jacobi hones his script, he'll have a play other companies will want to produce, too.
—
"Ready Steady Yeti Go," produced by Azuka Theatre, runs through March 11 at the Proscenium Theatre at the Drake, to the side of the Drake Apartments on Spruce Street between 15th and 16th Streets. 215-563-1100 or azukatheatre.org.