Five-day international film festival to draw cinema enthusiasts to Trenton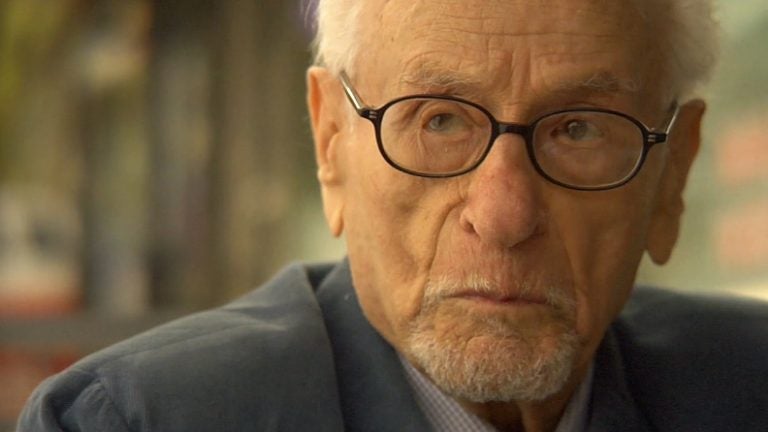 The Trenton Film Society has put its own spin on the city motto, "Trenton Makes, the World Takes." With "The World Makes, Trenton Screens," the 2016 Trenton Film Festival has created yet another reason to visit the capital city—55 films from 16 other countries will be presented at the Mill Hill Playhouse March 30-April 3. The juried festival of works by independent filmmakers includes U.S. premieres and one world premiere, as well as a short film starring Academy Award-winner Eli Wallach.
Common themes emerge in films that run the gamut from documentary to animation, spoken word to music video, drama to comedy. Whether from Newark or as far away as Romania, Iran and Korea, these stories convey human qualities of resilience, curiosity, familial loyalty, compassion and hope. In "Ageless Friends," a young man in the Netherlands who, as a boy, adopted the grave of a World War II soldier buried in his village, travels to Virginia to visit the soldier's home town.
We get inside the heads of young women facing terminal illness and young men of color being unfairly scrutinized by police. Films with a focus on Trenton show how its struggles with homelessness, drug addiction and coping with mental illness are universal. And a film about Superstorm Sandy, "Two Years," contrasts a community struggling to rebuild with a governor building his brand for a presidential run.
In addition to the grittier side of life, there are beautiful scenery films, such as "North Coast 500," about cycling in the Scottish Highlands; "A Thousand Autumns," in which National Geographic photographer Bob Krist follows a young Icelandic farmer moving herds of sheep and horses through a spectacular though unforgiving terrain; and "Autumn Leaves," from Iran, which follows a little girl's walk to school. (These films range from four to 17 minutes.)
Another film from Iran, "Fish," tells the story of an old couple, the man sleeping as his wife does housework until she runs out of water for the fish tank, in four minutes. "The Descendants" is an 81-minute feature about an Iranian father who goes in search of his son who left for Sweden to study and has not been heard from since.
The selections were culled from 129 submissions by a dedicated 14-person jury of film professors and professionals. Each was viewed by at least three jurors who rated it and wrote out comments. As jurors inevitably disagree, a committee of three, looking at the jurors' comments, made the final selections.
"We were looking for a combination of how well it was written, shot, and acted, and what would capture the audience's attention and imagination," said board member and festival programmer Susan Fou. "We wanted it to be enjoyable for the audience and planned what types of shorts would go together. For example, with 'Death on a Rock,' about a young woman facing illness and having flashbacks of her life, we found a short that worked well thematically ("Choice 'Mother'"). We were also trying to include a variety of countries and points of view."
Among the biggest surprises was getting a film with Eli Wallach in it. "The Train," a 10-minute film about a young man who reluctantly agrees to meet his girlfriend's grandfather and learns how life can change in a moment, stars the Academy Award-winning actor. "We were also amazed by some of the cinematography and cross-cultural and cross-generational themes," said Fou.
The Trenton Film Society was founded in 2003 by Trenton filmmaker Kevin Williams, now Jennifer Williams, and produced the first Trenton Film Festival in 2004. The festival grew, screening hundreds of films in such venues as the New Jersey State Museum, the Contemporary Club, the Masonic Lodge and the Mill Hill Playhouse. Today, the society produces three annual events: a weekend of Oscar-nominated shorts, the Trenton Film Festival, and Trenton World Cinefest, a curated international film festival, this year June 8-11.
During the festival weekend, many come from surrounding suburbs in Princeton and Bucks County, Philadelphia and New York City, patronizing restaurants and bistros within walking distance of the Playhouse, such as Settimo Cielo, Mill Hill Saloon, Trenton Social and Smokehouse, according to Trenton-based architect and Trenton Film Society President David Henderson. "Our goal is to use arts to draw visitors to downtown Trenton, and provide high quality film for the benefit of Trenton and greater Trenton residents," he said.
In addition to providing an opportunity for local and international independent filmmakers, the festival gives young filmmakers a chance for exposure. "Last year's festival included a documentary on childhood allergies by a 13-year-old Chicago-area filmmaker," said Henderson.
Tickets cost $8 per screening or $25 for an all-access pass to the entire festival. All screenings are at the Mill Hill Playhouse, 205 East Front St., Trenton. Tickets and passes can be purchased online or at the box office, and film descriptions and schedule information are available at trentonfilmsociety.org
Disclosure: Evelyn Tu, wife of NewsWorks New Jersey editor Alan Tu, is a board member of theTrenton Film Festival and produced the trailer shown above.
_______________________________________________
The Artful Blogger is written by Ilene Dube and offers a look inside the art world of the greater Princeton area. Ilene Dube is an award-winning arts writer and editor, as well as an artist, curator and activist for the arts.
Below is 360 degree virtual tour of where the films will be shown. The Mill Hill Playhouse was built in 1873 for the Messiah Chapel, an Adventist congregation.