'We want you to call 911': Following Fetterman's stroke, neurologists weigh in on how to spot and act FAST on warning signs
Just days before easily winning the Democratic nomination in  Pennsylvania's high-profile U.S. Senate race, John Fetterman suffered a stroke — during what happens to be Stroke Awareness Month.
The stroke, his campaign team said, was caused by a blood clot due to atrial fibrillation (A-fib).  This type of heart arrhythmia causes the heart's upper chambers to beat out of sync with the lower chambers. The clot was removed, and the 52-year-old lieutenant governor had a pacemaker and a defibrillator implanted in his heart at Penn Medicine Lancaster General Hospital on primary election day.
Fetterman credited his recovery to Pennsylvania's second lady Gisele Fetterman, who urged her husband to seek medical attention when he was feeling unwell.
On Friday, I wasn't feeling well, so I went to the hospital to get checked out.

I didn't want to go – I didn't think I had to – but @giselefetterman insisted, and as usual, she was right.

The good news is I'm feeling much better + I'm well on my way to a full recovery. pic.twitter.com/WQ5X6QgQen

— John Fetterman (@JohnFetterman) May 15, 2022
WHYY News interviewed neurologists in the region to learn more about stroke. Dr. Kim Gannon, of ChristianaCare, and Dr. Paul Katz, of Temple Medicine weighed in about who is at risk, as well as how to spot warning signs and symptoms in yourself, or someone else.
How many types of strokes are there?
The experts who spoke to WHYY said there are two kinds:
Ischemic, which represents about 80% of strokes. It is caused by a blocked blood vessel in the brain (usually due to a blood clot), which destroys brain tissue.
Hemorrhagic stroke can occur for a number of reasons. The most common cause is a hemorrhage in the brain due to high blood pressure, damaging small, friable blood vessels in the brain. Hemorrhagic stroke also can be caused by other problems, such as a ruptured intracranial aneurysm, a rupture of an arteriovenous malformation, or a malformation of the blood vessels in the brain.
Who is most at risk for having a stroke? 
Stroke most often occurs among people over 65, said Gannon, a neurologist and director of the Comprehensive Stroke Center at ChristianaCare. In general, strokes before the age of 80 are more common among men. However, after age 80, stroke is more common among women, Gannon said.
However, people of any age could be at risk of having a stroke if they have health conditions such as hypertension, diabetes, coronary disease, or a smoking history, said Katz, professor and chair of neurology at the Lewis Katz School of Medicine at Temple University. High cholesterol can also be a contributing factor, but to a lesser extent, he said.
Hailey Bieber, the 25-year-old model and wife of pop singer Justin Bieber, revealed last month that she had a mini-stroke. Katz said stroke among this age group is very rare. However, people whose hearts do not form properly during infancy and aren't corrected with surgery are at risk for having a stroke caused by a blood clot, he said. Diseases such as lupus, and some rheumatologic conditions, can also cause strokes among young people, Katz said.
Can you reduce the chances of stroke? 
Quitting smoking is a standard protocol for ischemic stroke prevention, which reduces your risk by 50%, Gannon said. Other preventative measures include taking appropriate medication for hypertension and diabetes, and blood thinners for atrial fibrillation, Katz said.
Gannon said it's also important to eat plenty of fruits and vegetables, limit red meat and sugar consumption, and exercise for about 150 minutes per week.
"This can be a combination of moderate exercise, like walking, and vigorous exercise to get our heart rate up," she said. "Sometimes incorporating small things to change our lifestyle can be the most useful, meaning like parking at the back of the parking lot when you're going into your job, or walking up one flight of stairs and then taking the elevator the rest of the way, or maybe having an after-dinner walk with your family or your pets."
What kind of symptoms should people pay attention to?
Typical symptoms include numbness, tingling, weakness or sensory disturbance on one side of the body, double vision or loss of vision in one eye, difficulty understanding or expressing oneself, and slurred speech, both Gannon and Katz said.
Remembering the acronym FAST — which stands for Face, Arms, Speech, and Time — can help a person spot signs of stroke in themselves or someone else, they said.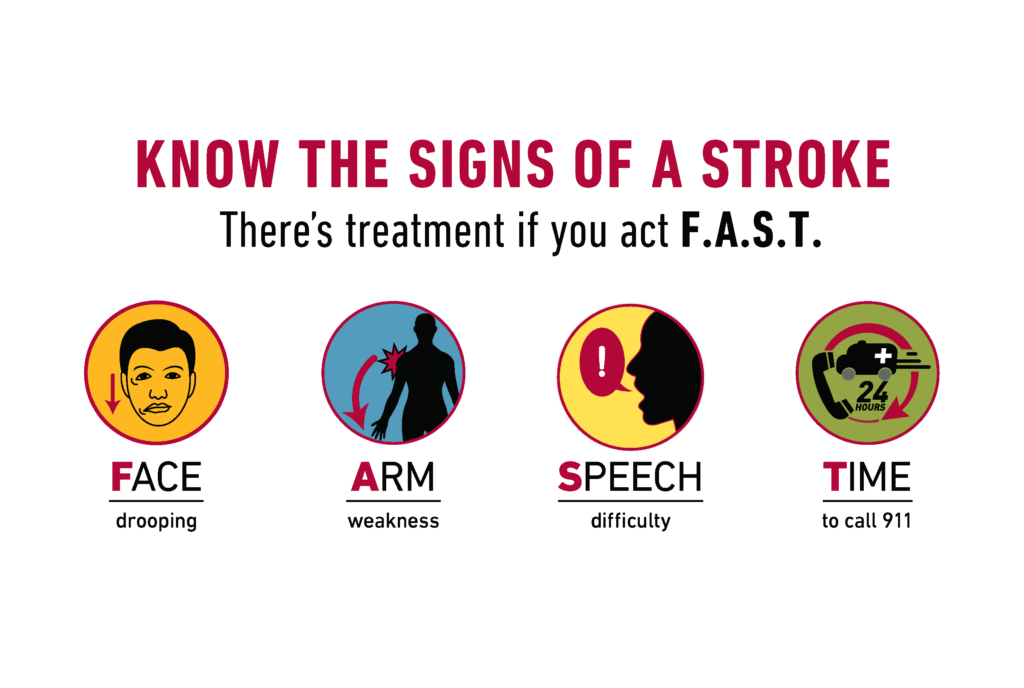 "If the observer notices anything wrong with the face, like a facial droop or one side of the face is sagging; if there is any arm weakness; slurred speech, difficulty understanding, difficulty speaking," Katz said. "And then, time. In other words, when did the symptoms start? Because stroke, in order to be treated, is so time-sensitive. It's very helpful to know, 'When exactly did the symptoms start?'"
Understanding FAST is important, because the earlier a patient is treated, the better the outcome, he said. The clot-busting drugPA, or tissue plasminogen activator, must be given within four and a half hours, while catheter based therapy has a 24-hour window.
What should you do if you or someone near you displays these symptoms? 
If you experience a stroke warning sign, you shouldn't wait more than 15 minutes before calling 911, Katz said.
"Studies have shown that people who call 911 get much quicker access to the emergency room," he said. "The 911 system almost guarantees immediate access to the emergency room, thereby immediate access to the imaging, and immediate access to the treatment. So we don't want you to call your doctor. We want you to call 911."
The longer care is delayed, the more chance that brain tissue will die and no longer be functional, Gannon said.
"We have so many interventions now that we can provide patients that we didn't have even 10 or 15 years ago," she said. "But it's really important that people recognize the symptoms of stroke, and if you do have any of those symptoms, calling 911 immediately — not delaying care, not taking medication at home, not taking a nap, and seeing if they go away. The sooner patients can get to us and the sooner we can treat them."
How long does recovery take?  
People with minor stroke symptoms can recover within 10 days, and are candidates for rehabilitation, Katz said.
"I usually tell families that if the patient improves pretty dramatically within the first 10 days, then statistically, they have a really good chance at good recovery or meaningful functional recovery, meaning that they will ultimately end up being independent," he said.
It could take much longer for patients who experience more serious strokes to recover, and they may end up with some significant neurological problems, Katz said.
"Now, that doesn't mean that they won't have meaningful lives, but they will have neurologic deficits," he said.
WHYY is your source for fact-based, in-depth journalism and information. As a nonprofit organization, we rely on financial support from readers like you. Please give today.