Fetterman has ambitions, but does he have a tie?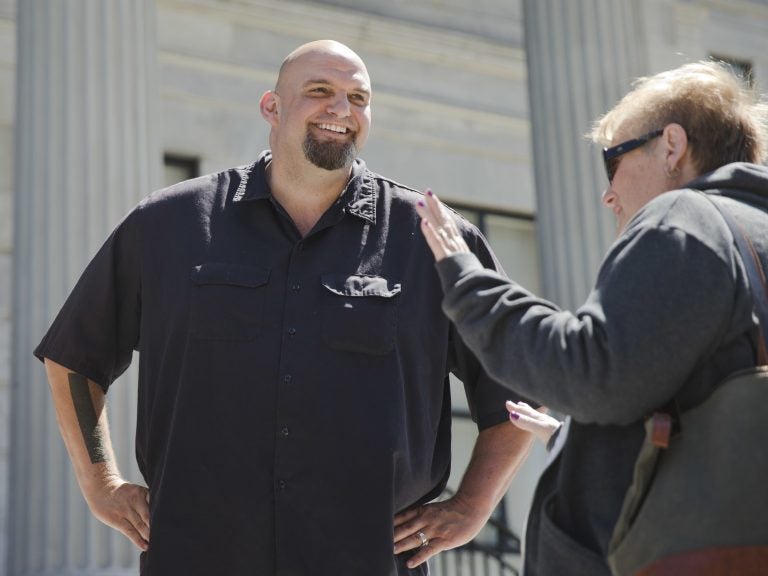 When Gov. Tom Wolf won a second term Tuesday, his running mate, Braddock Mayor John Fetterman was elected lieutenant governor, which no doubt caught the eye of Republican U.S. Sen. Pat Toomey.
When Fetterman announced his candidacy for lieutenant governor a year ago, he talked about being a "solid progressive backstop" for Wolf, getting a statewide platform for the issues he cares about, and one other thing.
"It also affords the ability to keep an eye on [the year] 2022 for Pat Toomey," he said.
Fetterman sought the Democratic nomination to run against Toomey two years ago, losing to former state Environmental Secretary Katie McGinty, who in turn lost to Toomey in the general election.
Toomey is up for re-election in 2022, and Fetterman has never abandoned the idea of running again.
Fetterman has become a unique and recognizable figure in Pennsylvania politics.
A towering, tattooed man who always wears Dickie work shirts, he speaks like a progressive policy wonk and has expressed an interest in pursuing his policy goals on a stage larger than the small, western Pennsylvania town he's been mayor of for 12 years.
Wolf's need to get along with Republican legislative leaders might put a damper on Fetterman looking too much like a candidate, but the office will give him increased visibility.
In a phone interview Wednesday, Fetterman declined to talk about taking on Toomey.
"It's a little premature to talk about something that far out in specifics," he said, adding he's grateful to be elected to lieutenant governor. "It's a role I intend to embrace at a very deep level."
Dressing the part
One of Fetterman's tasks as lieutenant governor will be presiding over sessions of the state Senate, where jackets and ties are required.
In a clever campaign commercial that aired in June, Wolf informs a startled Fetterman he'll have to wear a tie in the Senate, and takes him to Boscov's to pick out one.
Fetterman said, in real life, he hasn't addressed the question and doesn't know what the dress code is.
What will he do if he's told he needs a suit?
"Whatever I can get away with, that would be the answer," he said with a smile. "I believe in dressing as who you are as a person, and on the campaign trail people overwhelmingly appreciated that.
"Where it's mandatory or appropriate that I wear something different, then of course I will," Fetterman said. "But no one has to worry out there that I'm somehow going to go high-fashion."