Federal lawsuit filed against New Castle County over police killing of Lymond Moses in Wilmington
Police say Lymond Moses drove at a high rate of speed 'directly' at officers, but a lawsuit says bodycam footage undermines that account and shows officers were in no danger.
The family of a Black man shot to death in Wilmington by New Castle County police in January filed a federal lawsuit Wednesday, alleging civil rights violations, excessive force, and wrongful death.
Lymond Moses was killed after two county police officers opened fire on his vehicle shortly after 1 a.m. on Jan. 13 in the city's Riverside neighborhood.
Police are investigating internally and Attorney General Kathy Jennings' office is conducting an investigation into whether criminal charges should be brought against the officers.
Attorney Emeka Igwe, who represents Moses' sister Lakeisha Nix on behalf of his estate, said during a news conference Wednesday that he's also calling on the U.S. Attorney's Office in Delaware to open a separate investigation into what he calls the "murder" of Moses.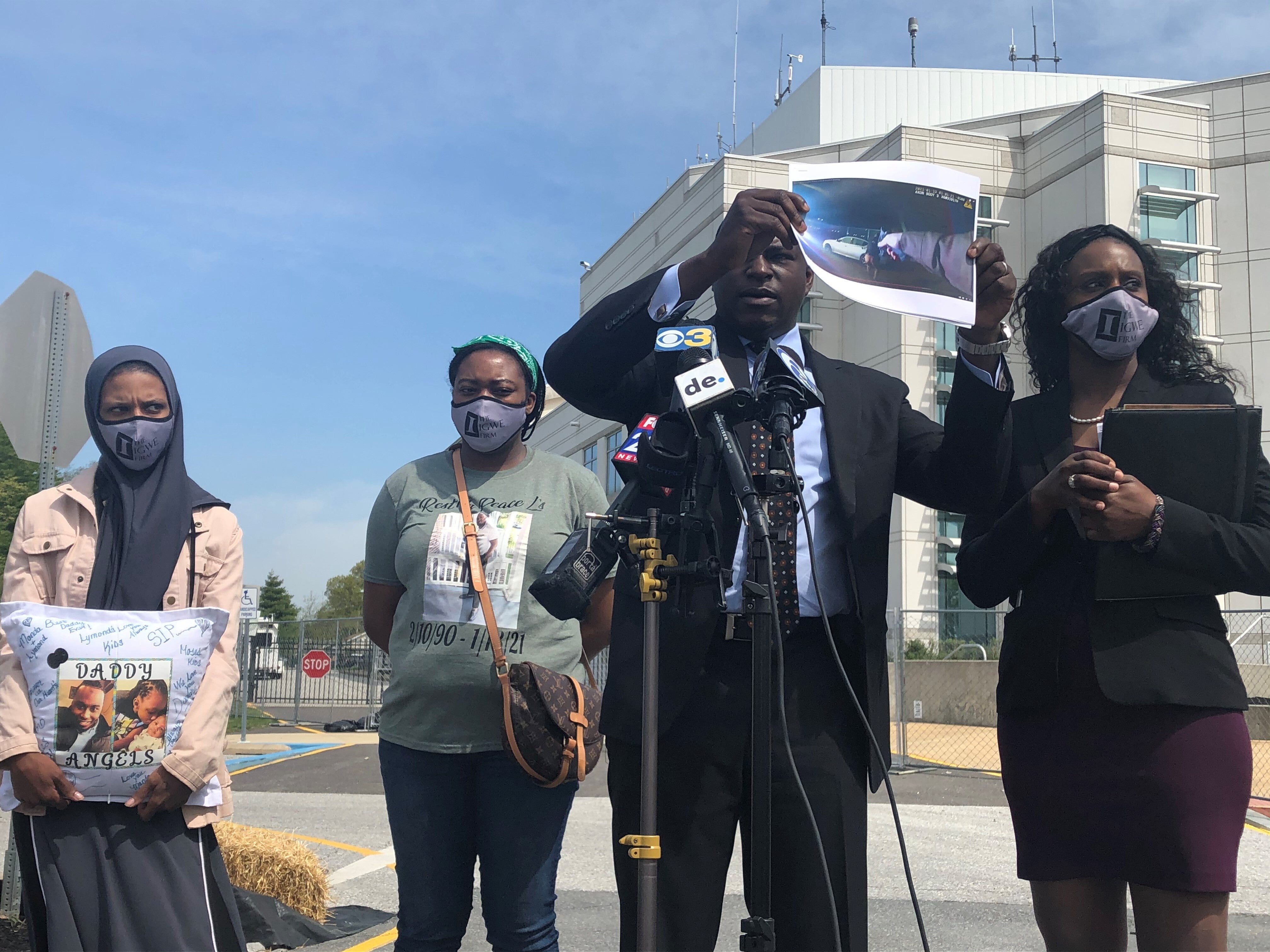 He pointed out that federal authorities have opened similar investigations of other police shootings in other jurisdictions in the United States, as recently as this week after a Black man was killed by officers in Elizabeth City, North Carolina.
County police, County Executive Matt Meyer and U.S. Attorney for Delaware David Weiss, did not respond to WHYY's request for comment.
Police have not identified the two officers who shot at Moses, saying they are on paid administrative leave, which Igwe derided as "paid vacation." Nor have they identified a third officer who drew his weapon but did not fire. All three are also defendants in the lawsuit, identified only as John Doe 1, John Doe 2, and John Doe 3.
Hours after the deadly shooting of Moses, police said in a news release that Moses "drove at a high rate of speed directly at" officers who had chased him after he fled in his vehicle.
The lawsuit counters that police killed Moses even though they "were not in imminent danger from Mr. Moses' vehicle" and said he did not have a gun or another weapon.
Bodycam footage shows initial encounter, deadly shooting
Last month, Meyer released the officers' body camera video over the objections of police.
The bodycam footage from three officers appears to show that the incident began when officers approached a parked but running car where Moses was asleep in the driver's seat.
Police reached in, cut the ignition, woke Moses up, and then told him they saw marijuana in plain view. One officer told Moses police "don't care about weed," but they asked him to get out of the car. Instead, he started the car and drove away.
Police pursued Moses' vehicle down the street, which was a dead-end block. He had made a U-turn by the time they arrived, and their vehicles faced his.
He drove toward them and two officers of three officers who were outside fired several shots. One bullet struck Moses in the head. His car then collided head-on with a police SUV and struck a telephone pole.
Igwe said Wednesday that the video shows Moses was steering away from them "to avoid hitting the police officers" while escaping. "The police officers made no evasive moves. They calmly and deliberately shot nine times at Mr. Moses' vehicle as it was going by."
Igwe said one officer fired even after Moses' vehicle had passed him, and provided a still photo from the footage that he contends proves his assertion.
'Moses lost his life over a misdemeanor amount of marijuana'
The lawsuit asserts that police also violated Moses' rights several times before they killed him.
The complaint said Moses, 30, who lived in Bear, southwest of Wilmington, had just left his mother's home and was resting in his vehicle when police approached his vehicle.
County police have said the officers were in Wilmington – outside their normal patrol area – because they were looking for stolen vehicles.
The lawsuit said officers "knew that Mr. Moses' vehicle was not stolen" but nonetheless woke him "in a sudden and startling manner."
One officer, "without probable cause, broke the plane of Mr. Moses' vehicle by turning off the start/stop engine with his ASP baton, in violation of Mr. Moses' Fourth Amendment right against unreasonable search and seizure,'' the lawsuit said.
Then, the lawsuit claims, two officers, also in violation of the Fourth Amendment, "opened the driver and passenger side doors of Mr. Moses' vehicle."
After seeing the marijuana the officers did not move to arrest him, but "demanded that Mr. Moses exit his vehicle."
Instead, he started the car and drove off. The deadly encounter occurred moments later about 250 feet down the street, the lawsuit said.
"Think about that," Igwe said. "Mr. Moses lost his life over a misdemeanor amount of marijuana."
Beyond the lawsuit, Igwe is calling on Jennings to bring criminal charges against the officers. He is skeptical, however, because no Delaware police officer has ever been arrested for shooting someone while on duty.
He also called on state lawmakers to change Delaware law that lets police escape prosecution if they say they believed there was imminent danger. Jennings has proposed adopting an objective standard (common in several other states), which is essentially what another reasonable police officer would do in the situation — not what an officer subjectively believed.
"Subjective means any officer can just say, 'I felt I was in fear of my life without any facts objectively to contradict that,''' Igwe said. "The standard should be objective: 'What would a reasonable police officer do under the circumstances?' And this notion that all the officer has to do to get a get-out-of-jail-free card is to say that 'I felt in fear of my life.' What do you think an officer is going to say?"
Igwe was joined by Nix and Amanda Spence, Moses' wife and the mother of their two children.
Nix echoed Igwe's call to have the two officers who fired arrested.
"That's the only part that's going to give us a sense of peace,'' she said. "This was a homicide … The lawsuit is just blood money. My brother's blood is on that money. We're filing a lawsuit because they murdered my brother."
Spence, who said she was with Moses for 10 years, held a pillow with photos of him and their children: 9-year-old son Amond Maurice Moses and six-month-old Ahzeezah Moses.
"I need answers,'' Spence said. "I have to answer to my children when they would like to know what happened. Justice needs to be served everywhere as well as here."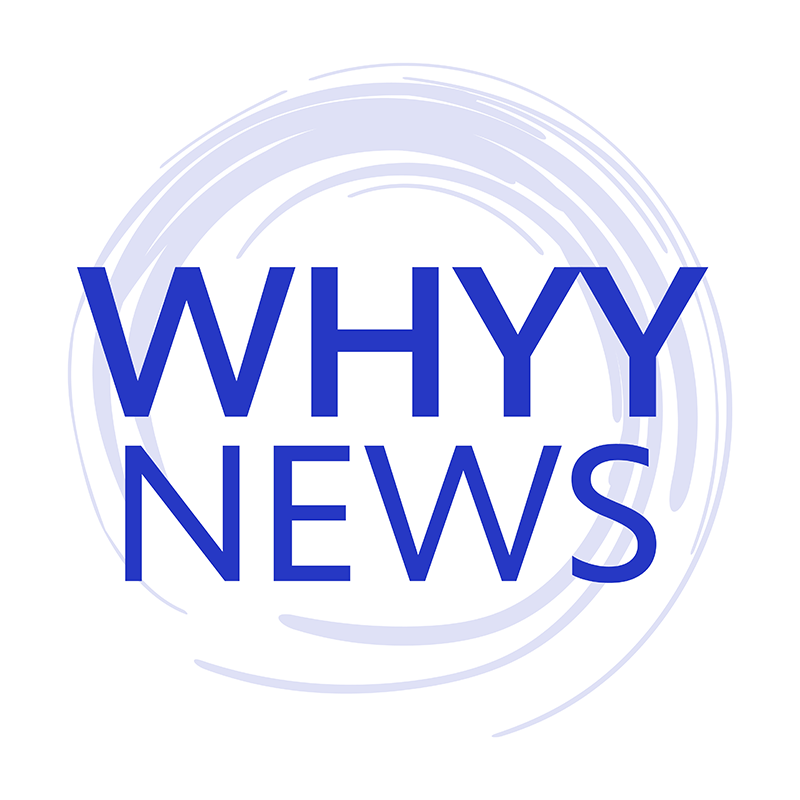 Get daily updates from WHYY News!
WHYY is your source for fact-based, in-depth journalism and information. As a nonprofit organization, we rely on financial support from readers like you. Please give today.