FBI wiretaps capture union pres Jim Gardler telling Philly council member to make Verizon 'sweat'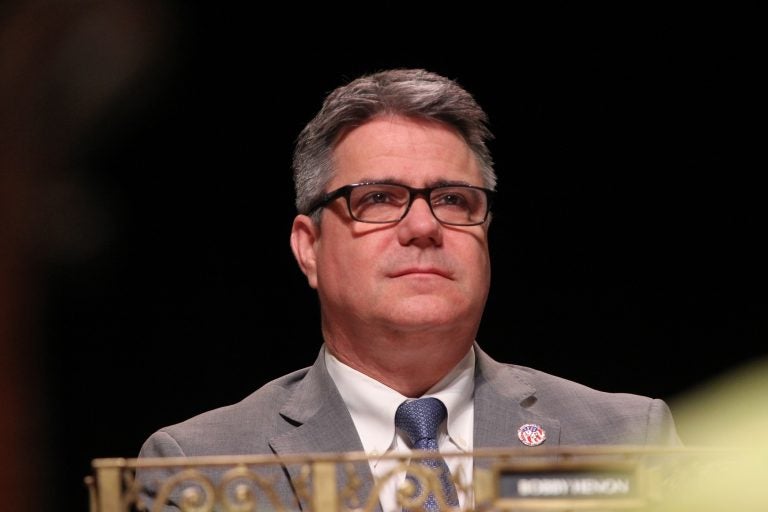 Updated at 7:18 p.m.
Prosecutors in Councilmember Bobby Henon's federal corruption trial Thursday played hours of video of a 2016 council hearing during which the Northeast Philly lawmaker accused Verizon of withholding information about its fiber-optic cable buildout.
Jurors are already familiar with the hearing from testimony on Wednesday and earlier in the trial, which is in its second week. Henon is accused of taking bribes from the Communications Workers of America union in the form of $13,000 in campaign donations in exchange for holding the hearing.
CWA Local 13000 was on strike against Verizon at the time. In the preceding months, the union's president, Jim Gardler, was heard on FBI wiretaps asking Henon to make company officials "sweat a little bit" and to help bring Verizon negative publicity.
The April 2016 hearing was ostensibly held to review the status of the seven-year-long Fios buildout, which was supposed to have been completed two months earlier. CWA and activists from the Media Mobilizing Project, among others, accused Verizon of failing to meet its obligation to make cable-TV service available to all city households by the deadline.
During the hearing, Henon and several other councilmembers — Brian O'Neill, Helen Gym, Allan Domb, and Derek Green — quiz Verizon executives and city officials about households that still did not have access to Fios despite the completion of the buildout. Verizon was allowed exceptions to the buildout deadline for problems such as delayed city permits, inaccessible private properties, and issues out of the company's direct control, such as a strike.
Henon repeatedly hammers Verizon officials for supposedly not providing information he requested during an earlier meeting as well as information needed by the city's Office of Innovation and Technology. He also holds up a copy of an audit of a Verizon buildout in New York, which concluded the company had delayed providing information needed to verify cable lines had been installed.
"We're having this hearing because of your lack of communication, lack of data, your lack of workforce," Henon said, to loud applause from hundreds of CWA members who packed the council chamber. "I have no faith and confidence that the information we're hearing is factual and truthful."
A Verizon executive, Doug Smith, told Henon in the hearing that he and his staff have no recollection of him asking them for information at the prior meeting. An official from the city's Office of Innovation and Technology also testified this week that he didn't know of any information Verizon had failed to provide. It's unclear if the jury will hear testimony from Verizon.
Questions from prosecutors and evidence they have presented suggests they will argue that Henon accused Verizon of withholding information in order to satisfy CWA's request that he help embarrass the company, rather than because Verizon had actually failed to provide him with requested data.
"He is our access"
Deputy Mayor for Labor Richard Lazer made a relatively short appearance on the witness stand Thursday afternoon to answer questions about his interactions with his longtime acquaintance and one-time employer, union boss Johnny "Doc" Dougherty, particularly in connection with an incident in which Dougherty's car was towed and the enactment of the city's sweetened-beverage tax.
The towing incident occurred in September 2015, when Lazer was working both for Jim Kenney's mayoral campaign and for Dougherty, who had hired him as a $4,000-a-month political consultant for Dougherty's union, IBEW Local 98.
Lazer said he needed a second job at the time, in addition to the campaign work. He did as little as two hours a week of work for the union, fielding calls from union officials about city departments, he said. Lazer's wife also works for Local 98 as Dougherty's administrative assistant.
In September 2015, shortly before Kenney won the general election for mayor, Dougherty called Lazer one evening to complain that his car was being towed after he double-parked at Pennsport Mall in South Philadelphia. Lazer contacted the towing company, which later agreed to return money Dougherty had paid for the car's release.
In response to questions from Dougherty's attorney, Henry Hockeimer, Lazer said he had been involved in organizing a series of council hearings on abusive towing companies several years earlier, and that Dougherty was not the only person who had contacted him about problems with towers.
Prosecutors allege that Dougherty had Councilmember Henon call for public hearings to investigate the tow company, and bribed him to act with a $70,000 salary no-show union job. Defense attorneys have said Dougherty had good reason to complain about the tow truck driver — who did not offer him non-cash payment options, as required by law — and that towing issues were a legitimate subject for a City Council hearing.
Assistant U.S. Attorney Richard Barrett also played wiretapped phone calls in which Dougherty, who was also a close confidante of Kenney's, gives Lazer advice about handling city issues and later about getting the deputy mayor job.
In an August 2015 call, Dougherty said he wanted Kenney to tell Brian Abernathy, then head of the Redevelopment Authority, to stop trying to "move" parcels of city-owned land until Kenney takes office. "Tell him… he's moving nothing until we get there, from here on out," Dougherty tells Lazer. Abernathy became the city's deputy managing director, and later managing director, under Kenney.
Shortly after Kenney was elected, Dougherty called Lazer to say he would support his bid to serve as deputy mayor of labor, a job in which he would serve as the administration's main contact with Local 98 and other unions.
"I am going to say… we need access and he is our access," Dougherty said, referring to Lazer. Lazer said he needed to supply a desired salary range as part of his application for the position, and Dougherty said he should ask to be paid within 5% of other deputy mayors.
The jury also heard Dougherty, Henon, and Lazer discussing the sweetened beverage tax. Dougherty is charged with bribing Henon to support the tax as revenge against the Teamsters union, which includes beverage truck drivers, because he considered them rivals in certain union matters.
In February 2016, Lazer called Henon to ask if he would introduce soda tax legislation in council — Henon is noncommittal — and talked to Dougherty about vote-whipping strategy and the justification for the tax. While the tax faced opposition from the beverage industry and some residents, Dougherty tells him he doesn't mind if it passes.
"Richie, you don't have to explain to me," Dougherty says. "I don't give a f***, whatever. I don't care. I don't drink a ton of it, I don't think it's a poor tax, I think it's the price of doing business, okay."
Hockeimer tried to cast Lazer's conversations with Dougherty as conventional politics, as opposed to the union leader exerting undue influence. "In Philadelphia, organized labor is a big deal. It's one of the few cities where that's still the case," he said to Lazer. "You needed Mr. Dougherty's help to get the soda tax passed?"
"Yes," Lazer said.
Lazer said he believed an earlier effort to pass a soda tax under Mayor Michael Nutter had failed in part because it did not have labor support, and the Kenney administration was seeking wide labor support this time around. Council finally approved the tax in April 2016.
The trial is taking place two years after federal prosecutors brought a sprawling 116-count indictment against Henon, Dougherty, and several people with ties to Local 98. The charges have been split into two trials, with the current case focusing on the bribery charges against Henon and Dougherty.
Disclosure: The Electricians Union Local 98 represents engineers, camera personnel, editors, audio and maintenance techs at WHYY.