Farewell Fante-Leone pool
I remember stumbling upon the building at the corner of Montrose and Darien streets a few years ago. I was drawn in by classical entryway topped with the Philadelphia crest, and when I wandered up to peer through the gate I was surprised to find the abandoned swimming pool within.
What I'd found was the Montrose and Darien bathhouse and pool, which was built more than 100 years ago to served the dense neighborhood around the Italian Market. Today it is the city's oldest public pool, but its days are numbered.
Back in 2004 the Department of Recreation closed the pool in due to budget cuts, and subsequently sold the property to a developer whose plans never materialized.
Last year the property was listed for a cool $477,500, and US Construction is currently under contract to purchase the property pending zoning approval.
Tuesday night, US Construction's John Farina came before the Bella Vista Town Watch (BVTW) zoning committee to present his plans to demolish the pool and build three homes on the site with parking for one car below each unit. Because of the planned configuration, the developer needs variances for rear-yard area and rear-yard depth.
To near-neighbors along Darien, Montrose and Schell streets the pool's condition has become a nuisance. Neighbors complain about falling bricks, weed trees that have also destabilized their walls along the pool, a homeless inhabitant, and summer mosquitos. Still, some neighbors lamented the loss of this piece of neighborhood history.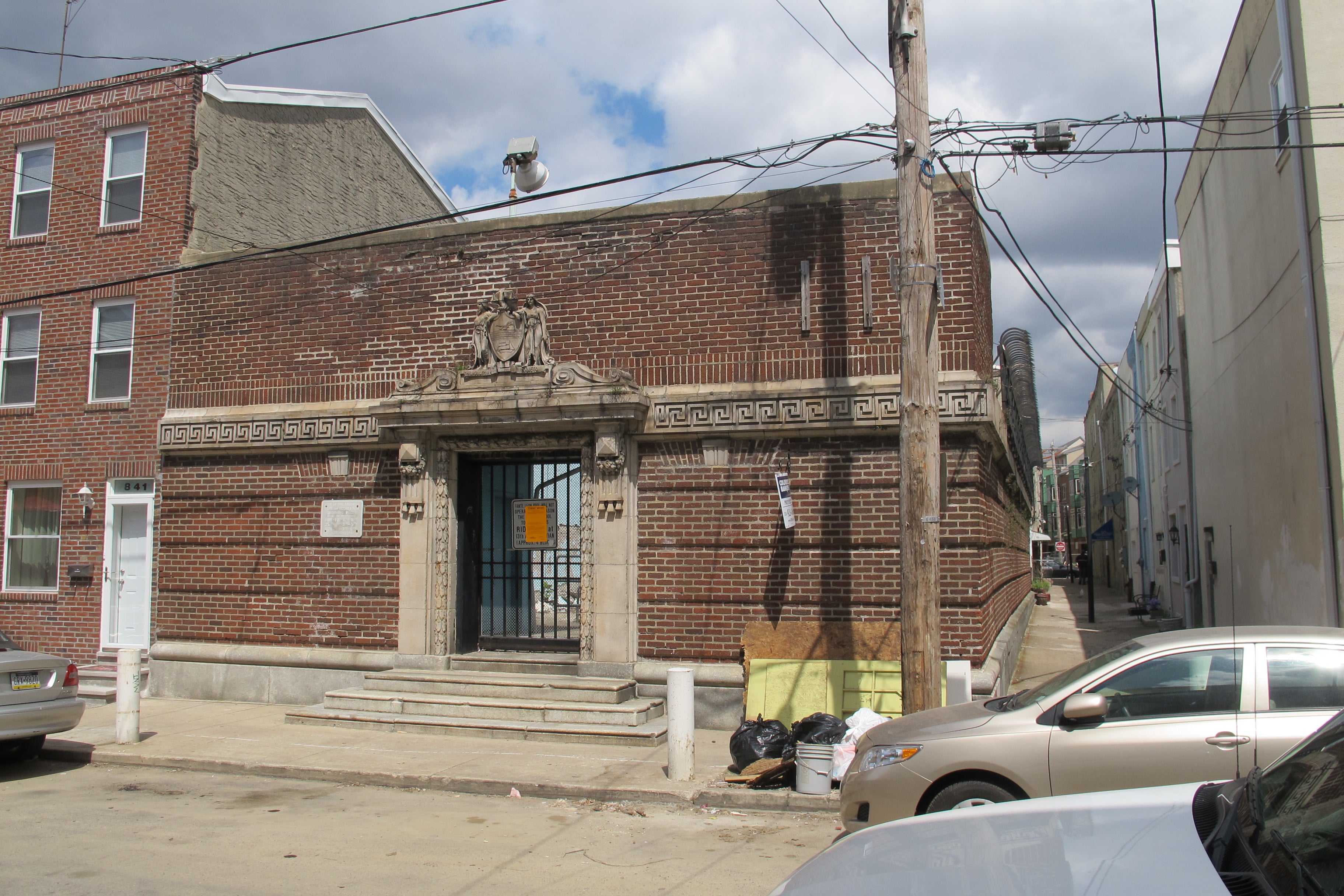 Members of the BVTW zoning committee want to see pieces of the facade reused, which Farina was open to trying.
"The facade is in bad shape. The only thing that I think could be salvaged in there… is the statue," Farina said. "Once we start taking that thing down, things are going to start crumbling." He noted that the Department of Licenses and Inspections wants to see the building demolished.
Larry Weintraub, co-chair of the BVTW zoning committee, told Farina that Cianfrani Park (at 8th and Fitzwater streets) would be interested in reusing "the whole fronticepiece" in the park. The committee urged Farina to take down the front wall in a way that preserves the decorative elements of the facade so that they could be reused.
Zoning committee members Mary Ann Duffy and Larry Lindsay suggested that Farina consider reconstructing the decorative entryway to the pool above the driveway or as an entrance to Darien Street (which is a pedestrian walkway alongside the pool).
US Construction will head before the Zoning Board of Adjustment later this month. Farina told neighbors once he has permits in he plans to work fast. He anticipates the completion of construction in early 2013. Meanwhile, US Construction is speedily building 17 townhouses down the block, on the former parking lot between Christian and Montrose along 8th Street.
Here's a closer look at the Fante-Leone pool: