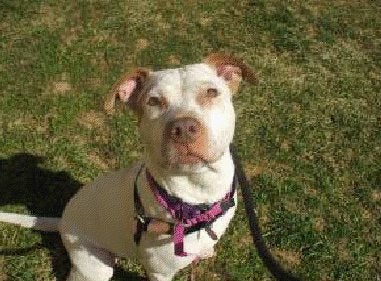 The lovely Gidget (A15391412) is available for adoption! She is a female pointer/terrier mix who is about 3 years old and is already spayed, up-to-date on vaccines and ready to wiggle right on into your heart!
Gidget has a white coat and the cutest orange freckles on her face. She has been working hard with her Pen Pal volunteers on manners and obedience, and is really enjoying the treats that go along with learning new things.
Gidget is a smaller gal, weighing about 35 lbs. She has the cutest wiggle and enjoys playing fetch (even if she hasn't quite understood that she needs to bring the ball back yet! and has learned sit, watch, down and is working on stay. Gidget focuses really well and has shown her Pen Pals just how much she has going for her.
Good looks? Check.
Smarts? Check.
Bouncy, fun and happy? Check, check and check!
Gidget is super fun and has a lifetime of love to give. Consider bringing her into your life. You won't regret it! For more information, contact Gidget's Pen Pals, garrittn AT aim.com or dogsinshelters AT yahoo.com.
These animals are located at Philadelphia's animal control shelter, ACCT. They need immediate adoption or foster care. ACCT is located at 111 W Hunting Park Ave and is open 365 days a year. Adoption hours are Monday-Friday; 1pm-8pm; Saturday and Sunday; 10am-5pm. To check the status of an animal, call 267-385-3800. Check in every week with NEast Philly to see the cat and dog of the week.