Documenting the underground: Philly's sewer historian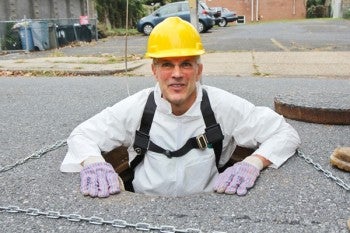 Nearly 3,000 miles of sewers wind underneath Philadelphia's streets. They make modern life possible in the homes and sky-scrapers above, but go largely unnoticed.
Except, that is, by one man whose job it is to uncover what the city looked like before they were there.
Enter Adam Levine, a historical consultant for the Philadelphia Water Department.
Levine is so fascinated by the network of sewers transporting waste away from the city that he has been researching the underground maze part-time for more than a decade.
He got his job after taking a sewer tour and writing about it, so he agreed to accompany me on a tour of my own, which led us underneath Algard Street in Tacony.
Read the rest of this story and see more photos from our partners at NewsWorks.