You may not have to wear a mask while golfing in Pa., N.J. But officials would like it if you did
For Mayfair resident Nicholas Monica, 24, Sunday's warm weather and a relatively empty course made it an ideal day for his first round of golf since the COVID-19 shutdowns began in March.
Monica went to the Juniata Golf Club in Philadelphia with his brother and friend, all neighbors, three days after Pennsylvania Gov. Tom Wolf reopened courses across the state  — much to his relief.
Without golf, Monica said, his recreational time was limited to drinking beer on his porch.
"I don't think [the courses] ever should have got closed in the first place because … you could abide by the rules while golfing," he said. "People are keeping their distance out here and you're not really close to too many people."
Still, Monica still wore his hand-sewn face mask to protect himself.
"Nobody really knows anything about [the virus] so… just want to stay safe," he said, adding he was trying to stick closely to public health officials' recommendations.
But Monica was in the minority at the Juniata course.
Of the dozens of golfers on the links at the city-run club Sunday, most opted to go without a mask or they would remove them when it was their turn to tee up.
At the city's five open courses, and courses across the state, face masks are only required when speaking to golf course staff and recommended when close to other players.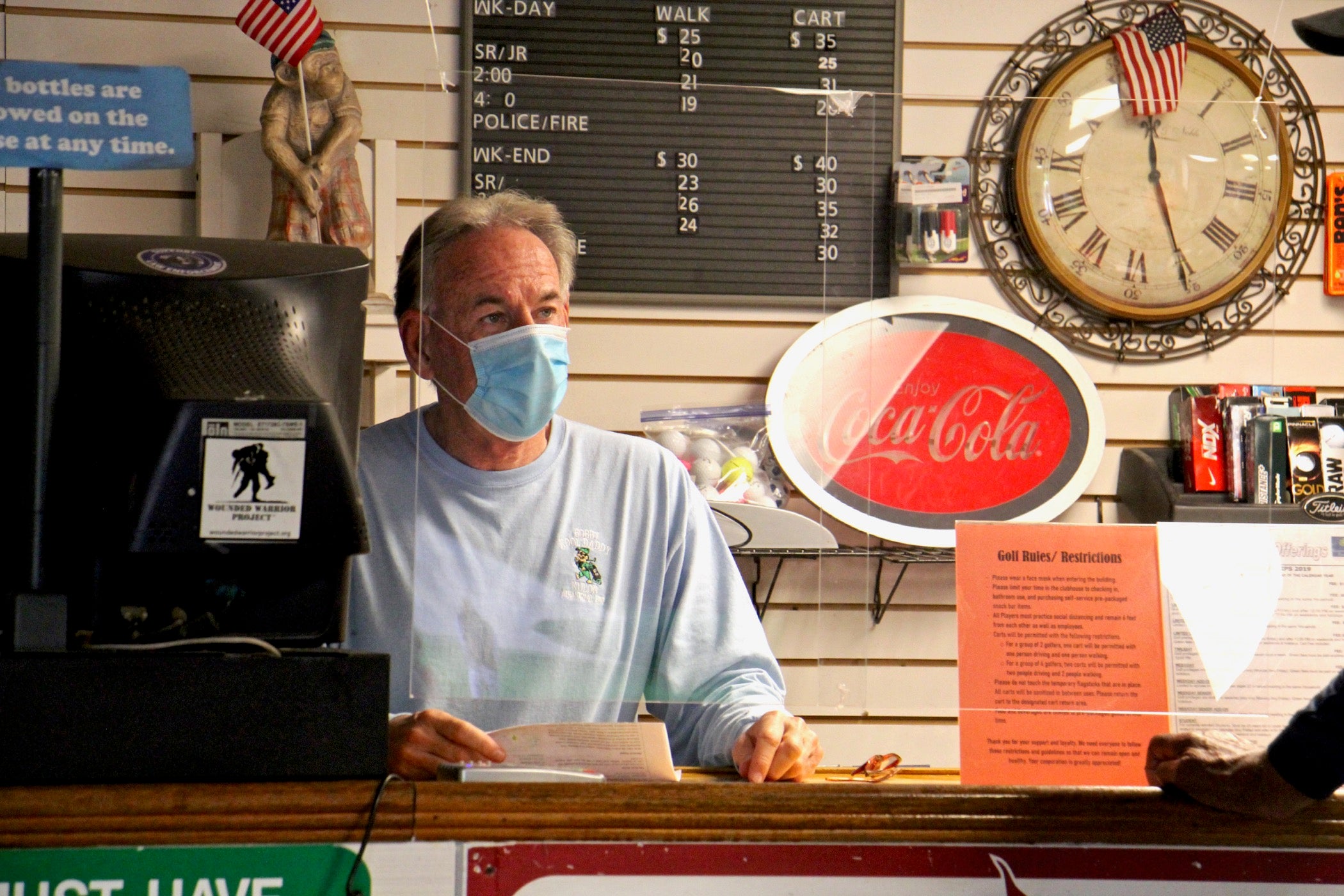 Bob Wheeler, general manager and executive director of Juniata Golf Club, said most players adhered to the rules over the weekend — many of them just happy to be able to play again.
So much so, that the golf course had fully booked tee times Friday and Saturday, said Wheeler.
"We're thrilled to death because, financially, I think all the golf courses, all the businesses are hurting right now," he explained, adding another month would have been devastating to employees who have to work elsewhere when the golf course is closed during the winter.
Wheeler said those who came to play this weekend made sure to not share golf carts and to keep six feet apart.
"They know that if they don't go by the rules and they close us down again, they can't play golf then," Wheeler said.
Masks or no masks, golfers on Sunday said they felt confident about stepping out to the green and avoiding the spread of the new coronavirus
"I think the social distancing, [out] of any sport, golfing would be the best. It's wide open," said Chet Turner, 52, who made the 40-minute drive from Delaware County to play with his brothers. "It's like walking in the park."
Like most players, Turner had his mask on him, but took it off to swing while his brothers watched from afar.
Keeping a six-foot distance apart is easy in golf, explained Turner, because fellow players are respectful to give a golfer room to concentrate when it's their turn.
While he said he stayed physically active working out from home, there was nothing like getting out on the links — even if a pesky reporter messed up one of his shots.
Similarly, John Brannigan, 54, and his son jumped at the chance to head to Juniata. The pair had been practicing their chipping at a park near their home.
Brannigan and his son said they'd been keeping their distance while playing.
"[And when] we go on the golf carts one stands on the back, one drives. We don't sit beside each other," he said. The pair also ditched the masks while playing.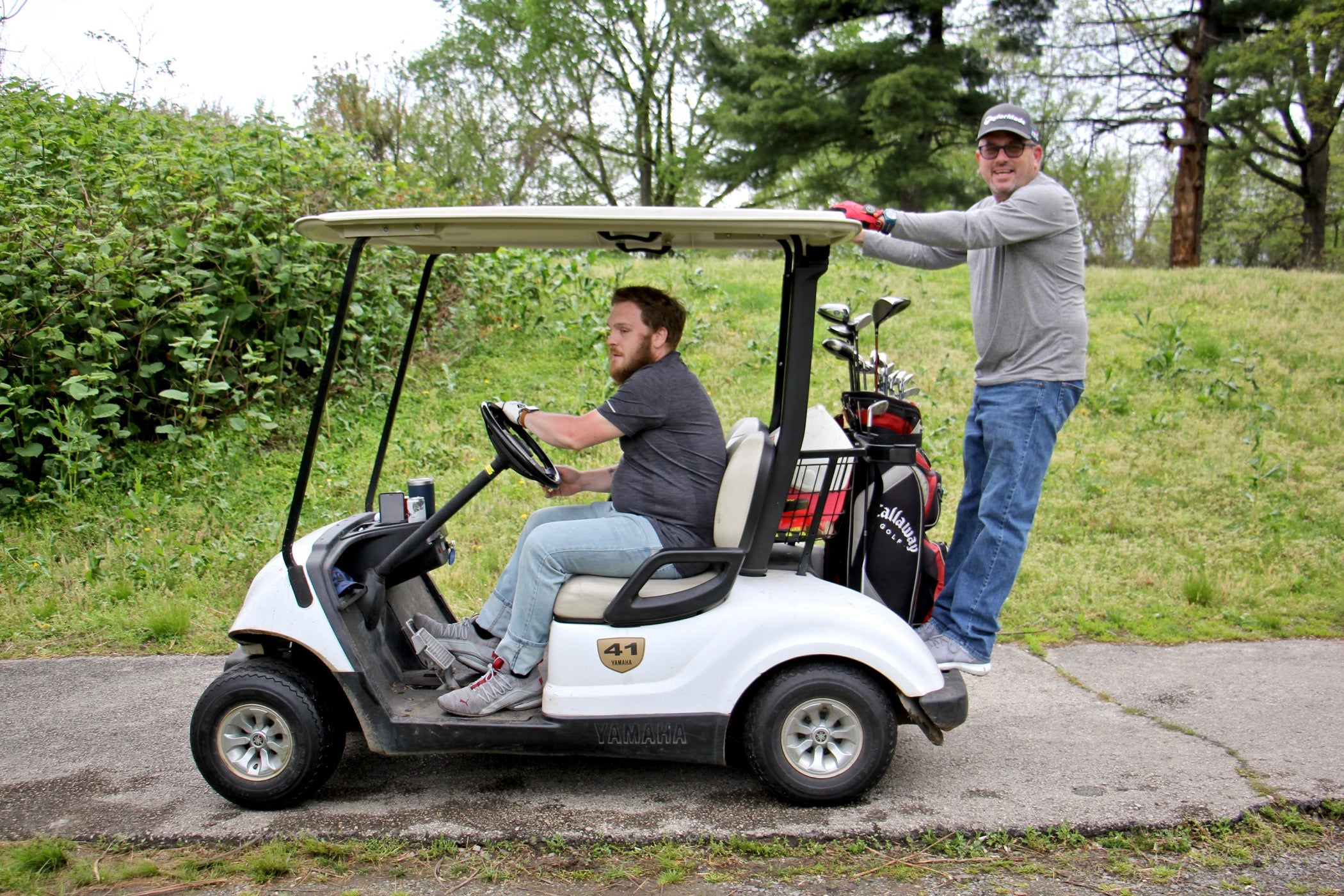 The Pennsylvania Department of Health did not respond to an inquiry about how the reopening of golf courses went across the state.
While masks are not required while playing at open golf courses, Philadelphia Health Commissioner Thomas Farley said it is important to establish the expectation that people should be wearing masks whenever they step outside their homes.
"People want to return to normal activity, but we won't be able to do that safely unless everyone protects each other by wearing masks," said Farley. "While, in theory, golfers could safely take masks on and off according to how close they are to others, it's easier if everyone wears masks at all times."
Farley is not the only one keeping an eye on how well residents adhere to coronavirus-era recommendations.
New Jersey also reopened its golf courses on Saturday, as well as state and county parks. Players and staff are only asked to wear masks on golf courses when "other social distancing measures are difficult to maintain," according to the governor's executive order reopening courses. As in Pennsylvania, club rentals are out and high-touch areas must be sanitized.
Masks are not required at parks, but are "strongly recommended."
The State Park Service issued reminders on social media Sunday asking residents to limit their state park visits to two hours. The warning came after eight state parks were "overrun" with visitors, including Barnegat Lighthouse State Park, Bull's Island Recreation Area, Delaware & Raritan Canal State Park, Hacklebarney State Park, Round Valley Recreation Area, Wharton State Forest, Wawayanda State Park, and Worthington State Forest.
"REMEMBER, COVID-19 IS NOT GONE," the agency wrote in a Facebook post and encouraged people to consider visiting other parks.
Gov. Phil Murphy had called the reopening of these outdoor spaces a "huge test" for how the state would continue reopening, including the much-anticipated reopening of Jersey Shore beaches in time for Memorial Day. Despite the State Park Service's warning, the governor said Sunday that early reports indicated most park visitors followed social distancing protocols.