Design committee narrowly approves Philadelphia University rezoning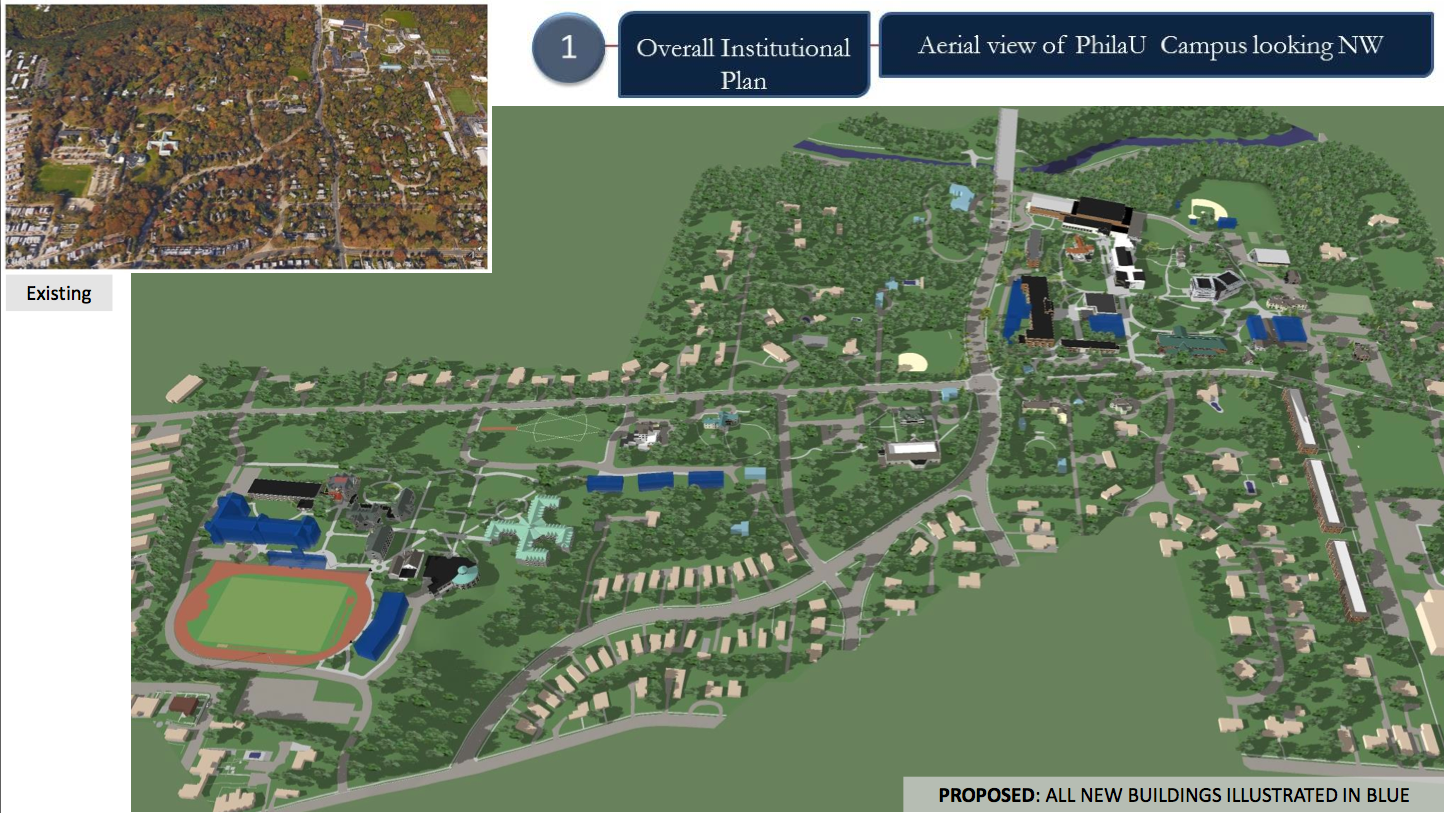 "It seems that there was a PR miscalculation," architect Cecil Baker said woefully.
At first, the Civic Design Review (CDR) committee was optimistic about Philadelphia University's proposal to rezone its campus to a special purpose designation used by universities across the city (SP-INS). But there were oversights in the two-year planning process that Baker and a few other design committee members had to reckon with after listening to almost a dozen vehement testimonies against the university's proposal.
On Tuesday, the committee eventually voted 5-3 in approval, concluding their advisory review of the designs, but not before airing a laundry list of concerns.
A woman in the audience murmured about how the university's aerial renderings didn't depict the neighborhood surrounding the campus — a symptom of what many testifiers felt is the proposal's narrowness. Committee members asked questions in bursts: Where was the environmental impact report? Where was the commitment to the public realm and to green space?
"I don't think it would have taken much," Baker went on. "I for one would have felt much better if I saw plans that were broader."
The rezoning of Philadelphia University from its current residential (RSD-3) and multi-unit (RM-2) zoning designations is largely about paving the way for future development on the university's main campus. In his presentation on behalf of the university, Steve Sproles, a landscape architect with Derck & Edson, said that the rezoning was necessary for the school to grow and stay competitive
While designs for new buildings are far from fruition, renderings highlight zones of the campus where future buildings could be erected. The design committee showed some appreciation for the reworked framing of the 101-acre campus, with an emphasis on a "campus quad" environment. The committee strongly recommended that pedestrian walkways take higher priority in the designs going forward. The committee also suggested that designers articulate better traffic calming measures along Henry Avenue.
The more contentious details of the rezoning proposal were those that it lacked. Summing up the criticisms, Daniel Berger, an environmental attorney and resident near the university, urged the design committee to "make them make a better plan." Berger said the lack of an environmental impact analysis and the scant commitment to green space in the new campus master plan could equate to "blind progress" down the road.
Some committee members argued that the plans could do more to integrate the campus with the nearby Wissahickon Valley Park, in addition to addressing the ecological worries in more depth.
William Martin, an attorney with Fox Rothschild LLP representing the university, said that the registered community organizations had all voted in favor of the rezoning proposal.
Lastly, there was some hesitation in the room over the proposed merger between Philadelphia University and Jefferson University, which was announced at the end of last year. The rezoning, however, would carry over with the campus to new ownership.
Philadelphia University – Institutional Plan | CDR presentation, July 2016

Philadelphia University, Institutional Plan – NW aerial view | CDR presentation, July 2016

Philadelphia University, Institutional Plan – Ravenhill Campus | CDR presentation, July 2016

Philadelphia University, Institutional Plan – Ravenhill Campus looking South | CDR presentation, July 2016

Philadelphia University, Institutional Plan – Main Campus | CDR presentation, July 2016