Demolition 'crisis' gets taskforce's attention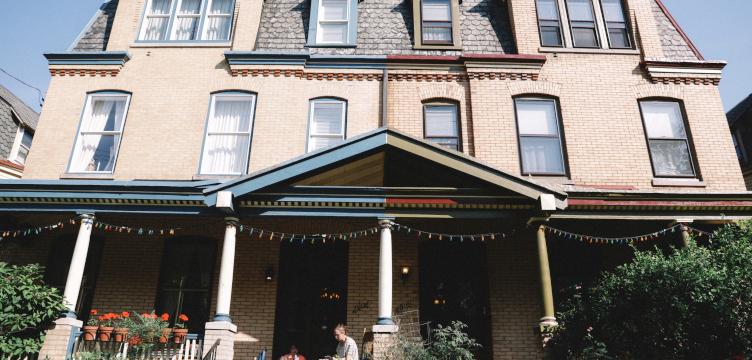 This article originally appeared on PlanPhilly.
—
After 18 months, Mayor Jim Kenney's Historic Preservation Task Force released its final recommendations Thursday.
The document includes a range of ideas to incentivize more preservation and encourage citizen engagement in advocacy around Philadelphia's historic buildings.
America's only "World Heritage City" allows its historic buildings to be demolished at a pace unheard of in Baltimore, Chicago and other old industrial cities, advocates say. Buildings individually added to the historic register or covered by a historic district are protected from the wrecking ball, but they constitute less than 3 percent of the city's build environment.
There will be a month for public feedback on the recommendations, and, assuming they are accepted, further action would then be needed by City Council, the Historical Commission, or other city agencies before the ideas could be implemented.
Here are five highlights from the task force list of dozens of recommendations.
1. A list of buildings that cannot be demolished at will
Preservation advocates have long called for a demolition delay, which would slow down the process of razing a building to allow time to review its significance.
Instead of that idea, the task force recommends a one-time effort to craft a list of unprotected buildings in the city that could be eligible for designation. Each building added would need to fulfill one of the current criteria for historic protection and could be suggested by citizen groups, preservation activists, or culled from the recently completed district plans.
Once a building was added to the index, any developer trying to pull demolition permits would be pre-empted, and the Historical Commission would have a defined period of time to decide whether to add it to the historic register. The task force anticxipates many hundreds of properties beuing added to the index.
"It is meant to sweep up as much as possible," said task force chair Harris Steinberg. "We don't believe its been done anywhere else in the country…it will address the crisis of demolition."
The task force believes City Council would need to delegate authority to create the index to the Historical Commission.
But the index would not last forever.
"We will establish a time period for achieving the list," said Dominique Hawkins, co-chair of the task force and a preservation architect. "For a period of time, there will be a process for figuring out whether those properties get shifted into the inventory or not."
2. A new type of historic district
Hawkins and Steinberg describe Philadelphia's historic protections as among the strongest in the country, even though they are relatively little used. Perhaps if there were less onerous preservation options available, critics say, property owners wouldn't fight against preservation so hard.
"What we have learned is that a lot of people don't want to participate in this process because they don't have an out," said Steinberg. "You are either all in at a very high level, or not at all."
The task force recommends creating a "light" historic district that would prevent old buildings from being destroyed, but it would not impose strict limits on the materials that property owners use when they fix up an old building. In short, the windows a proprety owner installed wouldn't be regulated but more radical alterations, or downright devestation, still would be staved off.
"[One] of the things I fought hard for was … creating tiers of designation that would soften standards for historic properties," said Oscar Beisert, one of the city's most active preservationists and a member of the task force. "[This would] make preservation more equable and feasible for a wider range of citizens while still controlling demolition."
3. Create local incentives for developers to invest in preservation
Currently Philadelphia's preservation regulations are all stick and no carrot. If a building is added to the historic register, it is protected from demolition and the materials used in its upkeep are restricted. But there is no incentive to invest in the structure, no tax break or funding infusion that a property owner can be offered in exchange for the regulation of her property.
"We can't regulate [the demolition crisis] away," said Matt McClure, the head of Ballard Spahr's Zoning and Land Use team and a member of the task force. "Regulating them doesn't guarantee historic buildings will be saved."
McClure is particularly excited by a proposal that would create a zoning bonus for historic preservation. A developer who agreed to rehabilitate a historic property, or perhaps pay into a preservation trust fund — akin to the city's housing trust fund — would be able to build a denser, taller project.
McClure also fought for a proposed "transfer of development rights," which would allow a historic property to transfer its development rights — the allowable gross floor area — to a different project in exchange for investments in a preservation trust fund.
The task force also recommends by-right zoning for historic buildings such as churches or theaters, which are unlikely to be reused for their original purpose. It is recommended that if a developer commits to rehabilitating a building, that plan could include anything allowed by zoning classifications CMX-1-through CMX-3, which basically means a mix of commercial and relatively dense residential development.
4. Making the abatement development friendly
Preservationists have long argued that the 10-year property tax abatement incentivizes demolition because the tax break applies only to improvements on a property.
A vacant lot has a value of zero, therefore the entire project is an improvement — and the entire value of the new property is abated. But a historic building that needs an upgrade already has some value, so the abatement applies only to the improvements made to it, not to the building as it exists. That means fixing a building wins you a smaller tax break than knocking it down and throwing up something new on an empty lot.
The task force recommends tweaking the abatement to ensure that fixing a building would no longer require a developer miss out on the full tax break when fixing up a building — removing an incentive for demolition. This would not only apply to buildings deemed historically significant, but to any rehabilitation project.
5. Accessory dwelling units
Prior to the zoning code rewrite approved in 2012, urban planners and affordable housing advocates lobbied for language that would allow the creation of accessory dwelling units known as ADUs. These are secondary, smaller units in a building or on a property besides the main house, which the owner can then rent out.
ADUs are a popular housing type as cities push for more density. They give seniors a means to age in place, because they provide another source of income for those in retirement. ADUs are also popular among preservation advocates because they provide more funding for rehabilitation of expensive, old buildings.
But backlash from Councilman Brian O'Neill prevented ADUs from being realized in the zoning rewrite. Instead the new code only includes a definition of ADUs, but does not allow them to be built anywhere in Philadelphia.
The task force recommends allowing ADUs within historic districts in the interest of providing revenues for maintenance of historic buildings. This would need to be approved by City Council.