Delawareans rally to support Equal Rights Amendment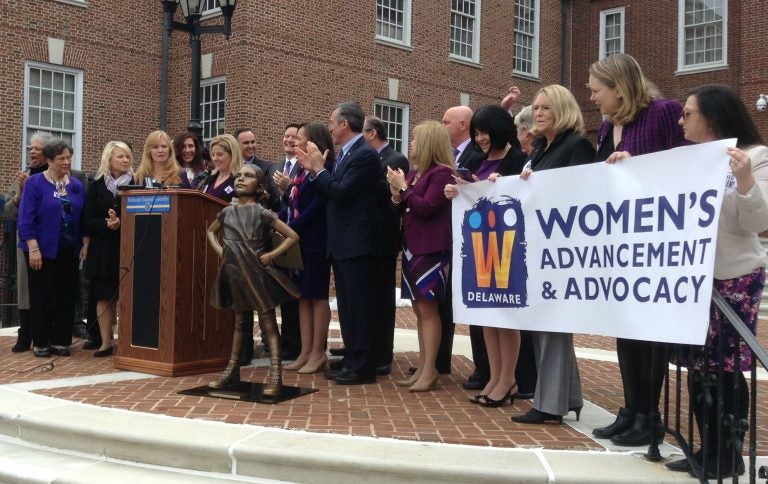 Delaware legislators joined a crowd of women, men and children, holding signs and some wearing purple dresses, headscarves and ties in support of legislation that would amend the state constitution to ensure equality for women and ban sex discrimination.
Several states have passed similar measures. But neither the U.S. Constitution nor the Delaware Constitution protect women's rights.
"Each generation of women have faced challenges, but we need to move Delaware forward so our children and grandchildren do not have to continue to fight for rights that should be guaranteed," said House Majority Leader Valerie Longhurst, D-Bear, who is sponsoring the legislation.
"Without the legal protection of the Equal Rights Amendment, it's difficult for women to fully fight cases of discrimination."
Last year, the amendment failed in the House following some disagreement on the language of the bill, which used words like "human" when addressing equality. Longhurst's new bill includes clear language on its aims to secure equal rights for women.
There are some anti-discrimination laws in Delaware that protect women from discrimination. Women can't be discriminated against when seeking employment, housing, financial aid or transportation, for example.
But there is no broad protection for women in the Delaware code.
State Sen. Stephanie Hansen, D-Middletown, said an amendment in the constitution is necessary to ensure gender issues continue to be addressed as they evolve in the future.
"A patchwork quilt of protections addressing only today's issues is shortsighted," she said.
During the event, legislators stood alongside the popular "Fearless Girl" statue. The statue of a young girl is famous for staring down the "Charging Bull" in New York City's financial district. Delaware artist Kristen Visbal said the piece of art was meant to send a message to Wall Street, which makes it difficult for women to climb the ladder.
During the rally, Visbal spoke of the importance of having women in leadership positions.
"Studies show not only having women at the board level has a wonderful impact, but having women all the way up the chain in the company," she said.
Congresswoman Lisa Blunt Rochester is co-sponsoring similar legislation in Washington introduced by Congresswoman Carolyn Maloney, D-New York.
"This is about more than just pay. It's about how we're treated everywhere. It's about how young women are treated on college campuses. It's about the little girls we see in front of us. It's about that waitress. It's about that person who works at the track. It's about the staff that work at the General Assembly. It's about all of us," she said.
Gov. John Carney, D-Delaware, and U.S. Sen. Chris Coons, D-Delaware, also announced their support for both pieces of legislation.
"In my experience in the Senate, in eight years, I started on four committees. All four were chaired by men. They were wonderful, they were lovely—they got nothing done. In the next Congress, two of the four committees, the chairmanship of the budget committee and the chairmanship of the appropriations committee changed from well-respected seasoned male senators to well-respected seasoned female senators. And in the next Congress, I noticed something. We started getting things done," Coons said.
"We have the power to make a more perfect union. We have the ability to grab this moment and to once again show Washington what Delaware knows best—which is when women take charge, when women lead, when women are equal, we all win."