Delaware Equal Rights Amendment passes in General Assembly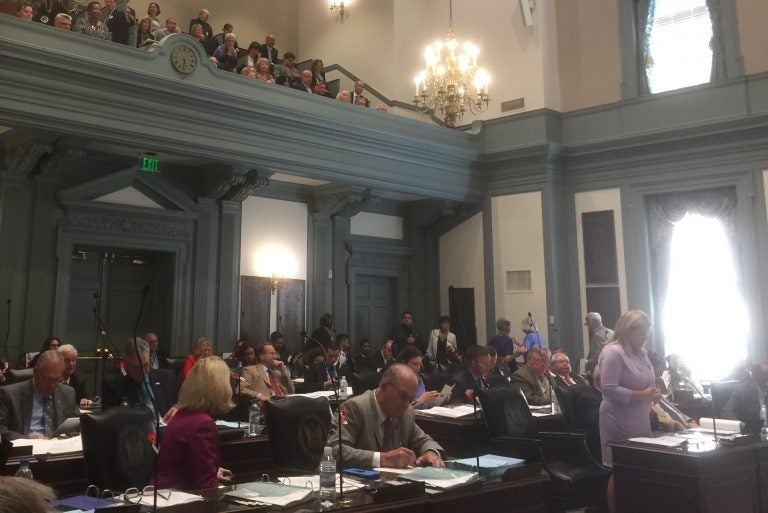 More than three decades after an Equal Rights Amendment was first proposed in Delaware, the General Assembly has approved a proposed amendment.
The move to amend the Delaware Constitution to ensure equal rights and guard against sex-based discrimination failed in the General Assembly last month after lawmakers could not agree on the legislation's language.
But Democrats resurrected the legislation after its sponsors — Rep. Valerie Longhurst, D-Bear, and Sen. Stephanie Hansen, D-Middletown, worked out a consensus with Sen. Anthony Delcollo, E-Elsmere.
An amendment makes clear the bill's intent to address Republican concerns about private-sector demands, single-sex facilities and abortion.
On Wednesday, the Senate passed the legislation, with four Republican men voting against it.
On Thursday, the House passed the bill, 35-6.
"I know today in Delaware we're ready to make history," Longhurst said on the House floor. "We're one step closer to ensuring equal rights for Delaware women. I often think of Delaware women who fought for women's suffrage. Their passion and voices inspired change. Women have fought with tenacity for fairness and equality. We're doing them proud today."
Several states have passed ERA legislation. But neither the U.S. Constitution nor the Delaware Constitution explicitly protect women's rights.
The First State does have some laws that protect women. For example, women can't be discriminated against when seeking employment, housing, financial aid or transportation.
But there is no broad protection for women in the Delaware code.
The legislation now faces a second round of voting in the next General Assembly. If that succeeds, the amendment would add this sentence to the state Constitution: "Equality of rights under the law shall not be denied or abridged on account of the sex of the person."
Supporters say the constitutional amendment is needed to ensure gender issues continue to be addressed as they evolve — and to prevent the passage of discriminatory laws.
Gov. John Carney, D-Delaware, thanked legislators for approving the bill.
"This amendment is an opportunity for us to lay out clearly in the Delaware Constitution the importance of equal rights for women," he stated. "It is the right thing to do. We owe it to all Delaware women to pass the ERA."
WHYY is your source for fact-based, in-depth journalism and information. As a nonprofit organization, we rely on financial support from readers like you. Please give today.