Coronavirus update: Del. cases up to 119 with 5 in critical condition; Carney calls on vendors to produce critical supplies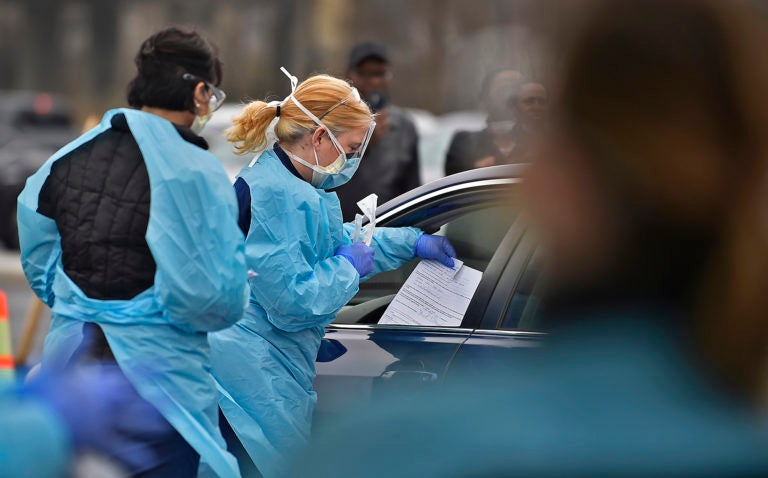 Updated at 5:15 p.m.
—
Delaware has 119 cases of coronavirus as of 5 p.m. Wednesday. Eleven patients were hospitalized and five were in critical condition as of noon.
Carney calls on vendors to assist
Gov. John Carney's office is asking all vendors who wish to produce or sell hand sanitizer, N95 masks, nitrile gloves, Tyvek suits and other critical supplies to email the state's central contracting team.
All emails should be sent contracting@delaware.gov, the governor's office said in a news release.
Carney also told vendors to "indicate their immediate availability" and specify their capabilities.
"We are thankful for the vendors that have already stepped up to offer their assistance during this time of crisis," Carney said in a statement that singled out Dogfish Head brewery for shifting part of its production line to hand sanitizer.
Delaware BioScience industry asked to pitch in supplies
As the need for more protective supplies for hospitals and others on the front lines of the coronavirus fight becomes more urgent, the Delaware BioScience Association is reaching out to its 6,000+ members to collect gear that can be donated.
While many bioscience firms are still working, Delaware Bio is asking for any extra supplies they may be able to spare to help the state's hospitals. Equipment needed includes N95 respirators, surgical masks, goggles, face shields, gloves, gowns and more.
ChristianaCare is collecting such supplies at a drive through donation areas setup at 110 W. Market St. in Newport. Donations are being accepted between 8 a.m. and 6 p.m. through Friday.
To keep both volunteers and donors safe, anyone bringing donations should put their items in the trunk of their car and drive into the donation line. Drivers should not get out of their vehicles or roll down their windows. A volunteer will take the items out of the trunk.
The hospital is not asking the public to go out and purchase these items, only to donate any spare, unused supplies they may have. Donations to support the effort can be made here.
County officials remove basketball rims at regional parks
With community spread now occurring in the state, Division of Public Health Director Karyl Rattay said she's concerned about people not doing enough to stay separate from other people.
"It's challenging in many ways, but really, really important for people to be doing everything they can to stay away from other people and very importantly, stay at home when you're sick," Rattay said in a webcast Q&A session Wednesday morning. "As we look at our cases, we're seeing a lot of people who aren't abiding by that."
Rattay said everyone should act as if they have the virus, and treat everyone you meet as if they have the virus.
New Castle County officials took action to force social distancing at county parks and playgrounds. While both county and state parks have remained open for residents to get fresh air and exercise, those using parks have been told to maintain a six-foot buffer from other people.
Because pick-up basketball games were happening in violation of that distancing order, county officials removed the basketball rims at the county's regional parks on Tuesday. Workers also put up fences to block access to playgrounds where children were coming in close contact.
"Our one goal is public safety. Please continue to use our parks for walking, jogging, bike riding and other activities consistent with the public health guidance we are all receiving," County Executive Matt Meyer said. "Our county can and will continue to do everything possible to stop the spread of COVID-19 in our communities."
Meyer encouraged residents to still use the hiking and biking trails, jogging paths and other park activities while social distancing.
Coronavirus case at DAFB
On Tuesday, officials at Dover Air Force Base announced that someone on the base tested positive for coronavirus. The patient is currently in isolation on the base. Public health officials are working to trace that person's recent activity to determine the possibility of spreading the virus to others.
"We are carefully monitoring this situation and making appropriate notifications," said Col. Matthew Jones, 436th Airlift Wing commander. "The health and safety of Team Dover continues to be the top priority and leadership from Dover AFB is committed to working closely with local agencies to mitigate further spread of the virus."
DAFB issued a shelter-in-place order for the base Tuesday morning.
'This is not forever'
DPH Director Karyl Rattay said it's understandable to be stressed under these circumstances.
"We have to do all that we can as a human race, as a group of Delawareans to help support each other in making the right decisions," Rattay said.
Rattay's webcast Wednesday morning also featured Brandywine Counseling CEO Lynn Morrison who offered advice on coping with the stress.
"It's difficult, but we know — and I think we've heard — how important that is," she said. "We have to remember that we're doing something good. As difficult as it might be to have that social distancing or isolation, we need to remember that we're actually doing a really good thing for the people we care about."
Morrison recommended a daily routine of activities including exercise and meditation. She said in the midst of the anxiety and fear in this rapidly changing situation, it's important to see light at the end of the tunnel.
"Stay as positive as you possibly can," she said. "This is not forever, this will be different eventually. Be positive."
While there is a call for social distancing, Morrison said that doesn't mean complete isolation. She said it's important to call your friends and family, reach out on social media or through online video chats to keep connecting with people.
"Depression can sneak up on you. It's so important to stay connected," Morrison said.