Delaware launches ad blitz to combat addiction stigma
A new ad campaign aims to change perceptions of those struggling with addiction in hopes of helping to stop Delaware's overdose epidemic.
Addiction can be an isolating plight — both for those struggling with addiction and their families.
Mary Beth Cichocki says acquaintances blamed her for her son's illness that claimed his life in 2015.
"I was told I was a bad mother and Matt was just as bad as I was, that I was responsible for his addiction," said Cichocki, of Bear, Delaware, who believes there should be more widespread recognition that addiction should be treated like any other disease.
"As a nurse, I found it appalling that you don't question the diabetic if they have an incident where they go and have a donut because they wanted a donut. And then all the sudden, they're in a diabetic coma. We don't criticize them, we don't punish them for their disease," she said. "But addiction, we punish people who have substance use disorder, and it's not fair and the stigma really has to stop."
That stigma can have deadly consequences, said Kim Lovett.
Lovett, who works with a sober living facility in Wilmington, said when those who struggle with addiction feel ashamed, that can hinder their recovery by making them avoid seeking help. The stigma of addiction also keeps some doctors from treating the disease.
"We need to stop that because that really prevents people from getting help, and not only those that suffer, but their family members that suffer with them," Lovett said.
Both women were at the Christiana Mall Monday morning as the state launched a $175,000 ad campaign to remind residents that "addiction can affect anyone." Signs and placards with that message will be placed in shopping malls, bars, restaurants, as well as in churches, homeless shelters, and hospitals through June 30.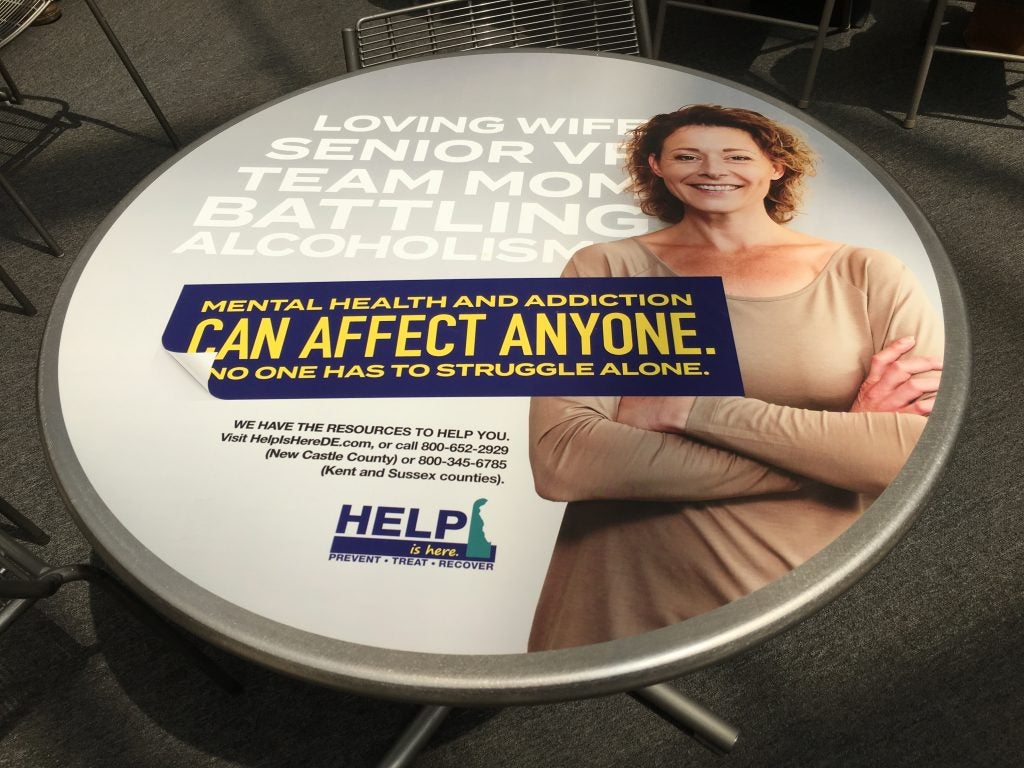 The ad campaign is part of the state's Behavioral Health Consortium, which was created by state lawmakers in 2017. Director of the state's Division of Substance Abuse and Mental Health, Elizabeth Romero said the campaign aims to help more than 80,000 people who need help, but aren't getting treatment.
"We have so many people like students who are feeling hopeless, those that are committing suicide," Romero said. "There is a great need to think about how do we access and create the best way for people to get the care that they need."
In addition to placing the ads in high-traffic businesses, versions will run on local radio stations. Residents will also hear the ads when listening to Spotify online and they'll see the messages on Facebook and Instagram.
More than 400 Delawareans died from overdoses in 2018 — an average of one overdose death every 22 hours.
WHYY is your source for fact-based, in-depth journalism and information. As a nonprofit organization, we rely on financial support from readers like you. Please give today.