Delaware City Refinery second highest for nitrogen pollution among refiners nationwide
Delaware City's PBF refinery discharged more than one million pounds of nitrogen into the Delaware River without violating its permit. Advocates say that's a problem.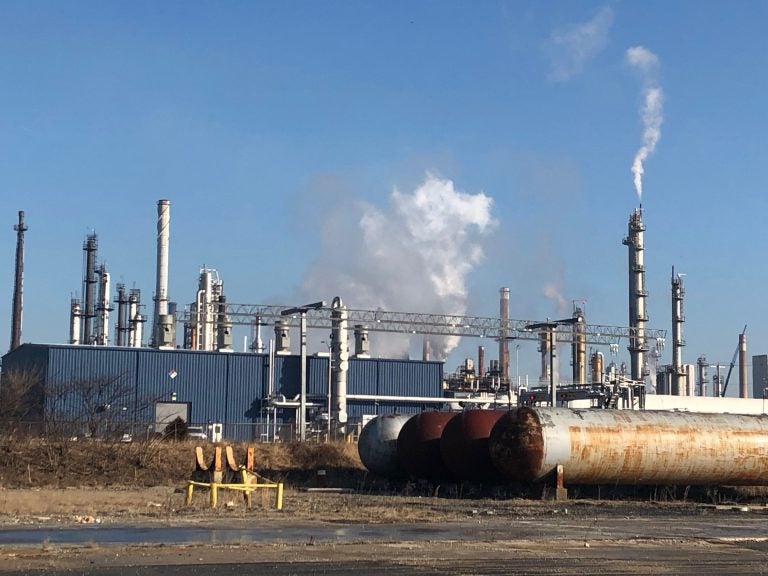 The Delaware City Refinery, owned by PBF Energy, in New Castle County is second on the list for most nitrogen discharges from oil refiners nationwide, according to a new report from the Environmental Integrity Project (EIP).
The report, "Oil's Unchecked Outfalls," looked at 2021 data from the Environmental Protection Agency (EPA) on discharges from all 81 refineries nationwide.
While the 1,198,371 pounds of nitrogen discharged into the Delaware River in 2021 did not violate Delaware City's permit, the report outlines how outdated standards pose a problem. EIP's director Eric Schaeffer said the EPA needs to strengthen refinery regulations.
"We're living with standards that were set 40 years ago," said Schaeffer. "We [now] have 21st-century wastewater treatment methods that could do a lot more to clean up those discharges."
Schaeffer, who used to run EPA's office of civil enforcement, said the current refinery standards for nitrogen discharges, as well as those for industrial salts, cyanide, arsenic, chromium, and selenium, are based on the technology available in the 1970s.
Nitrogen is one of the main reasons more than half the nation's waterways do not meet current standards outlined by the Clean Water Act, according to Schaeffer.
"Nitrogen is very bad for waterways," he said. "It's a nutrient, which makes it sound like a good thing, but it supercharges algae blooms and causes them to grow and spread. It also feeds the growth of weeds and other plants that suck up oxygen that fish and aquatic life need to survive."
The Clean Water Act, which was enacted 50 years ago, requires the EPA to set standards based on the best available technology. But Schaeffer said when it comes to refineries, and a number of other industrial polluters, that has not happened.
"And that's really illegal," he said. "[They] have a mandatory duty to turn those limits up and make them more stringent."
States can also set higher standards than federal regulations. EPA says it's reviewing the EIP's report.
Delaware's Department of Natural Resources and Environmental Control did not return a request for comment.
The Delaware River Basin Commission also oversees water discharges into the Delaware Estuary and has set its own standards for selenium, nickel and total dissolved solids. The DRBC is currently looking at nutrient pollution as part of its Aquatic Life Designated Use project, but declined to comment on the report.
Brian Moran, chair of the Surfrider Foundation's Delaware chapter said he wants state and federal officials to reject the refinery's permit renewal. "Pollution in the river can have an impact downstream on our wetlands, bay, and ocean," said Moran in a statement.
The report also found the Delaware City Refinery discharged into the Delaware River 145,847 pounds of aluminum, 39,831 pounds of suspended solids, and 7,499 pounds of oil and grease.
WHYY is your source for fact-based, in-depth journalism and information. As a nonprofit organization, we rely on financial support from readers like you. Please give today.