December 15: Transit in the 30th Street Station neighborhood | Four mixed-use buildings proposed in Callowhill | Ford getting into ride-hailing market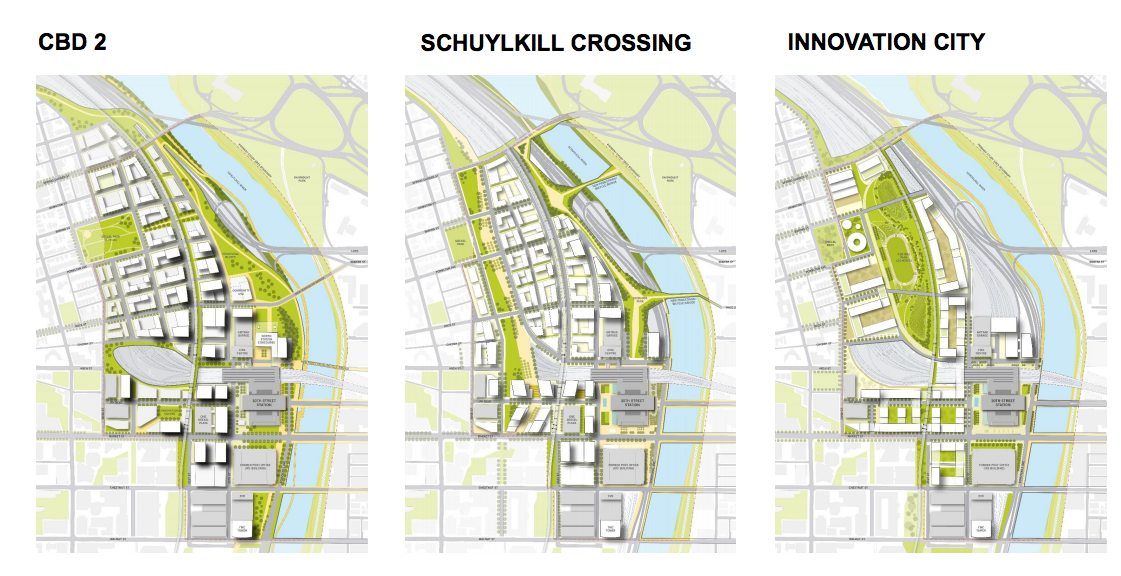 Jacob Adelman previews the updated 30th Street Station Master Plan framework ahead of its unveiling at Wednesday's open house. The plan incorporates public feedback favoring "a dense neighborhood of homes and offices" along with parks and pedestrian bridges to knit the new neighborhood together with the adjacent ones. "The draft also calls for an underground interchange between 30th Street Station and the Market-Frankford Line, as well as an aboveground right-of-way for new public transit routes through the proposed development. No decision has been made on what form that would take." Read our coverage of the planning so far.
T.C. Lei Architect & Associates met with Callowhill neighbors last week to review plans for a new 150-unit mixed-use project on the 900 block of Callowhill, reports Alaina Mabaso. "The design features four independent buildings: two seven-story apartments towers and two five-story buildings with apartments above and a total of 12 new commercial spaces fronting Callowhill on the first floor."
OCF Realty checks in on the progress of two large developments on Chestnut Street on Drexel's campus.
The Kinder Institute writes up a study from UC-Berkley that finds rail transit isn't especially important to the success of transit-oriented development. "What really mattered was scarce parking, ample bus service, smaller apartments, more rental apartments, more stuff within walking distance, and being close to downtown jobs.
The Associated Press analyzes some of the potential implications of Seattle City Council's vote allowing Uber and Lyft drivers, who are currently classified as independent contractors, to organize a union. Charlotte Garden, an assistant law professor at Seattle University, tells Le it's a "virtual certainty" that the ordinance will be challenged in federal court if it's enacted, which she thinks might delay a rush by other cities to pass similar policies.
Ford has announced plans to get into the ride-hailing business, Reuters reports, and they've begun testing out new transit vans on their corporate campus. "Ford's latest effort to explore the ride-hailing business will take the form of a fleet of specially designed Transit vans that company employees can hail using an app to get rides around the automaker's sprawling campus in Dearborn, Michigan. Ford executives said their intent is to develop a commercial ride-hailing service, not just to sell vehicles to ride-hailing companies such as Uber or Lyft."
Republican state lawmakers in Wisconsin want to defang local historic preservation ordinances, the Wisconsin State Journal reports. The sweeping new bill "would prohibit municipalities from designating properties as historic landmarks without consent of the owner. And it would ban municipalities from requiring or prohibiting any actions by owners related to preservation of the historic or aesthetic value of the property without owner consent."
PHS is putting out a call for applications for Neighborhood Placemaker grants. The grants range from $7,500 to $25,000, and will be awarded "to Philadelphia-based organizations with exciting ideas to beautify their neighborhoods," with funding supported by the Commerce Department. The application period runs between December 22nd and February 12th. (h/t Philebrity)