"Dead parish walking": The last bell sounds for historic Port Richmond church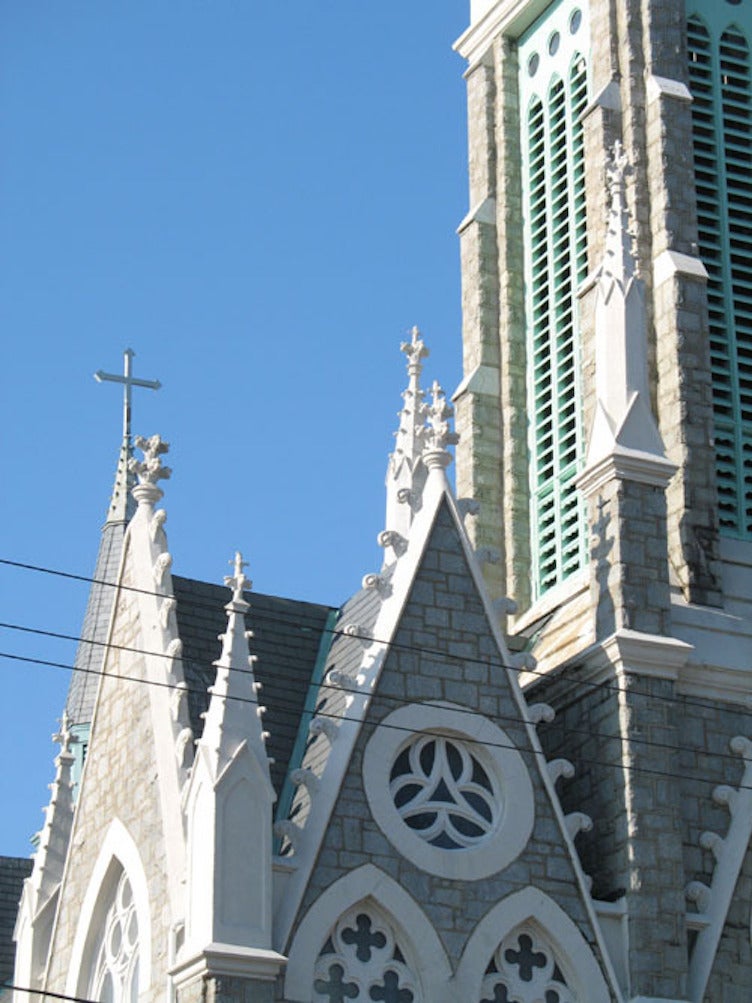 The Archdiocese of Philadelphia has announced that the Our Lady Help of Christians Church in Port Richmond will close due to financial strains, CBS 3 reports.
The 100-year-old-plus congregation has attempted for years to repair and maintain the church, taking steps including merging with Nativity of the Blessed Virgin Mary Parish in June 2016. But the challenge of running the aging church and managing its growing debt proved insurmountable, the pastor of Nativity of the Blessed Virgin Mary Parish told parishioners last weekend.
The parish merger was part of the ongoing Parish Area Pastoral Planning Initiative by the Archdiocese of Philadelphia, one technique to help struggling churches that lack the resources to survive amid demographic and cultural shifts that have led to churches losing members in many parts of the city. Even with the merger, and a Pope visit in 2015, Our Lady's never regained its former vitality, earning the nickname "dead parish walking," the New York Times reported.
Our Lady Help of Christians Church joins a long list historic church closings in Philadelphia. The Archdiocese closed St. Peter Claver, Philadelphia's first black Catholic church, in 2014. The small congregation at Christian Street Baptist could not afford the maintenance of the building in Bella Vista and decided in 2017 to sell the building and use the funds to buy a new space. Though preservationists pushed for the building to be placed on the local historic register, a small technicality prevented the Historical Commission from officially voting to protect the building before plans to redevelop it into condos moved forward. With controversy and likely other issues dogging owner Ori Fiebush's plans to demolish the building, the Point Breeze developer is now working with the Preservation Alliance of Greater Philadelphia to find a history-minded buyer willing to take over his $1.5 agreement of sale and save the neighborhood treasure, according to Philadelphia Inquirer reporter Caitlin McCabe.
Meanwhile, plans to redevelop the abandoned St. Laurentius church in Fishtown into apartments remain in stasis as the developer battles with local preservationists. But no matter how and if the iconic building is developed, there is little doubt that it will never again be a place of worship.
Nearby in Fishtown, the Fifth Reformed Dutch Church is on the way to conversion into a home and graphic design studio. Meanwhile over in West Philly, the Calvary Methodist Episcopal Church, now known as the Calvary Center for Culture and Community, managed to keep its doors open by diversifying its programming and uses to house the Calvary United Methodist Church, the Gospel Chapel Pentecostal Church, the West Philadelphia Mennonite Fellowship and the Kol Tzedek Synagogue, as well as the Curio Theatre Company.
The Philadelphia Church Project has some great pictures and interesting history of Our Lady Help of Christians Church here. The church officially closes June 4.
When Philly retail reacts, relocates, and still ultimately closes brick-and-mortar: The story of Mushmina
"No Amazon or Facebook algorithm can mimic the beauty or treasure-hunt feel of stumbling into a place like this," lamented the Philadelphia Inquirer's Maria Panaritis. The loss of the physical storefront for Mushmina, a retail boutique in the Main Line that got its start at 15th and South Streets, is part of something much more dangerous than just another mom and pop shop closure, the columnist opines. Mushmina co-owner, Katie O'Neil, who operates the store with her sister Heather, "is no Back-in-my-day! codger who fears change" but a "impressively creative and never-say-die Millennial merchant" who did everything possible to keep up and adjust to the digital economy but yet the store could not make it. It's demise points to an increasingly uneven playing field that pits individual entrepreneurs against economic forces weighted in favor or corporate America and anonymous online vendors, Panaritis argues.
In addition to the physical storefront, Mushmina sells their wares through traditional and nontraditional venues: VW Bus, QVC, and pop-up events like trunk shows and holiday fairs in Philly coworking spaces and in other cities. They even sell through other retailers including National Geographic and Anthropologie. And yet, Panaritis writes, "no matter whom she hires as a digital marketing consultant, no matter what she's told to do with Facebook, online ad sales and the web, the bottom line is that her store's overhead costs are not being sufficiently covered by customers coming into it anymore." Customers would still come in "just bask in the specialness of it," said Cindi Raimondo, who Panaritis writes "only helps run the store because she too, years ago, had to close her own shop, Ruka, at 19th and Sansom Streets in Center City." But ultimately those customers too would go back home and online to make the final purchase for cheaper elsewhere.
So owners and sisters Heather and Katie O'Neill will adjust again. Heather, in Morocco, will continue working with local female artisans and oversee product development, and Katie in the U.S. where she is working on a plan "to pop up in communities throughout the year with temporary leases while beefing up her website." While the business is not lost, the neighborhood suffers the loss of a beloved "sensory experience," local gossip hub, and active storefront on a beloved shopping corridor.
PSA: Lincoln Drive Resurfacing and Restoration Project begins Monday
The $12-million roadway improvement and pedestrian upgrade project on Lincoln Drive between Ridge Avenue and Wayne Avenue begins Monday, the Philadelphia Streets Department announced.
The project, which is expected to be completed by the end of 2019, includes milling and resurfacing the road, replacing the guide rail and median barrier, improved LED street lights at intersections and new ADA curb ramps for accessibility at all intersections. The Philadelphia Water Department will also replace a stormwater sewer at Harvey Street.
No street closures will happen during morning or evening rush hours; expect 'minimal impact on traffic flow' from work planned from 6 am and 9 pm and temporary, single-lane closures during off-peak daytime hours (9 am to 3 pm) north of Wissahickon Avenue. Night work from 9 pm to 6 am will involve full closures of the roadway during the overnight hours with signed detour routes in-place, the Streets Department said.
Get the full details of the project here.