Council approves density bonuses for green roofs, pumps brakes on student-housing ban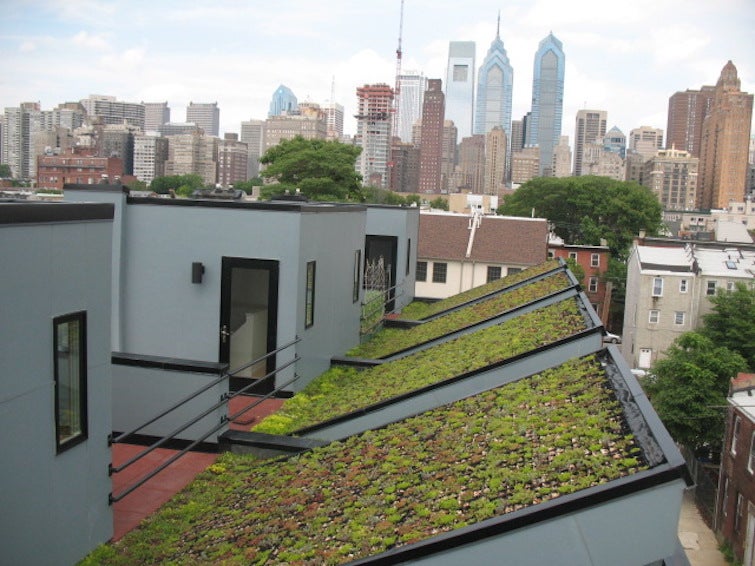 City Council's Committee on Rules voted on Monday to approve a bill that would allow developers to build extra apartment units in certain zoning districts if they install qualifying green roofs on the buildings.
The bill was introduced last month by At-Large Councilwoman Blondell Reynolds Brown. It defines a green roof as a rooftop system that supports living vegetation and helps manage stormwater runoff. It would allow for more units in properties zoned RM-1, a low-density multifamily residential classification, and in CMX-2 and CMX-2.5 districts, which apply to neighborhood commercial corridors.
Currently, a developer can build up to 20 apartments on a 10,000-square-foot lot zoned RM-1. If Brown's bill is adopted by the full Council, a developer could build 27 units on the same lot if he or she installs a green roof covering at least 60 percent of the building's roof. On Monday, Chris Crockett of the Water Department and Anne Fadullon of the Building Industry Association of Philadelphia testified in favor of the bill.* The Water Department hopes that cheaper green roofs will mean more green roofs, and the BIA supports additional density bonuses for developers.
Earlier this year, Brown also sponsored a bill doubling the tax incentive for building green roofs, allowing for builders to write half the cost of the installation off of their business income and receipts (BIRT) tax.
Joe Schiavo, of the Crosstown Coalition of civic associations, testified against the bill, saying that density bonuses are the wrong incentives for green roof construction.
STUDENT HOUSING
The Committee also took testimony on a bill introduced in September, on behalf of Council President Darrell Clarke, that would prohibit group living and student housing in the area surrounding Rittenhouse Square. As PlanPhilly previously reported, that bill was inspired by concerns from residents on the 2000 block of Rittenhouse Square Street, which is seeing the conversion of two large garage buildings into multi-unit apartment buildings. The Center City Residents Association has come out in opposition to that bill, saying it is overly broad and could harm the eclectic character of the Rittenhouse area.
The bill would ban rooming houses, boarding houses, fraternity and sorority houses, and rental housing for college students under the age of 23 in the area bounded by 17th, 21st, Walnut and Spruce streets.
CCRA president Charles Goodwin reiterated his group's opposition on Monday.
"The concern of the neighbors is reasonable and warranted," Goodwin said. "The solution proposed is incorrect."
On Monday representatives of the Greater Philadelphia Association of Realtors and Project HOME testified against the bill as well. The City Planning Commission will discuss the proposal on Tuesday.
Several residents of the 2000 block of Rittenhouse Square Street showed up to testify in support of the bill. Rittenhouse resident Ann Gitter said that a petition in favor of the ban had gathered 88 signatures. Another resident of the block said that CCRA had sold the near-neighbors out by opting to oppose the bill.
The Committee did not vote on the bill, holding it instead for another hearing in December, at Council President Clarke's request.
BY-RIGHT NOTIFICATION
The Committee also approved a bill that would require the Department of Licenses and Inspections to notify Council members and Registered Community Organizations when by-right zoning permits are issued. The bill was introduced by Councilwoman Jannie Blackwell, who had hoped to require developers to provide notice of by-right zoning permits in the way they currently provide notice when going to the Zoning Board of Adjustment or the Civic Design Review Committee. The Planning Commission had concluded that the original bill didn't accomplish its intended goal, and worked with Blackwell toward the amended version.
Blackwell, who has introduced bills expanding notification requirements for developers in the past, said the current bill was written in response to calls from constituents wanting to know what was going on at construction sites in their neighborhoods. Blackwell said it was "embarrassing" to not have the answers to those questions when the permits were issued by right.
*Disclosure: Anne Fadullon is a member of PlanPhilly's advisory board.
WHYY is your source for fact-based, in-depth journalism and information. As a nonprofit organization, we rely on financial support from readers like you. Please give today.