Council advances bills on truck cranes, vinyl siding, stop-n-go stores, and SLAPP suits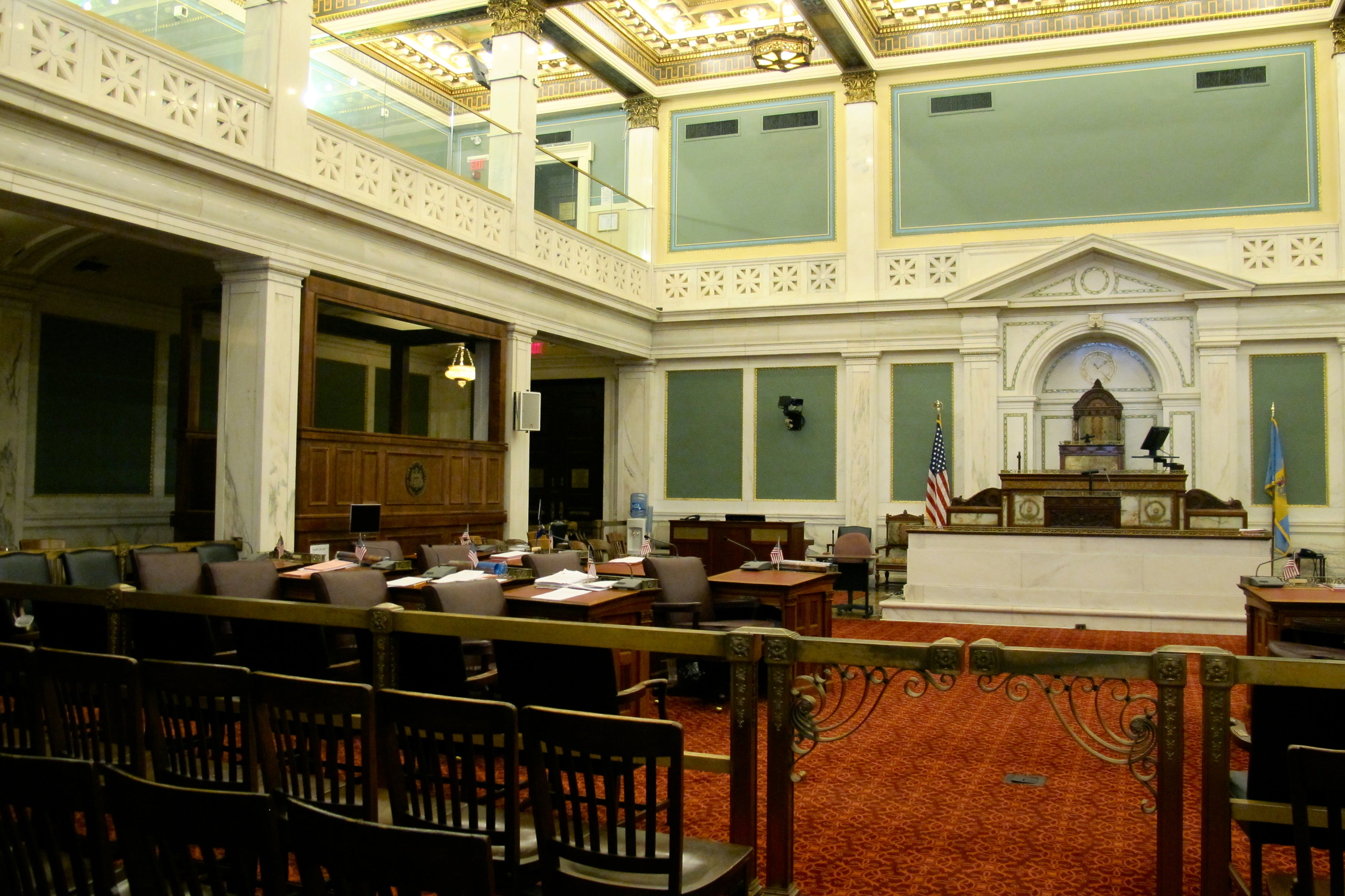 On Thursday, City Council largely concerned itself with Mayor Jim Kenney's push to reassert local control over Philadelphia's school system.
But a handful of City Council members also introduced bills that have been percolating for months, including new restrictions on "stop-n-go" bars from Councilmember Cindy Bass, regulation for mobile-crane operators from Councilmbember Bobby Henon, and even an overlay that attempts to determine what kind of materials can be used in building facades in Councilmember Cherelle Parker's district.
Here's what everyone missed during the tear-down-the-SRC extravaganza.
SLAPPING DOWN SLAPP
Henon called for hearings about lawsuits that have sent insurance premiums skyrocketing for Registered Community Organizations (RCOs). The councilman identified these legal dramas as "abusive" Strategic Lawsuits Against Public Participation (SLAPP), which specifically aim to drive civic associations out of existence through costly litigation.
Following a lawsuit, an RCO will see premiums jump on its director's and officer's (D&O) liability insurance, which covers legal costs of the volunteers that make up an RCO's board. Without D&O insurance, many people will refuse to engage in its activities for fear of being held personally liable. Both the Bella Vista Neighbors Association and the Fishtown Neighbors Association were almost destroyed this year because their insurance premiums spiked after they were named in lawsuits — Although, notably, neither case would be considered a traditional SLAPP suit.
"You had a few RCOs dissolve because of frivolous lawsuits," said Henon. "I think it's become a game in certain situations. Here we get a chance to look at these lawsuits and hold people accountable."
Anti-SLAPP legislation is being pursued in Harrisburg; if it passes, those state laws would likely preempt any local regulations. The Crosstown Coalition, an umbrella group covering many of the city's RCOs, wants the city to provide insurance for the groups, arguing that they were essentially "deputized" to perform a quasi-governmental role in the zoning process under the code reform of 2012.
That idea hasn't been popular with the Kenney administration or in City Council. When asked if he supported the idea of city-provided insurance for RCOs, Henon just said that "we will investigate that question" at the hearing.
MANAGING A NEW, INVASIVE SPECIES: TRUCK CRANES
Henon also introduced a bill to regulate mobile cranes, which are the vehicle-bound cranes that dot Center City and its surrounding neighborhoods. They are in contrast to the gargantuan tower cranes, which are clearly visible from afar as the skyline expands, and are already regulated.
"Most of the action is with these mobile cranes, especially with uptick of economic development in Philadelphia," said Henon. "Mobile cranes are in every neighborhood and so that's where most of the accidents happen when it comes to construction safety."
The bill will basically bring the regulation of mobile cranes up to par with the rules that govern their mammoth counterparts. That means the Department of License and Inspections will enforce accreditation for the certificates necessary to operate the vehicles and subject the equipment to regular yearly inspections. (The department's own workers won't be looking over the equipment themselves — that's for third party engineers — but the city will perform audits to ensure the inspections are happening.)
Henon, along with Councilmember Maria Quiñones-Sánchez, failed to pass an earlier version of this bill in previous Council sessions. Henon says he doesn't expect opposition from the Building Industry Association or the General Building Contractors Association (GBCA), saying that both have been involved in crafting the legislation.
"The bill has some good components that elevate the requirements to safely operate mobile cranes," said Lance Claiborne, Director of Industry Relations for the GBCA. "We look forward to continuing our conversation with the councilman to further improve this bill."
PARKER DOESN'T WANT TO HEAR IT ON VINYL
Councilmember Cherelle Parker introduced a zoning overlay in an attempt to control the building materials that developers in her district can use. Several longtime City Council observers said they doubted the legality of the legislation, saying it may be beyond the police powers of the city.
The bill would apply an overly to her entire district, the ninth, which covers much of upper North Philadelphia and some of the city's northwestern neighborhoods. The legislation lists a series of materials that would not be allowed on any residential or commercial façade visible from the public right of way. These would include vinyl siding, horizontal aluminum siding, or stucco that covers more than 30 percent of the façade.
Parker frames the legislation as an attempt to help protect the "middle neighborhoods." She said the bill would require those who want to use the outlawed materials to "go through the zoning process" and that it "emulates existing design standards" in neighborhoods like Queen Village and Powelton Village.
"One of the main ways I am working to assist these middle neighborhoods is the preservation of our historic housing stock," said Parker. "The historic brick and stone homes of the 9th Council District are an incredible asset that residents strongly want to protect, but residents have recently witnessed an increase in construction using lower quality building materials."
Matt McClure, head of Ballard Spahr's Zoning and Land Use, said he didn't think the zoning code was the appropriate legislative vehicle for addressing the issues Parker is concerned with.
"There may be a practical basis for regulating the zoning code by councilmanic district under the zoning code, but there is not a legal basis," said McClure.
This is not the first time Parker has acted against the use of such materials. The first instance took place on a far smaller scale. In July, Parker successfully worked to stop the demolition of a stone, single-family house in her district. A developer wished to knock the structure down and build two twin houses with vinyl-siding in its place.
STOP-N-GO-AWAY
Council's long burning crusade against so-called "stop-n-go" bars also came to a climax. These are neighborhood bars that elide the spirit, if not the letter, of liquor license regulations requiring food for on-site consumption and seating for patrons. Councilmember Cindy Bass and others have long denounced them as nuisances that promote public drunkenness by serving beer and occasionally shots of liquor late into the evening.
The bill seeks to regulate bathroom access, another requirement for businesses serving alcohol. Under Bass's bill, restrooms would only satisfy the public access requirement if they were readily accessible to patrons, and not, for example, located in the back of a kitchen or other area normally restricted to employees. She would also prohibit those seeking a large establishment license — which provides seating for 30 or more — from erecting a physical barrier between themselves and the customers. That would effectively ban the bulletproof glass that often separates customers from proprietors in many late-night neighborhood establishments.
"Currently, with stop-n-gos in my neighborhood, they're mostly in poor neighborhoods, mostly in 'the hood,' as we know it," said Bass. "I have more stop-n-gos in my district than I have public schools, and something is really wrong with what's happening here."
On Wednesday, Governor Tom Wolf signed into law a bill allowing the Liquor Control Board to immediately suspend the liquor licenses of establishments flouting the law.
WHYY is your source for fact-based, in-depth journalism and information. As a nonprofit organization, we rely on financial support from readers like you. Please give today.