Competition is on the money in enhancing financial literacy for Philly students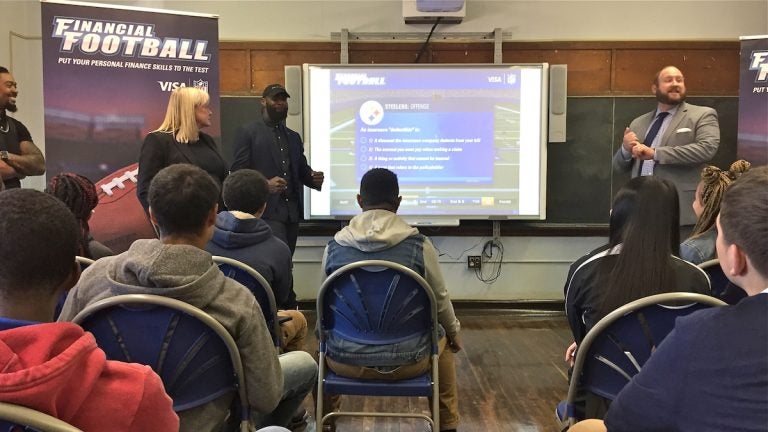 Sophia Santiago wants to be an astronomer — with an average salary of $110,000.
But even with that kind of cash, she'll need to be prepared in the event of illness, injury, or some other calamity.
"If it all goes to crap," she said Monday. "I need to at least have my money, you know?"
Well, she knows now.
Santiago, a junior at Bodine High School for International Affairs in the Northern Liberties section of Philadelphia, just started taking business classes this year. She's learned about investing, saving and the other particulars of personal finance.
On Monday, she and about 50 of her peers showed off that knowledge in a contest called Financial Football. Developed by Visa and the NFL, the game crosses financial literacy trivia with a (decidedly less realistic) version of a football video game. Pick a play, answer a question and — if you get it right — advance down the field. Get it wrong and the defense gets to swoop in and potentially move you backwards.
If Monday's raucous cheers were any indication, the test audience approved.
Financial Football has been free to all Pennsylvania high schools and middle schools since 2012, but state officials want to get more teachers using the game.
Hence Monday's event, which featured one team of students captained by Eagles star Malcolm Jenkins and a second team captained by Pennsylvania State Treasurer Joe Torsella.
(Jenkins' team — playing as the Eagles, naturally — beat Torsella's Steelers 8-0.)
"As a state, we don't do very well currently on financial literacy," Torsella said. "This is a great way of doing better."
Nationally, 17 states, including New Jersey, require students to take a financial literacy course; 20 states require a course in economics. Pennsylvania isn't in either camp, according to the Council for Economic Education.
In Philadelphia, Councilman Allan Domb has pushed for more financial-literacy classes in public schools. Earlier this year, district officials said they're working with the Federal Reserve Bank of Philadelphia to develop workshops and curricula around personal finance.
Sophia Santiago, however, has already seen the light. She said her family in Northeast Philadelphia has never been financially stable and she wants to avoid that trap.
"I want to be the one that can be financially stable and help everyone else in my family," she said.