Coast Guard rescues rower on transatlantic fundraising mission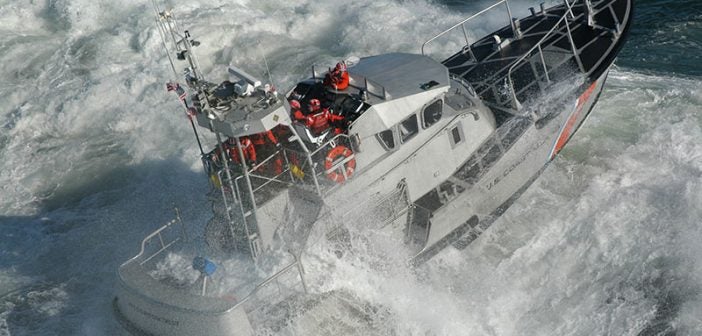 A man rowing across the Atlantic Ocean on a fundraising mission was rescued by the U.S. Coast Guard off the New Jersey coast on Monday.
Duncan Hutchison, 52, set off from the Manhattan Yacht Club in Jersey City on Thursday for a solo 3,500 mile row in a self-built boat across the Atlantic Ocean to his native Scotland.
First heading south to catch the Gulf Stream current before turning northeast, he expected the journey to take between 90 and 100 days.
But the mission, a fundraiser for WaterAid, an international nonprofit organization that provides access to clean water and sanitation, came to an abrupt halt in rough seas.
Hutchison contacted the Coast Guard on the VHF emergency marine channel shortly before 11:30 a.m. Monday to report that his rowboat was beset by bad weather, according to an agency release.
A 47-foot motor lifeboat crew from Station Barnegat Light responded to the scene about 20 miles east of Barnegat Light and rescued the charity rower. Personnel on the scene reported 21 mile per hour winds and eight-and-half-foot seas.
"It was great to use my skills as a Surfman to navigate the heavy seas and wind, and my crew did an outstanding job making this a successful rescue," said Petty Officer 2nd Class Eric Thornton. "We highly recommended always checking the weather before departing on any ocean excursion because conditions can change instantly."
An early Monday morning post on the Facebook page tracking the journey, Duncanadrift, said the rower was having a "tough time" due to winds and currents pushing him toward the coast.
"Duncan has been taking advice from the (Coast Guard) but is very reluctant to have to go in then start all over again. We'll see," the 4:37 a.m. post stated.
The National Weather Service advised of building swells and increasing winds on Sunday. A picture showed Hutchison in calm conditions on Saturday.
Thornton praised Hutchison for being well prepared and requesting help on the emergency channel.
"We were able to pinpoint his location by using our Rescue 21 radio system, and that saved his life," he said.
Hutchison raised £7,190.00 (approximately $9,574) as of Monday, according to his fundraising site. Information on the whether the trip would resume was not immediately available.