Civic associations weigh in on sign regulations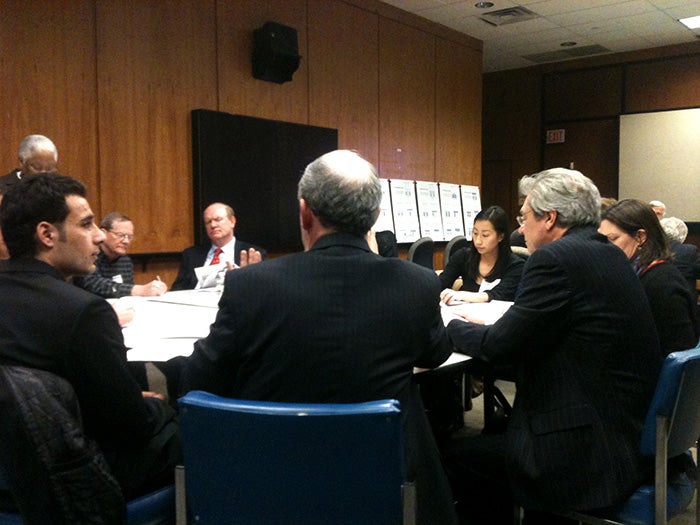 Civic association representatives weighed in on sign control reforms at the City of Philadelphia Planning Commission headquarters Thursday night during the third in a series of five civic engagement meetings on rewriting the city's sign regulations. The meeting was co-sponsored by the Planning Commission and the Crosstown Coalition. Previous meetings involved architects and design professionals and small-business owners and sign manufacturers.
The format of the meeting was the same as the two earlier meetings. Former Zoning Code Commission director Eva Gladstein briefed participants on the background of sign control reform and solicited input on proposed new definitions for sign types and characteristics.
Like the other meetings, Thursday's session was officially off the record. Participants weighed in on concentration and placement of signs in commercial districts, highway corridors, and residential neighborhoods. The sign control working group has made it clear at each civic engagement meeting that it is not seeking consensus from participants—and it did not receive any on Thursday.
Participants' interests in sign regulations ranged from the purely aesthetic to the mostly financial. Disagreements surfaced. Friendly arguments erupted. Side conversations formed. Consultants from Portfolio Associates, a group which has worked on civic engagement with Zoning Code Commission since 2008, fought to keep the comments focused.
The central question in each of the civic engagement meetings so far has been how much signage area to allow per linear foot of storefront in commercial corridors. Opinions on this question diverge.
Some at the meeting were in favor of minimizing the amount of signage allowed on each storefront so as to keep the cityscape as uncluttered as possible. Others favored regulations permitting a liberal amount of signs, in order to allow businesses to attract customers however they see fit. Some argued that, in keeping with the zoning reform goal of reducing variance, regulations should be loose so that sign users will be less likely to seek relief from the code.
Gladstein said the civic engagement meetings have surface a number of questions the sign control working group hadn't anticipated.
Among them:
Can the number of signs in a given area be regulated, in addition to simply the total square footage of signs?
Should a digital sign with a changing message be considered an accessory sign, a non-accessory sign, or both?
Can there be a separate design review process for signs that is similar to the new code's provision on Civic Design Review for major land developments?
Should window signs be limited to ensure that pedestrians can see into stores?
Can the content or amount of information on a sign be regulated by the zoning code?
On the last point, Gladstein said there are some ways to regulate type size on signs, but added, "For us, a lot of that relates to: how are we ever going to enforce that?"
Several participants at Thursday's meeting pointed out that there is a gray area when it comes to storefronts with floor-to-ceiling windows—when such businesses put advertisements inside the building behind the glass, can those advertisements be considered signs? If so, how can they be regulated? Gladstein said that the working group currently hasn't created a solution to that question.
After the meeting, Ed Panek, zoning committee chairman for Logan Square Neighborhood Association explained his support for a design review process for signs.
"There ought to be an opportunity for public, civic review and input with respect to various signs that are going to go up," Panek said.
Panek said the design review wouldn't apply to small signs accompanying home-based businesses or small offices, but only to large signs going into residential areas.
"The concept of the community design review [CDR in the new zoning code] should be utilized for signage review as well as for project review," Panek said.
Mary Stumpf, a graduate of the Citizens Planning Institute and member of the Central Delaware Advocacy Group, said that she'd like to see the civic engagement meetings on sign controls yield a uniform standard that discourages variance and promotes good use of public space. She pointed out that the rise of digital signage should signal a shift in the way signs are regulated.
"I think you really have to err on the side of limiting how much [signage] can go, because it's changing," Stumpf said.
"There's a master plan for the waterfront now," she added. "And just because [I-95] is there doesn't mean that you can just throw up a billboard on either side because it's a highway. … You're trying to create a mood for where we're going. We're post-industrial, and things are changing. … This zoning code really needs to err on the side of less being more."
The working group plans to synthesize input from the civic engagement process and present a first draft of a new sign control chapter at a Planning Commission meeting on February 21st. It will then hold five community-based meetings—locations still to be determined—and send a final draft of the new chapter to City Council in May.
Contact the reporter at jaredbrey@gmail.com