City to survey land in flood-prone Eastwick before soliciting developer bids
The vacant land in question sits in a 100-year-floodplain.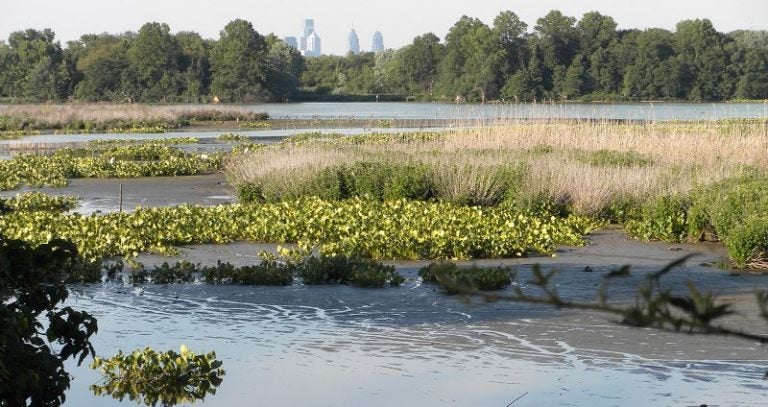 This article originally appeared on PlanPhilly.
—
Despite some continued concerns about flooding, the Philadelphia Redevelopment Authority isn't ruling out commercial development in a low-lying swath of Eastwick near John Heinz National Wildlife Refuge.
The vacant land in question sits in a 100-year-floodplain. Hugging a rail line, it is part of a 130-acre parcel of city-owned land bounded by the John Heinz National Wildlife Refuge, 86th Street, Lindbergh Boulevard, and Mario Lanza Boulevard. That parcel is one of three city-owned Lower Eastwick tracts the PRA plans to sell for redevelopment
That sale will mark the end of a rigorous public process that began nearly two years ago with the launch of a community-based land use study. Led by Philadelphia's Interface Studio with Redevelopment Authority backing, the process was designed to build trust and create a community-driven framework for redevelopment in an area traumatized by a botched 1950s-era urban renewal scheme that displaced more than 8,000 people. In July, Interface's work culminated with the release of a strategy document laying out options for residential, open space and commercial development that could be feasible on the 200 acres in play.
While the planners' recommendations for a mixed-use "village in the city" reflect what many in Eastwick want to see, the notion that businesses could locate on a 100-year-floodplain has drawn some criticism.
Michael Nairn is an urban studies professor at the University of Pennsylvania who has worked with the Eastwick community since 2012. He fears that putting commercial development on the low-lying ground could make it more vulnerable to future floods.
"Why are you trying to put an industrial area on 30-acres of fill in an area that's on the 100-year floodplain when all best practices tell us not to do that," said Nairn.
But Philadelphia Redevelopment Authority Director Greg Heller said that Nairn's concerns are premature. More analysis will be done, he said, to ensure responsible development in the area deemed a Special Hazard Flood Zone by FEMA.
"From the beginning, we've heard loud and clear from every community forum that flooding was a major concern," Heller said. "And so from the very beginning, one of the primary goals of this study was to make sure that we don't make the flooding worse. That is 100 percent one of the main goals of this study and it has been from day one."
Interface Studio Principal Scott Page said that the feasibility study isn't recommending industry but saying that it is one possibility, subject to further analysis and conditions. "There could only be commercial or light industrial development there if [a developer] could maintain the integrity of the land and its capacity to hold floodwater. Or if the hydrology studies tell us otherwise, it will be something else," Page said.
Eastwick Friends Neighborhood Coalition president Earl Wilson remembers the devastation brought on by Hurricane Floyd in 1999. The storm dumped nearly seven inches, a record amount, and caused flooding throughout Southeastern Pennsylvania. It put Eastwick under four feet of water.
Wilson's home was spared, but he recalled witnessing his neighbors "rip out major portions of the lower levels of their homes." He said the questions around flooding must be dealt with before moving forward.
"It's going to be extremely important for us to make sure that those particular questions are answered first," he said.
Wednesday marks the final day of a 90-day public comment period for the Interface feasibility document. The next step will be a more extensive land survey before a request for proposals will be issued by the PRA.
"There is a lot of additional work that needs to be done to ensure development is being done responsibly," said Heller. "Nobody is going to be 100 percent happy, but we think that we've come to a set of recommendations that will make everybody somewhat happy."
WHYY is your source for fact-based, in-depth journalism and information. As a nonprofit organization, we rely on financial support from readers like you. Please give today.