Christmas Eve travelers, flaunting COVID guidelines, find short lines at Philly's airport and train station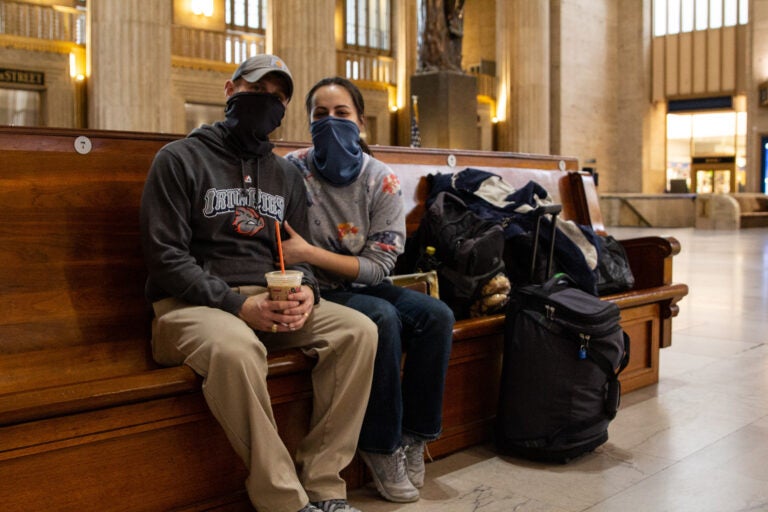 Ask us about COVID-19: What questions do you have about the current surge?
Holiday travel in the Philadelphia area was subdued this year, as the pandemic put many gatherings on hold. But on the morning of Christmas Eve, many people were still threading their way through PHL Airport and 30th Street Station to see relatives or loved ones — or just get out of town for some fun.
Worried about a post-holiday surge like the one seen after Thanksgiving, health officials both locally and nationally have urged people to stay home to stop the spread of COVID-19.
Despite those warnings not to travel, almost 1.2 million people around the U.S. took to the skies on Dec. 23, the highest number of travelers since the beginning of the pandemic, according to the Transportation Security Administration.
Philly's airport didn't experience anything like a typical holiday rush.
People there Thursday, most of whom were wearing face masks or even full-on face shields, were able to check luggage quickly and breeze through security.
Shauna Powell, who was flying to Orlando with seven of her family members, admitted she still felt uneasy. "It's a tricky time," she said. "We're [toggling] between shaming people for traveling and also wanting to prioritize our quality of life."
Powell and her relatives made a pact that masks would stay on the entire flight. They're planning to use hand sanitizer as much as possible. When they land in Florida, they'll make their own meals instead of going to restaurants.
"I don't want to miss this time with my family," Powell said. "I'm prioritizing."
Many travelers at 30th Street Station said they felt safe taking a ride on the train. Molly Bukviks said she skipped a Thanksgiving trip, but is spending Christmas in Virginia.
"I feel like the trains are all super safe," Bukviks said, her face covered by a mask. "I don't think they're going to be that crowded."
Coronavirus case counts hit record highs in both Philly and Pennsylvania this month, with positivity rates spiking. Though mitigation measures appear to have tamped down the surge, hospitals statewide currently hold more COVID patients than during the spring — over 1,200 are in the ICU. Nearly 15,000 Pennsylvanians have died from the disease, more than 10% of them in the last two weeks alone.
Despite those stats, some said they weren't worried about contracting the virus. That includes Philly resident Kurtis East, who was waiting with his girlfriend to board a train to Delaware.
"Even if I do get it, I feel like I'd survive it. … I'm a stress-free person, so I don't really worry about a lot of things," he said. "I'm just kind of like a hippy. It's whatever. I'll go when it's time to go."
East admits to not reading the CDC travel guidelines, but said that wouldn't stop him from going to seeing family. "I'm just being honest, I don't care about that type of stuff," he said. "I live my life how I live it."
Some other travelers, who had heard about the guidelines, said the recommendations to stay home weren't enough to disrupt their matrimonial plans.
Gloriana Berry, originally from Texas, said she and her new husband had been traveling the coast for their honeymoon, spending their days doing outdoor activities. They spent two nights in Washington, D.C., before landing in Philly. Next stop: New York City.
"We made sure that places that we were going on the trains and planes and everything were following guidelines," Berry said.
At the airport, Nancy Tahan was heading to an overseas wedding — her own. She'd started her journey in Michigan, and was on a layover to her final destination in Lebanon. She and her partner scheduled their ceremony for right after New Year's, unwilling to postpone it any longer.
"We wanted a spring wedding, and then a fall wedding, and now we have to have a winter wedding," she said. "It's about time. We can't keep pushing it."
Others said they were traveling for work, holiday notwithstanding. Darrien Madison, a 23-year-old music producer from Baton Rouge, Louisiana, flew to Philly a few days ago and was on his way back home.
He said he couldn't make money if he wasn't traveling. He's been on eight flights throughout the year. "You want rent and all that but you want me to stay home? Can't do that," Madison said, adding that he only wears a mask because he has to.
Steven Hardy, from Abington, said he knows the dangers of the virus firsthand. For work, he manages a casket company — and he's the one who delivers the caskets.
He described how he's witnessed loved ones crushed because they aren't allowed to touch or see the deceased until the burial. Despite all this, he still wants to travel. It's been three years since his last vacation and he didn't want to cancel his Christmas trip. He believes he'll be fine as long as he continues to wear a mask, keep his hands clean, and avoid large crowds.
"I work hard every day," Hardy said. "I need to go somewhere."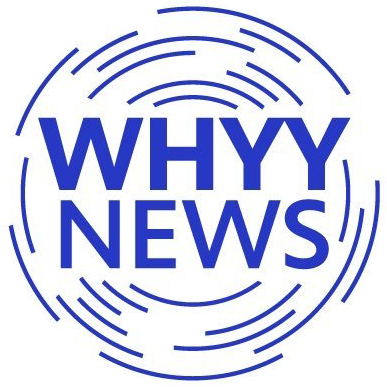 Get daily updates from WHYY News!