Champs take a bow wow at National Dog Show
Handlers listen intently during the herding group competition at the National Dog Show in Oaks, Pa. (Kriston Jae Bethel for WHYY)

Stacie Stern-Leaphart holds the attention of her harlequin great dane, Lorraine, at the National Dog Show in Oaks, Pa. At 34 inches and 130 pounds, three-year-old Lorraine still has room to grow, but is both the spokesdog for Pergo and recently completed a photoshoot for Free People. (Kriston Jae Bethel for WHYY)

Judy Sarkisian gets a kiss from her grand champion cocker spaniel, Kisian's Royal Gala, at the National Dog Show in Oaks, Pa. (Kriston Jae Bethel for WHYY)

Chatherine Carey grooms her cocker spaniel, George, at the National Dog Show in Oaks, Pa. (Kriston Jae Bethel for WHYY)

Michelle Jones and her daughter Mackenzie Jones prepare Mr. Bates, the No. 2 ranked shih tzu in the country, for the breed competition at the National Dog Show in Oaks, Pa. (Kriston Jae Bethel for WHYY)

Julia, a 5-year-old English pointer, rests her head in the hand of June Beckwith at the National Dog Show in Oaks, Pa. (Kriston Jae Bethel for WHYY)

Lucy Keeling, 8, pets Sadie, a miniature wire-haired dachshund, at the National Dog Show in Oaks, Pa. (Kriston Jae Bethel for WHYY)

Irish terriers Bailey and Cooper play during the National Dog Show in Oaks, Pa. (Kriston Jae Bethel for WHYY)

Arlene Iliesco sits with her shih tzu, Princess Leah, at the National Dog Show in Oaks, Pa. (Kriston Jae Bethel for WHYY)

Alexis Schlott clips her kerry blue terrier, Adele, by hand at the National Dog Show in Oaks, Pa. When she was younger, Schlott wanted to join her grandparents business working with horses, but was told she was too small. Instead she turned to dogs and now at 19, she has her own grooming business and is an amateur handler. (Kriston Jae Bethel for WHYY)

Dante, a 3-year-old wire-haired visla, looks outside during the National Dog Show in Oaks, Pa. (Kriston Jae Bethel for WHYY)

CeCe and Cooper, two bischon frises, have their attention pulled at the National Dog Show in Oaks, Pa. (Kriston Jae Bethel for WHYY)

Handlers exit with their borzois following the breed competition at the National Dog Show in Oaks, Pa. (Kriston Jae Bethel for WHYY)

A borzoi has his teeth checked by a judge during the breed competition at the National Dog Show in Oaks, Pa. (Kriston Jae Bethel for WHYY)

Donna Defalcis walks her two Bergamasco sheep dogs, Ravi and Whope, at the National Dog Show in Oaks, Pa. (Kriston Jae Bethel for WHYY)

Max Coddaire, 7, hugs Vivian, at the National Dog Show in Oaks, Pa. Max met Vivian at least year's dog show and was excited to see her again. Vivian was rescued from a shelter after being used as bait in dog fights. Now the official therapy dog ambassdor, Vivian received training as part of the New Leash on Life program in Philadelphia, where dogs live side-by-side with prisoners. (Kriston Jae Bethel for WHYY)

A bischon frise yawns during the National Dog Show in Oaks, Pa. (Kriston Jae Bethel for WHYY)

Handlers take their dogs around the ring during herding group competition at the National Dog Show in Oaks, Pa. (Kriston Jae Bethel for WHYY)

Handlers wait backstage their dogs before the start of the sporting group competition at the National Dog Show in Oaks, Pa. (Kriston Jae Bethel for WHYY)

Handlers line up with their dogs before the start of the sporting group competition at the National Dog Show in Oaks, Pa. (Kriston Jae Bethel for WHYY)

Evan Threlfall sits with his tired English cocker spaniel, Enron, during a long day of competition at the National Dog Show in Oaks, Pa. (Kriston Jae Bethel for WHYY)

Handlers continue to groom their dogs during the sporting group competition at the National Dog Show in Oaks, Pa. (Kriston Jae Bethel for WHYY)

Karen Mammano runs with Daniel, the No. 1 golden retriever in the country, during competition at the National Dog Show in Oaks, Pa. While this was supposed to be a trial year for Daniel, he's already won 10 best in show awards. (Kriston Jae Bethel for WHYY)

Justin Smithey and his whippet, Whiskey, take a lap around the ring during the Best in Show competition at the National Dog Show in Oaks, Pa. (Kriston Jae Bethel for WHYY)

Kara Janiszak holds the attention of Bella, a Pembroke Welsh corgi, during Best in Show judging at the National Dog Show in Oaks, Pa. (Kriston Jae Bethel for WHYY)

Judges and officials mark their final selections for Best in Show at the National Dog Show in Oaks, Pa. (Kriston Jae Bethel for WHYY)

Justin Smithey reacts to the announcement that his 3-year-old whippet, Whiskey, won Best in Show at the National Dog Show in Oaks, Pa. (Kriston Jae Bethel for WHYY)

Whiskey, a 3-year-old whippet, enjoys a victory meal after winning Best in Show at the National Dog Show in Oaks, Pa. (Kriston Jae Bethel for WHYY)
If you take away only one thing from from the National Dog Show, it's that people absolutely love their dogs.
"There's no profit," said Judy Sarkisian, who's owned and bred dogs since the 1970s. "It's a labor of love."
However, a love of the game doesn't mean the stakes aren't high. There are dog dynasties, with names dignified enough to go along with them.
More than 3,000 dogs competed in the show in Oaks, Pennsylvania, sponsored by the Kennel Club of Philadelphia, and six of them were Sarkisian's.
Five of Sarkisian's dogs are Grand Champions, and her prize-winning black cocker spaniel has a full registered name of Grand Champion Kisian's Royal Gala. Her mother, Evelyn, was the No. 1 female cocker of all time. Very impressive, indeed.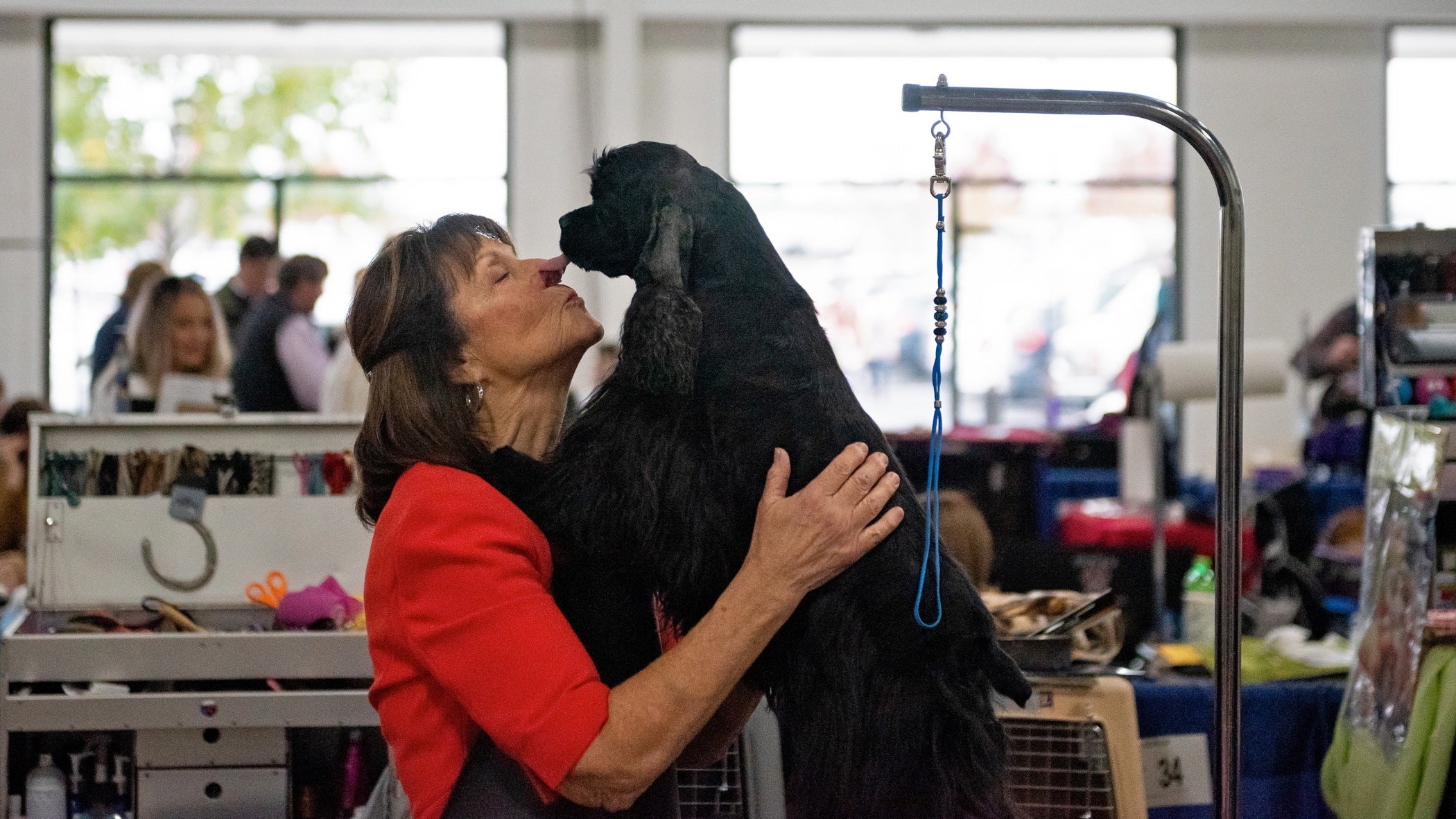 Still, a great deal of business goes into the breeding and maintenance of some of the country's best looking companions. Alexis Schlott has gone all-in on making a name for herself as a groomer.
"My grandparents had a business and I wanted to work with horses, but I'm too little," said Schlott. As an alternative, her parents found her a job working at a kennel when she was about 12 years old. Now 19, her focus is entirely on dogs. Working as a groomer and an amateur handler, she's saving up to attend college in the hope of growing her own business.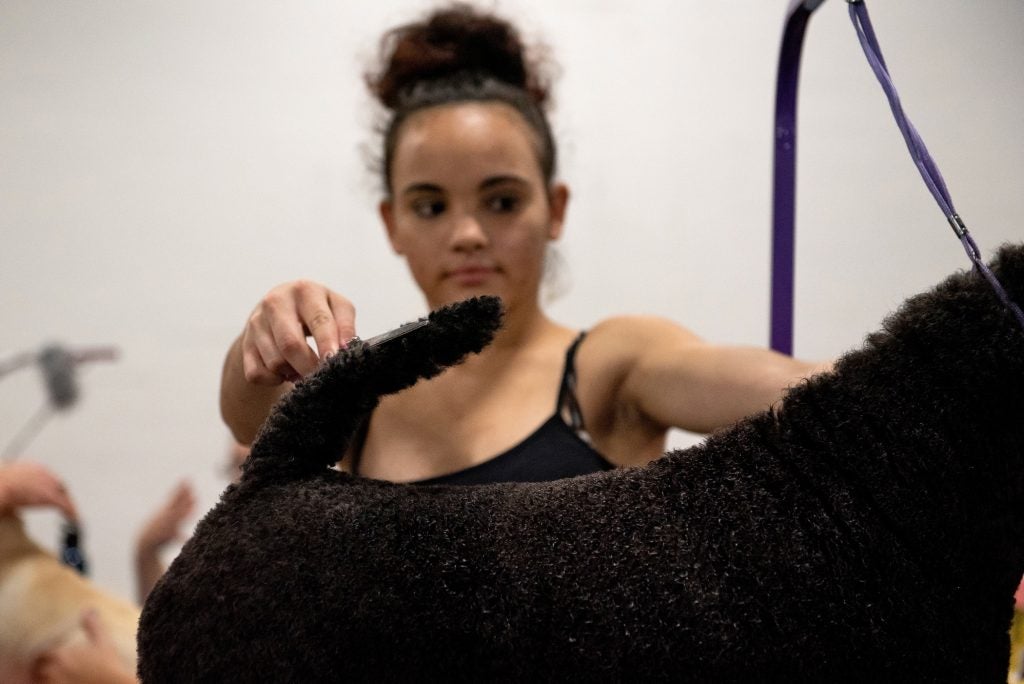 Among participants, there's certainly a competitive spirit, but many develop close bonds. Showing so many times together throughout the year, they warm to those around them. Justin and Cheslie Smithey even built a family around these shows.
"My mom showed and bred dogs before I was born," said Cheslie Smithey, who started showing with her mother, but now shows with her husband, whom she met on the circuit. "A lot of people at dog shows end up meeting there and getting married," said Justin Smithey.
"We have our own families and then our dog families," said Cheslie Smithey. But their dog family went on to take top prize.
To the Smitheys' surprise, their 3-year-old whippet, Whiskey, won his 20th Best in Show, beating out a wire fox terrier to take home the cup.
Does Whiskey know that he won? Probably not, but he did get to enjoy some kibble for being such a good boy.