Center City's sidewalk cafe boom should spread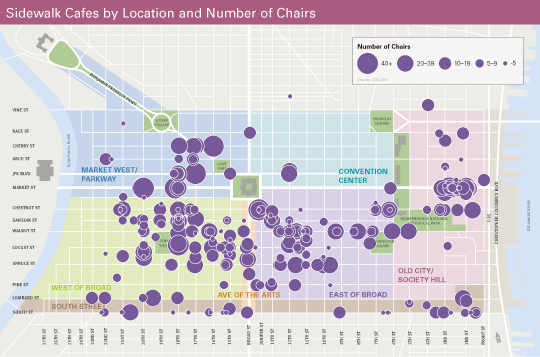 For ten years the Center City District has been counting the number of sidewalk cafes in Center City, finding 273 between Vine and South Streets. There were 69 when CCD started counting in 2001. Sidewalk cafes add life and informality to city streets, and they invite people to linger and socialize.
Outdoor cafes were legalized in Center City when Ed Rendell was mayor, requiring a sidewalk cafe license. But for every cafe outside of center city special legislation is required to add sidewalk seating. Just this week City Council's agenda included bills to permit sidewalk cafes at four establishments in Newbold, Bella Vista, and Passyunk Square. Word is that the Girard Coalition wants in on the action, proposing a new sidewalk cafe district of their own.
Why not consider expanding these districts to neighborhoods beyond Center City? Practically speaking, by designating certain areas for more sidewalk seating, it also allows the city to suggest areas where sidewalks are wide enough to accommodate the seating. And, although it may sound trivial, simple things like sidewalk seating can help a neighborhood grow. People attract people, and by seeing neighbors lingering over a beer or a coffee adds to a street's life. As folks people-watch street from a sidewalk table, the whole street can feel safer.