Celebrate your Mom, release your inner artist, and delight in flowers
Moms, parks, artwork with a twist and music accessible to all are highlighted this weekend.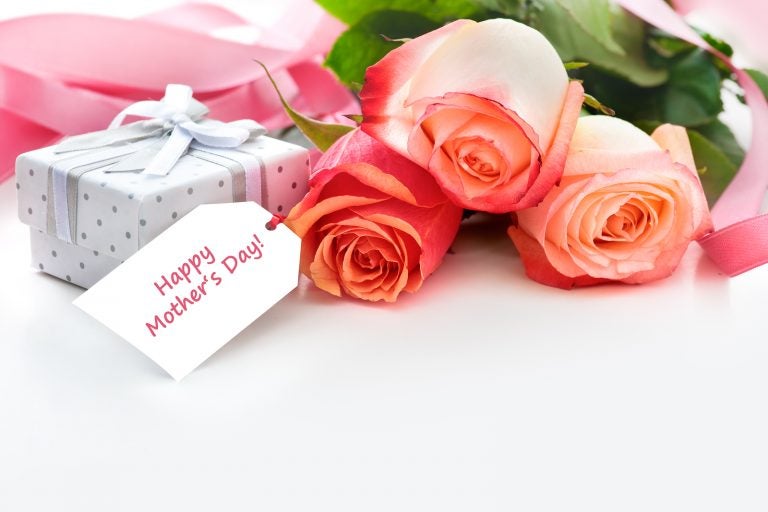 Moms, parks, artwork with a twist and music accessible to all are highlighted this weekend. And here's a list of Mother's Day brunches in the region.
16th Annual Spring Art Star Craft Bazaar
The Great Plaza at Penn's Landing
Columbus Boulevard between Walnut and Chestnut streets
(GPS address: 101 S. Christopher Columbus Blvd.)
May 11-12; 11 a.m.-6 p.m.
Free
The annual art festival includes goodies including free totes (get there early!) and raffles as artisans from all manner of creative disciplines congregate on the Great Plaza on Penn's Landing. With Spruce Street Harbor Park and Blue Cross RiverRink Summerfest also opening for their summer season this weekend, you can hang out well into the night. Forty brand-new vendors are among more than 100 who are participating. You can even create your own art to take home via Black Hound Clay Studio, Little Chair Printing and Janell Wysock Textiles. Live bands chosen for the festival by DJ Ed Christof will perform at different times on both days, and food will be available for purchase. A $5 photobooth brings some nostalgic flavor to creating memories of the day.
Mother's Day Weekend at Autumn Lake Winery
870 W. Malaga Road, Williamstown, New Jersey
May 11-12: Saturday, 11 a.m.-6 p.m.; Sunday, noon-5 p.m.
Wine available for purchase; you can bring your own food, kids and leashed dogs
Ask a lot of overstressed mothers what they'd like for Mother's Day, and they'll probably say "sleep." But the second most popular option has to be wine. The folks at Autumn Winery must know that, because they are offering a Mother's Day Weekend that sounds like many moms' dream day. You can bring the kids, a leashed dog or dogs (as long as they can play nice with people and other dogs), your own food and sit either inside or outside. Did we mention there's also live music? Glasses, bottles and an optional $6 wine tasting are available, so treat Mom to the kind of day she can really enjoy.
Mother's Day Paint Party
Sippin' Pic's
3901 Conshohocken Ave., Philadelphia
May 12; 2-5 p.m.
$25; family table of 10 is $225
For those artsy Moms or ones who may require more than the obligatory card and flowers, consider an afternoon of sipping and drawing. Lunch, cocktails and karaoke will be provided, and Mom can even have the food or drink she truly prefers as the event is both BYOB and BYOF.
Mother's Day Tea with Martha Washington
Museum of the American Revolution
101 S. 3rd St., Philadelphia
May 12; 2:30 p.m.
$10-$50
Martha Washington once lived in Philly with her husband, George. You may have heard of them. Although she can't actually be reanimated to partake in this Mother's Day Tea, the Museum of the American Revolution offers a worthy re-enactor to play the role. Brûlée Catering is serving up a buffet with selections that Martha might have enjoyed, including tea sandwiches, sweets and beverages, While there, you can check out the current exhibits including the privateer ship and the Battlefield Theater, which gives visitors a more immersive view of the battles of the Revolutionary War.
Mother's Day Dumplings Class
Let's Cultivate Food
4658 Umbria St., Philadelphia
May 12; noon-2:30 p.m.
$99
If Mom's a foodie, she may enjoy learning how to make dumplings. Let's Cultivate Food offers year-round cooking classes in client's homes, but this is a chance to take a lesson in its Manyunk space, which offers free parking. The class fee includes a "mom-osa" bar, or you can BYOB of choice. These classes sell out quickly, so if it sounds like something your mom would enjoy, don't hesitate.
Wilmington Flower Market
Rockford Park
2629 W. 19th St., Wilmington, Delaware
May 9-11: Thursday and Friday, 10 a.m.-8 p.m.; Saturday, 10 a.m.-7 p.m.
Free, rain or shine
The annual Wilmington Flower Market is more than just flowers – it's a three-day event now in its 99th year. Rides, music, games, a beer garden, food court and vendors give it more of a festival atmosphere. The market benefits more than 50 children's charities, and it always takes place right before Mother's Day – the better to make sure Mom has her flowers, as they say, while she's still here. There is a full lineup of music over the three days; singer/activist Michael Franti of Michael Franti and Spearhead performs Friday at 6 p.m.; singer/songwriter Andy Grammer of "Honey I'm Good" fame performs Saturday at 5 p.m
Philadelphia Fleadh Festival
The National Guard Armory Northeast Philly
2700 Southampton Road (corner of Southampton Road and Roosevelt Boulevard)
May 11; 11 a.m.-9 p.m.
$20, rain or shine
"Good Morning America" once chose the Fleadh Festival as one of its top five most authentic Irish destinations in the country. Maybe it's because of performances by Irish bands such as Bogside Rogues, The Shantys, Birmingham Six, Gaelic Mishap and Killen Clark. Maybe it's because the Celtic Flame School of Irish Dance hosts the Feis at the Fleadh dance competition. Or maybe it's because one of Philly's classic Irish bars, Paddy Whack Irish Sports Pub, offers free shuttles to the Fleadh from 2:30-9:30 p.m. and hosts the afterparty. If that's not enough to convince you it's worth your while if you lay claim to any Irish ancestry or just appreciate it, kids 12 and under are free and there's plenty of activities for them as well.
May Fair
Clark Park
43rd Street and Chester Avenue, Philadelphia
May 11; noon-6 p.m.
Clark Park is practically an outdoor community center in West Philadelphia's Spruce Hill neighborhood. It hosts Shakespeare in the Park, a farmers market and other events, including its 61st annual May Fair. While the kids can come for the ever-popular moon bounce and a petting zoo, adults can browse the wares of an array of vendors, shop for plants or take a chance on a raffle. Community groups will be out to meet, greet and assist the community with information on a variety of activities and services. Live music and food will be available.
Festival of Fountains
Longwood Gardens
1001 Longwood Road, Kennett Square, Pennsylvania
Through Sept. 29
$12-$23
Fireworks and fountains together? We're there. Longwood Gardens founder Pierre S. du Pont was a fan of both, but never got to seem them combined at the gardens. Fortunately, you can. Choreographed shows at various times and dates are on the schedule through the end of September. Those shows are designed by veteran fireworks expert Arthur Rozzi of Arthur Rozzi Pyrotechnics, in conjunction with Longwood Gardens. If you go, plan in advance; timed tickets are required for both general admission and specific shows — and are often sold out.
Orchestra Concordia
Radnor Middle School
150 Louella Ave., Wayne, Pennsylvania
May 10; 8 p.m.
Six years ago, Joyce Prichard, Nora Anne DiLemmo, Elaine Sloan and Lesley Katz did what many women do when faced with an unacceptable reality – they vowed to change it. They were concerned that cuts to music education were denying kids the chance to become either skilled musicians or educated music lovers. To counter that, they created Orchestra Concordia to make live orchestra concerts accessible to all. They offer free concerts that are handicap accessible and within walking distance of SEPTA bus and regional rail lines.
The final performance this season features Philadelphia Orchestra's French horn soloist Jeffrey Lang in Morceau de Concert for Horn and Orchestra by Saint-Saëns. Also included in the program will be Fauré's "Pavane" with guest choir Coro da capo; Bizet's L'Arlesienne Suite. No. 2; Offenbach's "Orpheus in the Underworld Overture"; the Coronation March from Meyerbeer's "Les Prophète"; and Elgar's Serenade for Strings.
Phoenixville Beer and Wine Festival
Kimberton Fairgrounds
762 Pike Springs Road, Phoenixville, Pennsylvania
May 11; noon-4 p.m.
$45
Mother's Day starts early for wine- and spirits-loving moms at the Phoenixville Beer and Wine Festival. Now in its third year, the festival offers a chance to sample the wares of more than 50 cideries and breweries and 16 wine and spirits vendors. As they taste the multitude of locally based wine, beer and spirits, visitors will also be contributing to Building Better Neighborhoods, as some proceeds will go to the charity.
Jefferson Dad Vail Regatta
Kelly Drive, Philadelphia
May 10-11: Friday, 7 a.m.-6 p.m.; Sunday, 7 a.m.-5 p.m.
Free
The Dad Vail Regatta brings more than 100 colleges and universities from the U.S. and Canada together in competition for the largest collegiate regatta in the nation. Think of it as the Penn Relays of rowing, as both are long-running Philadelphia athletic competitions with storied histories.
Named after rowing coach pioneer Harry "Dad" Vail, an early champion of the sport at the University of Wisconsin, the race has grown since its humble beginnings in the late 1930s. Food and drink are available for purchase, and vendors also sell just about everything to do with rowing — aside from the boats — in a tent created for that purpose. The race starts near Kelly Drive and Hunting Park, and the best place to watch comfortably is the grand stand which offers seating and cover, just past the Columbia Avenue bridge. If you're curious, but new to rowing, here are some basics about the sport.
Rittenhouse Square Fine Craft Fair
Rittenhouse Square, Philadelphia
May 10-12: Friday and Saturday, 11 a.m.-7 p.m.; Sunday 11 a.m.-5 p.m.
Artisan crafts are on display and for sale during the Rittenhouse Square Fine Craft Fair presented by the Pennsylvania Guild of Craftsmen. More than 140 vendors will be out in the park to showcase their wares, including ceramics, glass, wearable art, wood, photography, mixed media, furniture and jewelry. Food and drink are available for purchase. On Saturday, 18th Street will be closed to cars, creating a pedestrian-only zone where you can dine without the accompaniment of car exhaust.
Plein Air Festival
Wayne Art Center
413 Maplewood Ave., Wayne, Pennsylvania
May 13-18; various times
Wayne's Plein Air Festival selects 32 artists to participate in the open-air painting competition that takes place within 35 miles of the town. "En plein air" translates to outdoor painting, which the artists do during the festival, creating new works for view and sale. Teenage artists and the community participate as well, and a social media initiative allows people to "tag" the artists they see on their Facebook and Instagram accounts as they paint in multiple locations. This all adds up to a concluding awards gala, where winning entries are displayed and first offered for sale to the public. Remaining paintings created during the festival will be on display and available for purchase from May 20 to June 29 at the Wayne Art Center.
Love Your Park Week
Various venues, times
May 11-19
Every other year, Philadelphia comes together to celebrate its comprehensive park system in partnership with the city's Fairmount Park Conservancy, Philadelphia Parks & Recreation, and the Park Friends Network. During the week, more than 2,500 volunteers help the parks in various ways from "cleaning to greening." A schedule of free activities that encompass the entire network of parks — more than 60 — throughout the city is planned. You can register online to volunteer at the park that best fits your interests or location.
Philadelphia Credit Union Kensington Derby and Arts Festival
Trenton Avenue, from Norris to York streets, Philadelphia
May 11; noon to 6 p.m.
Free
In one of Philly's most unusual annual events, team competitors will use sweat equity to race a combination of human-powered vehicles through a 3-mile obstacle course, concluding in a mud pit, in the city's Kensington and Fishtown sections. Now in its 13th year, the derby takes place in conjunction with an arts festival that encourages creating elaborate sculptures.
Judges from various Philadelphia organizations will determine the award winners in varying categories including best costuming, best first-time entry, and people's choice. Food and drink are available for purchase, and vendors will line Trenton Avenue. Live performances from bands including Apple Juice Jones, Attic Tapes and Planet MD will go on throughout the day.
WHYY is your source for fact-based, in-depth journalism and information. As a nonprofit organization, we rely on financial support from readers like you. Please give today.