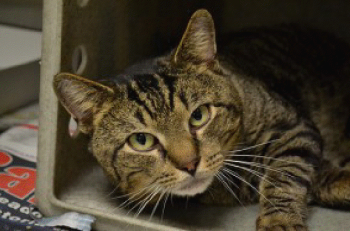 All hail the chairman of the board, Lewie (A15388151)! Lewie's a 1- to 2-year-old super handsome tabby who oversees the goings-on in the cat adoptions room like it is his j-o-b.
You can always find Lewie hanging out right by the door to his kennel, ever vigilant for potential adopter sightings. And even if you didn't come in looking for a cat like Lewie, he's going to make sure you notice him before you go!
Lewie may appear to be an ordinary street cat, but there's nothing ordinary about him. From his distinctive tabby stripes to his innovative style of play – Lewie is one of a kind! An active boy, fun just so happens to be Lewie's middle name (yes, he has a middle name). Feather wands, fishing poles, laser pointers – all of these things make Lewie a happy man.
Lewie can be a bit exuberant when he plays, and he will occasionally get carried away with himself and play box/play bite a bit roughly. He doesn't mean any harm when he does this, and he's slowly learning, with the help of behavior modification techniques and lots of playtime with interactive toys, to be more gentle with humans. However, it would probably be best if Lewie didn't go to a home with very young children while he learns to play like a good citizen.
Don't think Lewie's just about having a good time, though. He also loves to spend time with people, and enjoys some gentle pets as much as the next cat. And there's one more thing that makes Lewie anything but ordinary. Lewie is FIV+. What does being FIV+ mean for Lewie?
Not much, for the most part! Lewie is young and healthy, so as an indoor only cat, with good veterinary care and a low stress environment, Lewie's life expectancy shouldn't be much different from a cat who doesn't have FIV. FIV is not contagious to humans or dogs, and can only be transmitted to other cats via a serious fight with extreme blood exchange, or mating. So, if you do have resident cats, as long as they are cat friendly and spayed or neutered, Lewie can live safely with them.
Lewie is a young, healthy, handsome, happy, silly boy with a huge personality. He has so much to offer the right family. Think you could be the right fit for Lewie?
Hurry down to the shelter to meet this charismatic cutie today!
These animals are located at Philadelphia's animal control shelter, ACCT. They need immediate adoption or foster care. ACCT is located at 111 W Hunting Park Ave and is open 365 days a year. Adoption hours are Monday-Friday; 1pm-8pm; Saturday and Sunday; 10am-5pm. To check the status of an animal, call 267-385-3800. Check in every week with NEast Philly to see the cat and dog of the week.