Camden's 7 Day Pledge reduces hospital readmissions, but replicating the program in Philly could be tricky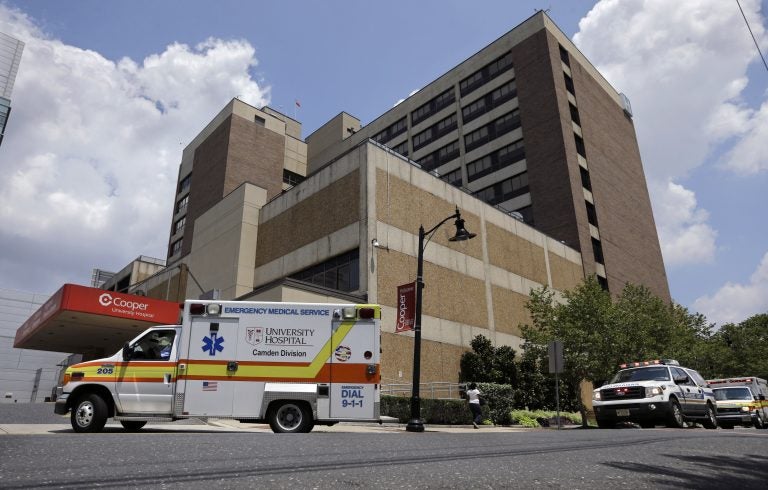 Picture this: You're hospitalized after a bout of pneumonia. The hospital discharges you and gives you a prescription for antibiotics and maybe another medication. It's recommended you follow up with your primary care doctor in seven to 10 days.
But maybe you don't have a car or a way of picking up your prescription. And perhaps you don't have a primary-care doctor, or the one you usually see is booked solid for a few months. You might have other challenges that get in the way: an unstable living situation or money problems. So you don't see the doctor, and you don't get your medicine on time. Within a month, you're back in the hospital again.
That's what happens to many high-risk and low-income patients, and it leads to millions of avoidable hospital readmissions each year, adding about $16 billion in health-care costs.
About five years ago, the Camden Coalition, a group of health care providers, community partners, and advocates based in the city of Camden, launched a program to address the issue.
The program, known as the 7 Day Pledge, brought together hospital systems, insurers, and primary-care providers, many of whom worked at competing hospitals, and aligned them around a common goal: to get Medicaid patients primary-care appointments within seven days of leaving the hospital.
"It's not always the case that people are thinking about `What happens after this hospitalization? What's important for me to do?'" said Dawn Wiest, director for research and evaluation at the Camden Coalition. "They just want to go home."
Encouragement and incentives
But once patients get home, real life often gets in the way, which can result in them churning in and out of the hospital.
To prevent that from happening, the 7 Day Pledge identifies eligible Medicaid patients in the hospital, excluding those who would benefit more from seeing specialists, such those who were hospitalized for pregnancy- or oncology-related reasons.
Then someone from the 7 Day Pledge program meets or calls the patient and discusses the benefits of seeing a primary-care doctor or nurse practitioner. If the patient agrees, they set up the appointment together.
The program provides a taxi voucher to help the patient get to the doctor's office. As an added incentive, the patient also gets a $20 gift card at the end of the appointment.
The doctor gets paid a little more ﹘ anywhere from $100 to $150 on top of what he or she would be paid by the insurance company for a visit  ﹘ as an incentive to make room in the schedule for recently discharged patients.
The model works. According to a recent study in JAMA Network Open, Medicaid patients in the program who saw doctors within a week of leaving the hospital were less likely to return after 30 and 90 days. Patients who saw doctors within two weeks didn't do quite as well as the seven-day group, but they still did better than those who didn't see primary-care doctors within the first two weeks.
"What we've shown is that improving the connections between key health care and … social-service organizations in the community, including between competitors, could have a real impact," said Carter Wilson, associate director for clinical redesign initiatives at the Camden Coalition. "We should invest in building and sustaining those linkages."
Replicating that model in Philadelphia, however, could be challenging.
"Our health systems [in Philadelphia] really are very siloed," said Anna Doubeni, director of population management in the Department of Family Medicine and Community Health at the University of Pennsylvania.
"We've got Penn, we've got Jefferson, we've got Einstein, we've got Lankenau, we've got Mercy. And the patients in our catchment area that I see in West Philadelphia could be going to any of those health systems when they get an ambulance or when they feel ill or for specialty care. Our biggest challenge is that the data from those visits is not connected."
Some of that will require what Doubeni calls a "culture shift" in Philadelphia that would allow for more data sharing among hospital systems.
Camden just right for approach, Philadelphia may not be
Data sharing is a huge part of what has made the 7 Day Pledge successful. The hospital systems, insurers, and primary practices all share information, even though many are technically competitors, allowing the program to target patients and also provide context and patient history. That's easier in a city such as Camden, which has fewer health systems and a less transitory population.
"Not only do you have to be able to get patients in for a seven-day visit, but you have to make that seven-day follow-up visit count," Doubeni said. "And that can't be done if the data is not in front of you."
The 7 Day Pledge program's fixed costs are about $230,000 per year, and then there are also variable costs involving incentives to patients and doctors. Those costs would likely be much larger in a city of Philadelphia's size.
"When we talk about the program itself, it's very resource-intensive," Wiest said. "It takes a lot of human investment in terms of the time it takes to build the relationships and maintain the relationships."
There are cheaper ways to remind patients to schedule appointments ﹘ electronic reminders, for example, but studies have shown those methods don't work very well.
"They don't show as much benefit or success. We believe from our work here in Camden, that's because the human aspect of it, the relationship building, the more intensive work, is really important," Wiest said.
Doubeni called the study "exciting and compelling" because it demonstrates that interventions like this are worth the cost.
"It will help a lot of us who have been trying to say we think this will work, we think a seven-day follow-up is a good thing to do, but it takes a lot of energy and a lot of effort to make that happen across the board," she said. "This gives us a little more weight behind that so that we can then say to systems or to payers, `Hey look, in order to do this, this is what it takes.'"
—
This article has been updated to note that the 7 Day Pledge also involves primary-care nurse practitioners.