Build new LOVE upon old strengths
Think of classic Philly views and your mind will likely leap to that mile-long vista from Robert Indiana's LOVE sculpture down the Parkway to the Philadelphia Museum of Art. JFK Plaza, more popularly known as LOVE Park thanks to the sculpture, is iconic Philly – captured in unknown millions of tourist pictures, postcards, and sports broadcasts. It's beloved, but it's also a place in need of love.
With the sale of the garage below JFK Plaza/LOVE Park this year, the opportunity to redesign the space above is finally at hand. After a competitive Request For Proposal process, a team led by Hargreaves Associates has been selected to redesign LOVE Park.
Hargreaves is known for its work at Houston's Discovery Green and London's 2012 Olympic Park. You may also recognize them as the firm behind the massive Penn's Landing redesign concept.
Mark Focht, First Deputy Commissioner at Philadelphia Parks and Recreation, said Hargreaves won out for a number of reasons, particularly its expertise at designing public spaces above other infrastructure in complex urban settings. (Penn's Landing's design is an engineering feat, with plans to cap parts of I-95 and Delaware Avenue with a park. Discovery Green is also partly on top of underground parking.)
Rounding out the Hargreaves team are powerhouse firms including KieranTimberlake as architects and Pentagram for graphic and wayfinding design. (KieranTimberlake were the architects for the new Dilworth Park. Pentagram has done branding and design work for The Barnes and Philadelphia Museum of Art but so far no public spaces here, though they gave Bloomberg's New York a new look.)
The project involves moving underground utilities, and improving garage elevators, stairs and ventilation, but Focht explained, "It's really about the park."
The new design must keep the LOVE sculpture in place, a significant water feature, strong horticultural connections to the Parkway, and diagonal pathways. But the rest is up for grabs.
To learn what park users want in a new LOVE Park, a team at PennPraxis, led by interim director Bridget Keegan Barber, has started soliciting public feedback. There were two engagement sessions in the park during September and come December there will be a public meeting to solicit more focused input. It's time to speak up about what we love about LOVE and how we hope it can change.
During one of the outreach days last month I hung out in LOVE Park talking to strangers about it and one conversation has stuck with me. Michael Davis, a late middle-aged retiree, was drawn to the park that day for lunch and line dancing. He didn't want his picture taken for my piece, but he and I had a long chat about LOVE Park's future.
"My hope is that everybody will be treated equal, not just the rich," Davis told me. "It needs a little cleaning up but don't hurt the people while you're doing it."
I agree with Davis. Do no harm should be the mantra. LOVE Park may be tired, its granite slabs loose and clanky, but it works remarkably well as a truly public space. On any given day people play chess, snap photos, eat lunch, jaw with friends, soapbox, dance, read the paper, and just linger. Its diversity of casual use is a beautiful, rare thing.
LOVE Park is a fine example of mid-century modern design that has managed to age better than many of its peers. True to its unofficial name, it's also a place that welcomes everyone.
The RFP laid out clear physical goals for the redesigned park, including sustainable systems, smart stormwater management, and durable high-performance building materials. But the design team must also answer to equally important yet hard to quantify values in order to sustain what's already good about LOVE Park: its mid-century modern pedigree, and its support of free expression and diversity.
Take the Spaceship Seriously
LOVE Park has one of the city's few municipal modern landmarks. The spaceship-like building at the corner of 16th Street and JFK Boulevard dates from 1960, and is an original element of JFK Plaza and the adjacent urban-renewal era Penn Center development, planned by Ed Bacon and designed by Vincent Kling, respectively. It's a rarity, a mod survivor that has just landed on the Preservation Alliance for Greater Philadelphia's new Places to Save list.
The project RFP states that the building may be renovated or replaced. That decision could be driven by a simple cost-benefit analysis. But, of course, raw cost is a slippery slope when it comes to cultural resources.
The building's significance as a landmark of the recent past is not lost on the city, Focht acknowledged. But it has real limitations.
While quirky and recognizable, the building is not ADA accessible, its single-pane windows are not energy-efficient, its roof and systems were deemed in need of replacement back in 2001, and it has no public restrooms. If the building were to stay it would require, in Focht's words, a "gut job."
The building is vulnerable from another angle too: its location.
"There is really no other place in the park where we can build a building," Focht said. That's because much of the park is above the garage or the commuter tunnel, neither of which were apparently built to support structures above. Subterranean retrofits to support building elsewhere are currently not within the project's budget.
That means Council President Darrell Clarke's scuttled dream of a LOVE Park filled with seven restaurants is not feasible (at least in permanent buildings) without major retrofits below. That also, likely, presents a serious constraint on LOVE Park's capacity to raise revenue, a study of which is underway by HR&A Advisors. Kiosks or mobile vending could be real possibilities instead.
I worry that the decks are stacked against the park's unique flying saucer. It will be challenging to retrofit it to include all of the desired features – from public restrooms to ADA-compliant accessibility, revenue generation to sustainable design. That doesn't mean it's not possible or worthy of deep study.
My hope is that KieranTimberlake and others involved in weighing the saucer's fate will be as transparent about their analysis as the building is itself. I want to see our spaceship given a fair shake. And if it needs to be replaced, I hope KieranTimberlake designs something as bold and optimistic as the saucer was in its day.
(Office of the City Representative, PhillyHistory.org)

(Bob Bruhin, Flickr (c) 2013, all rights reserved)

(https://www.flickr.com/photos/davidswiftphotography/11823446276/)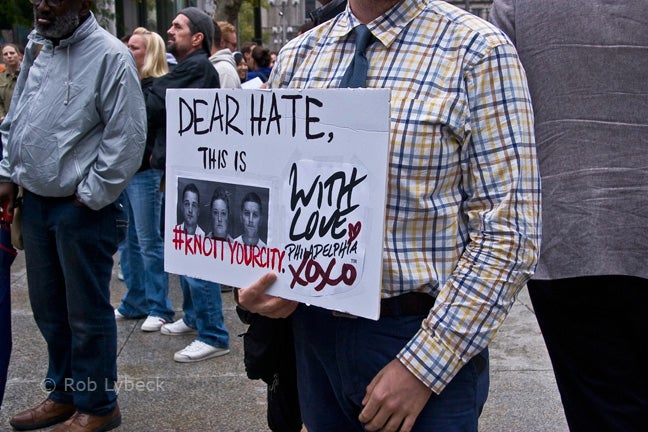 What is LOVE Park if not a people's park?
We're in an era when public spaces of every stripe are being privatized and sterilized. LOVE Park must go against that tide, and be redesigned as the city's most democratic public space.
Philadelphia's other significant spaces for peaceful protest are constrained: Independence Mall is under stiff federal jurisdiction and the new Dilworth Park has heavily scheduled programming which will likely keep it otherwise occupied (as it were). Both management and programming can diminish the availability of these spaces for demonstrations and rallies. That gives LOVE Park a unique role and presents a special opportunity in its redesign.
"We've been very clear at Parks and Recreation. The first order of business for the park is as a civic space," Focht told me. "We are very committed to making sure it is not a sanitized public space."
That's a reassuring goal, but it's one we must be watchful of as designs develop. Programming and design elements are, of course, among the ways public spaces can be controlled and can determine who feels welcome.
The new LOVE Park should be designed for free expression, and offer the city's best public gathering space in clear sight of City Hall. Its core strengths as a place of inclusion, openness, and freedom should be honored in any new design.
As aging mid-century public spaces go JFK Plaza has fared better than many of its peers. It is well used compared to many spaces of its age, which are too often hard and uninviting, and it hosts an impressive diversity of users.
JFK Plaza supports everything from concerts and food trucks to tourists and protests – sometimes simultaneously. It's a hard-working public space and any future design should take that variety seriously. Flexibility should be a hallmark of the future LOVE Park.
Any new design will open up the park, by lowering perimeter walls, removing stairs, and reallocating space. My prediction: The new LOVE Park is going to feel much bigger than it does now.
The new design shouldn't overly burden the park with permanent fixtures so it can be adjusted, depending on the day and the season. Designers should explore temporary and mobile elements that support different scales of use, and can be removed for big gatherings.
Think mobile kiosks, movable café seating, and a nicer food truck hub. Large open areas could host revenue-generating events (Food truck rallies? Public markets? Winterfests?) and could double as the city's go-to public assembly space.
But LOVE Park also needs more intimately scaled areas that behave like smaller public rooms to support the park's casual and quieter activities like games, lunch breaks, and moments of calm amid the hurly-burly city beyond.
LOVE Park's power as a public space is its prime location at the beating heart of Philly's civic life and its acceptance of all kinds from all walks of life. It may be gritty, but JFK Plaza/LOVE Park also represents some of the highest virtues of public space: it's optimistic, democratizing, and adaptable. We should expect nothing less from the redesigned LOVE Park.
(Al BeFranke, EOTS Flickr Group)

(Bob Bruhin, EOTS Flickr group)
(Bob Bruhin, EOTS Flickr Group)

(Bob Bruhin, EOTS Flickr group)

(Al BeFranke, EOTS Flickr Group)

Summer in Love line dancing, September 2014

(Bob Bruhin, EOTS Flickr group)

Food trucks in Love Park (Praxis)
Click through slideshow above for a peek at life in LOVE Park.
WHYY is your source for fact-based, in-depth journalism and information. As a nonprofit organization, we rely on financial support from readers like you. Please give today.