'Bribing him with ice cream': Parents inoculating kids ages 5 to 11 against COVID-19
More than 1,500 of the youngest eligible Delaware children have received their first Pfizer shot in less than a week. About 76,000 more can get vaccinated.
Listen
2:41
Five-year-old Vincent Gaudino wiggles in his chair but doesn't speak. He wears a shark-jaw mask and his eyes have a look of, if not fright, definite concern.
The boy is about to get vaccinated against COVID-19. His grandmother, Marianne Rokan, tries to reassure him.
"It pinches, but it's over so fast,'' she tells him.
Pharmacist Howard Simon makes sure the youngster is as relaxed as possible while cleaning his shoulder with an alcohol wipe.
Then he plunges the needle into the boy's arm.
"Look at that!'' his grandmother cries. "It's all done. It's all done."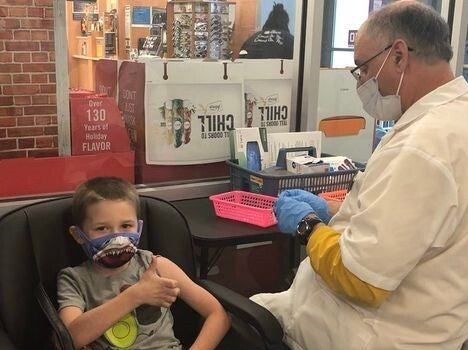 That scene this week at the pharmacy of the Giant supermarket in Middletown is being replicated across the state at drug stores, doctor's offices and health clinics.
In the week since they became eligible, nearly 2,000 Delaware kids ages 5 to 11 have received their first injections of the Pfizer COVID-19 vaccine. Delaware officials are working to get as many of these 77,500 newly-eligible kids inoculated as possible.
Overall, 83% of Delaware adults have been vaccinated, though the rate for 18- to 34-year-olds is just 55.4%, according to federal and state public health data. For children ages 12 to 17, the rate is 57.3%.
Dr. Karyl Rattay, director of the Delaware Division of Public Health, is advocating shots for all.
Rattay pointed out that the dosage of the Pfizer vaccine has been reduced for children under 12 and during clinical trials nationwide involving more than 3,000 children ages 5-11, was found to be more than 90% protective against developing symptomatic COVID-19.
No severe vaccine-related side effects such as myocarditis or severe allergic reactions were identified, she said, adding that side effects were no worse than those experienced by adults and included sore arms, fatigue, headaches, muscle pain, chills, and low-grade fevers lasting a day or two.
"We have been waiting for the day when we could give our younger school-aged children this very effective layer of protection and let them get back to a more normal childhood,'' Dr. Rattay said.
"Parents are naturally going to be concerned about rare adverse reactions. What we know is the benefits far outweigh the extremely rare chance of a bad reaction. If my children were in this age group, I would absolutely vaccinate them right away."
'He wants to get back to having sleepovers'
Vincent's mom Cara is delighted her two newly eligible sons, including 11-year-old Dominic, are now on their way to better protection against the coronavirus. Their pediatrician recommended the shots. Gaudino also hopes it will benefit their dad, who is undergoing cancer treatment.
Cara Gaudino said Vincent was a little nervous but she used a motherly method of persuasion.
"Bribing him with some ice cream seems to be the way to go,'' she said with a chuckle.
Her older boy was eager to get it.
"We have playdates with his friends, but they have to wear masks when they hang out outside,'' said Cara, whose family lives in Pike Creek. "He wants to get back to having sleepovers and kind of get back to normal."
But Heather Sitaras of the Talleyville area is sitting by the sidelines for now with her 6-year-old daughter Cassandra. Sitaras and her husband are vaccinated but she worries about long-term effects, including the ability to have children, for her girl.
"God forbid, it comes out in a few years now that it causes reproductive issues," Sitaras told WHYY News. "If she wants to have kids in the future, I don't know what this is going to do to her."
Dr. Megan Werner of Westside Family HealthCare in Wilmington understands concerns like those of Sitaras.
But she says children are susceptible to lingering ill effects from the virus and that all things considered, kids should get vaxed.
"When I'm talking to people about potential long term effects, I do reassure them that there's no evidence that this affects anybody's reproductive potential or the health of their future children,'' Werner said.
Werner added that vaccines in general don't have long-term adverse health effects in kids or adults.
Jimena Jolley of Wilmington could not wait to get her 8-year-old daughter Olivia vaccinated. An older sister got the shots months ago. One reason is that one aunt died from COVID-19, and both her parents were hospitalized after contracting the virus.
Jolley said Olivia breathed a sigh of relief after getting her vaccine and said "it didn't even hurt."
Hours later, the girl said she felt "fantastic, I'm perfectly fine," her mom recalled, adding that Olivia "proudly shared' the news of her vaccination with friends in school.
'The only way we're going to get immunity from this'
Some schools are also holding vaccination clinics, hoping to attract 5- to-11-year-olds. Dickinson High in Milltown gave about 60 kids that age their first shot last week during a clinic for people of all ages and held another clinic Thursday.
The Nemours Children's Hospital near Wilmington put shots in the arms of 300 kids that age on Saturday. Another vaccine event this Saturday is already fully booked.
One recipient at Nemours was 11-year-old Yehima Alcantara.
"Some people feel worried about taking a vaccine, but it really isn't too hard,'' Alcantara said. "You want to be safe."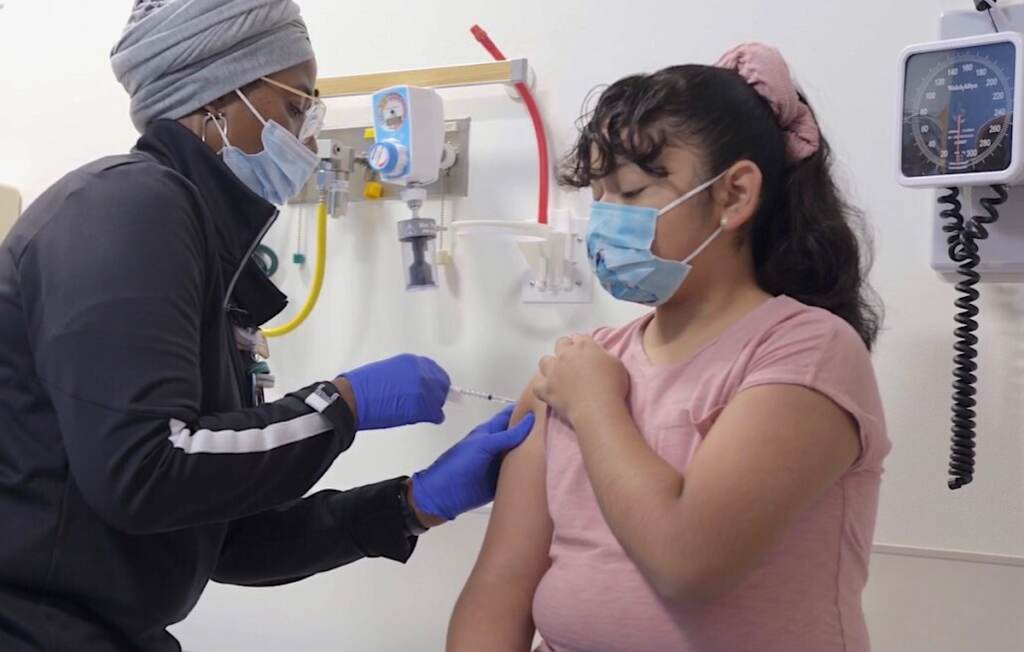 Simon, the pharmacist in Middletown, agrees.
"It's a good thing we need to,'' Simon told WHYY News. "That's the only way we're going to get immunity from this."
He emphasized one point that medical experts have been making for months.
"We're protecting everybody because kids can spread it too," Simon said. "That's what's happened. They spread it to the older people."
Dr. Aaron Carpenter of Nemours is calling on parents across the state to get their children to get vaccinated, and to get medical advice if they are on the fence.
"It's going to take the whole community to be able to get this age group vaccinated, because it's a large group of kids,'' Carpenter said. "What I really would encourage people who are having concerns about the vaccine is to talk to your primary care provider. They are the best equipped to answer your questions and to kind of alleviate any concerns or fears."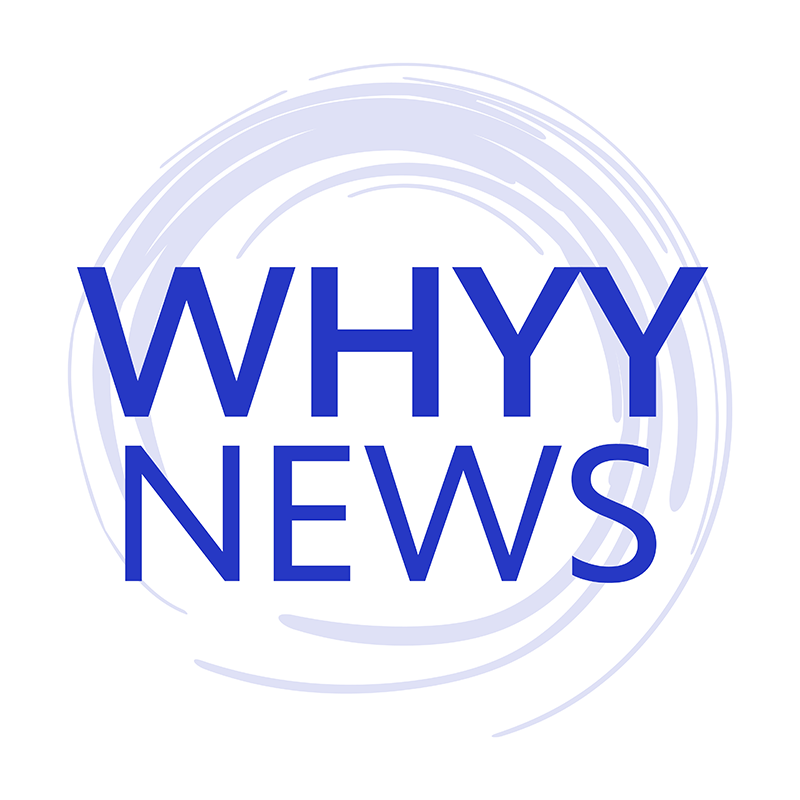 Show your support for local public media
WHYY is your source for fact-based, in-depth journalism and information. As a nonprofit organization, we rely on financial support from readers like you. Please give today.