Man or mouse?: Former Eagle Brian Westbrook writes children's book
The Eagles running back was relatively small for a football player. He tells his story in a picture book about a mouse with big dreams.
Running back Brian Westbrook was always small for a football player, but mighty.
His alter ego in the new picture book "The Mouse Who Played Football" is a mighty mouse.
"So many people perceive my size as a weakness, and I always thought it was a strength. I always use it to my advantage," said Westbrook. "That's what our kids need to know as well, that there are things that are about you, your personality, who you are that you have to be able to use to your strength."
At 5-foot-10 and about 200 pounds, Westbrook was often towered over by some of the other players on the gridiron, but he became a star for the Villanova Wildcats, and then was drafted by the Philadelphia Eagles, where he played most of his professional career, from 2002 to 2009.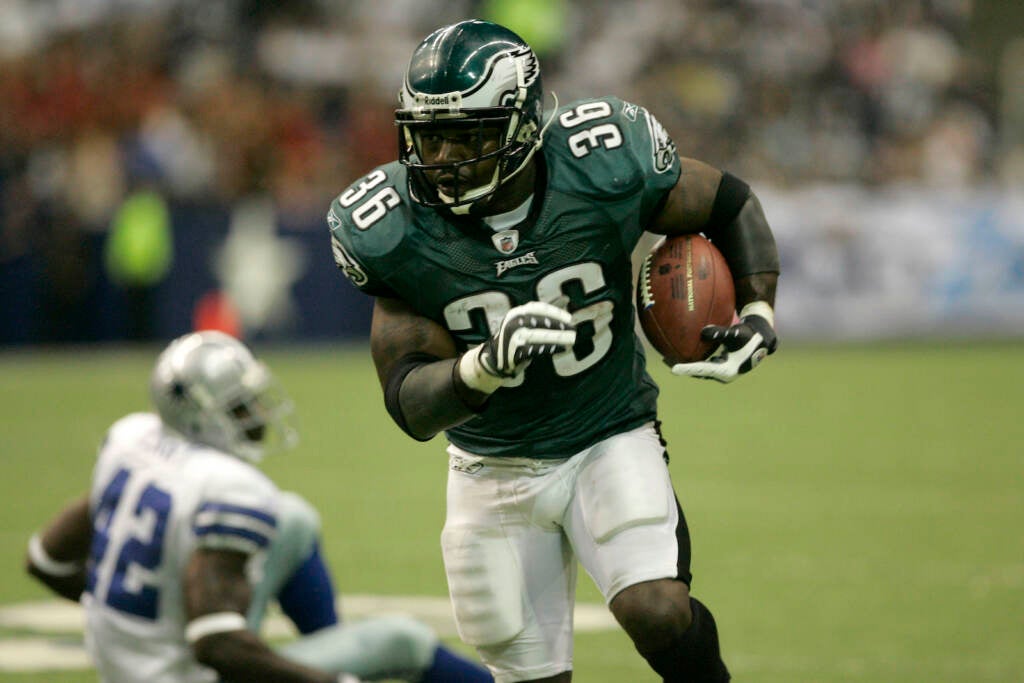 He played in the Super Bowl once, the Pro Bowl twice, and was inducted into the Eagles Hall of Fame in 2015. Since retiring he appears often on television and radio as a sports commentator.
"Brian Westbrook is one of the best stories ever, what he went through to get to where he is," said co-author and sportscaster Lesley Van Arsdall. "I contacted Brian and it happened to be the perfect time in his life. He has three young children, and was up for the idea of writing his story in a children's point of view."
Van Arsdall, who was cut from Philly TV station CBS3 in a wave of layoffs in 2020, is a mother of two young boys. She had never covered Westbrook as a reporter — he had left the Eagles before she started covering sports — but said she had met him several times before approaching him with an idea for a picture book.
"I just kind of had that image of a mouse in my head. I was trying to think of a very small animal that has a big heart," she said. "And they can be cute. I was watching a lot of kids' movies at the time and thought, 'Oh, we can make that cute.'"
"If Leslie came to me with this idea 20 years ago when I was 22 years old with no kids and family, I would not have done this book. It would not have made sense," said Westbrook. "But because every night I'm reading books to my children — I have three children, Bria, Brian, and Brielle, 9, 5, and 3 — and always trying to give them a good story with a good meaning, a good lesson behind it."
The mouse in the book is based on Brian's life, growing up smaller than the other kids but determined to play serious football.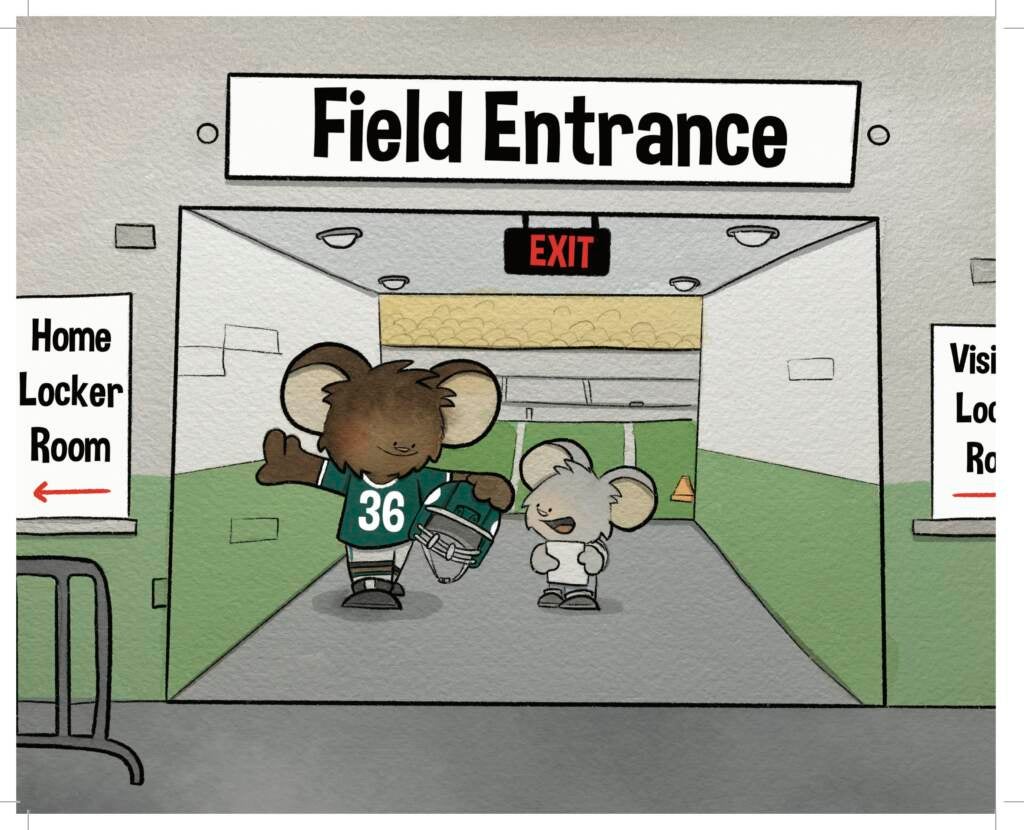 "Too small" is the constant refrain from coaches, from high school, college, and the pros. "Tough little fella, but I'm not sure he has what it takes."
"There were countless people that would say, 'You can only be this, or you can't be that.' I never want that to limit me. I never want that to be the thing that says I can't do something. I want my children and other children that read the book to understand that your world is limitless. You can be anything and everything as long as you're willing to work hard for it."
The book has strong themes of self-determination and believing in yourself, proven topics for children's books.
It also gives a few nods to parents who might be reading the book to their kids.
The book does not name names. It is not explicit about where Brian went to college, where he played professionally, and who his coaches were.
But parents will know.
Brian the mouse gets excited when he is accepted to an unnamed college. The pictures, by illustrator Mr. Tom, show the mouse wearing a blue hat with a distinctive V on it.
The mouse gets drafted by a pro team in a big city called "Fieldadelphia," which wears green uniforms.
"There is a specific green that the Eagles own. We had to go for a slightly different color," said Van Arsdall. "You can't use the Villanova logo. There are a lot of things that we had to get around."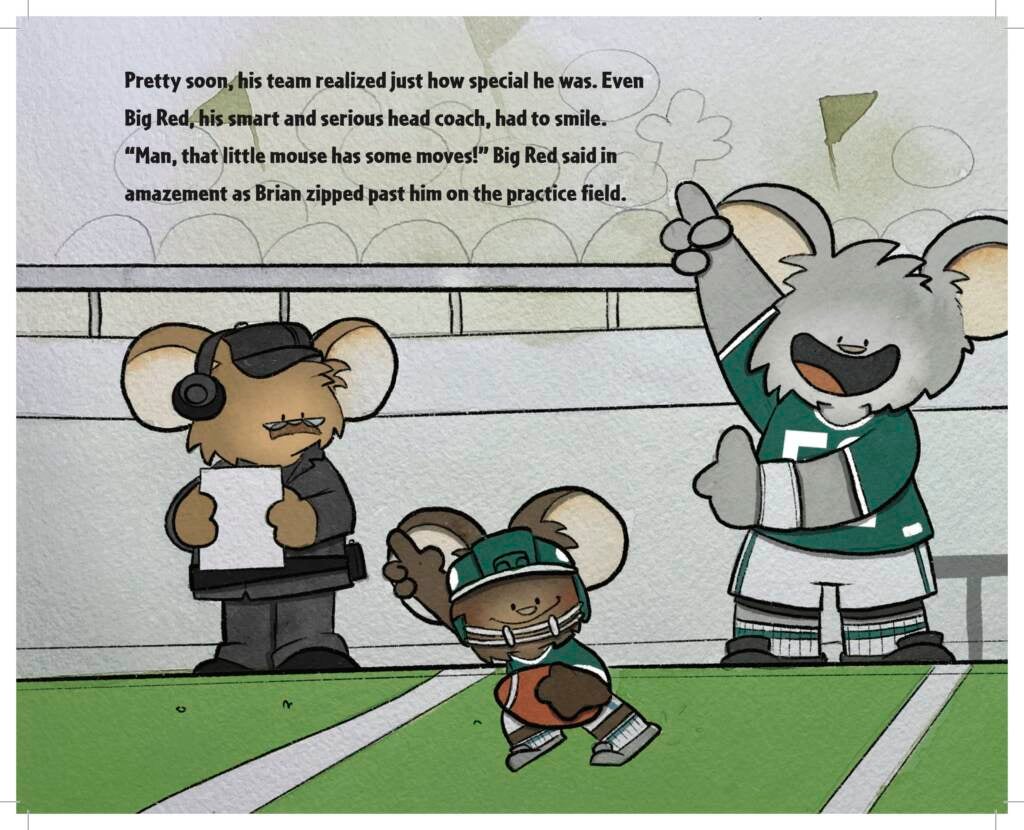 Former Eagles coach Andy Reid is never named, but his telltale mustache gives him away, as well as his nickname, "Big Red."
Westbrook said his older daughter, Bria, knows the little mouse is her dad, but his 5-year-old son "just thinks it's a great football book."
Westbrook said half of the proceeds from the sale of "The Mouse Who Played Football" will be donated to children's charities.
"We're putting our money where our mouth is," he said. "Fifty percent of the money that we'll make on this book will go directly to support children's charities and help to push underrepresented youth to the next level, to allow them to live life without blinders on to only think that they can do one thing. Take those blinders off so that you can go out there and be as successful as you possibly can."
The initial print run of "The Mouse Who Played Football," published by Temple University Press, has already sold out online on Amazon. At noon on Thursday, Westbrook and Van Arsdall will read the book at the Free Library of Philadelphia, where copies will be available.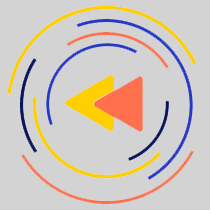 Saturdays just got more interesting.
WHYY is your source for fact-based, in-depth journalism and information. As a nonprofit organization, we rely on financial support from readers like you. Please give today.