'Blood on hands' of ex-mayors Baker and Williams for Del. firefighter deaths, lawyer says
The city of Wilmington's policies to mothball fire engines and not fill authorized positions were directly to blame for the deaths of three firefighters and serious injuries to three others in a 2016 blaze, according to a federal lawsuit filed Thursday.
The lawsuit, which has been anticipated for months, names the city, as well as former Mayors James M. Baker and Dennis Williams, and former fire Chiefs Willie Patrick and Anthony Goode.
Mayor Mike Purzycki, whose administration has continued the policy of taking one of the city's water-carrying fire engine trucks out of service on a regular basis, is not named in the lawsuit, nor is current Chief Michael Donohue.
The lawsuit claims that the city and top officials violated the 14th Amendment that says the government cannot "deprive any persons of life, liberty of property, without due process of law."
Attorney Thomas Neuberger said the city's behavior that led to the deaths and serious injuries "shocks the judicial conscience over a seven-year period where defendants affirmatively created and then hid this state-created danger from Wilmington City Council."
The plaintiffs are the families and estates of the late Christopher Leach, Jerry Fickes and Ardythe Hope, who had a total of eight children. Leach's son and Hope's daughter stood on the podium with their attorneys and  three injured firefighters and their wives. The injured plaintiffs are Brad Speakman and Terrance Tate, who have since retired, and John Cawthray, who remains on active duty.
The plaintiffs are seeking unspecified damages for physical, emotional and mental injuries such as terror, asphyxiation, post-traumatic stress disorder, and flashbacks. Additional economic losses include lost wages, benefits, pension and retirement benefits, and decreased earning capacity, the lawsuit says.
"This calamity is the dereliction of duty by Mayors Dennis Williams and James Baker and their appointees,'' Neuberger said.
"The chickens have come home to roost for the City of Wilmington. All this would have been prevented if the city had let the firefighters do their jobs and get water to the fire scene as quickly as possible," Neuberger said. "Why in the world would you ever let a small fire grow into a large fire?"
Williams would not comment and Baker could not be reached. Purzycki released a statement that promised a vigorous defense. Purzycki's statement said the fault lies with the person charged with setting the fire now awaiting trial on murder, arson and other counts.
Purzycki added that "in addition to the amounts of money that the affected firefighters and their families may have received from the State and other sources, the City has paid or anticipates paying over $11 million to the affected firefighters and their families in medical costs and related benefits associated with his incident."
The lawsuit, he said, seeks "to get even more money from the city. Perhaps they believe, or have convinced their clients, that this lawsuit is a way to gain additional compensation through a quick cash settlement. If so, they are profoundly mistaken. I assure you that Wilmington will aggressively defend this case."
2012 city report had warned of disaster
The fact that the engine truck closest to the fire was out of service when the alarm sounded wasted critical seconds and minutes needed to extinguish the blaze, the lawsuit says.
The firefighters rushed inside because initial reports said people were trapped inside, but the house was empty.
"Blood is on the hands of Mayors Baker and Williams who despite repeated warnings knowingly caused the deaths of three firefighting heroes who gave their lives rushing into a burning building seeking to rescue civilians believed trapped in the inferno," Neuberger said.
"They were warned repeatedly that deaths would follow, but with a cold heart they continued their shocking policies."
Firefighters union chief Kevin Turner echoed the lawyers in saying that officials should have known that the disaster was looming. Turner read an excerpt from a report Williams' administration had commissioned in 2012.
"Of greater concern is that the city and residents have been lucky so far and that it's a matter of time before the lacking staffing results in serious or fatal consequences,'' the report said.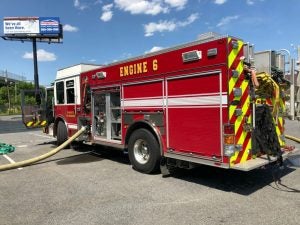 The lawsuit also asserts that Goode downplayed the threat to firefighters and showed disdain for their welfare.
Goode, who regularly met with union officials, was once asked by firefighters about policies they believed "were going to cause the deaths of firefighters and civilians in the city."
Goode replied, "I don't care if you die in a fire," and made other similar statements during that meeting, the lawsuit said.
Goode, who is currently facing state charges of racketeering, theft and unlawful use of a credit card stemming his from his work for a group that represented minority Wilmington firefighters, did not respond to requests for comment on the lawsuit's allegations.
With "rolling bypasses" still used by the Purzycki administration, attorney Thomas Crumpler said another disaster is likely looming.
"It's my worry as a city resident as to what happens in the next fire, whether we have little babies killed just because it so happens that the nearest fire station is mothballed?"